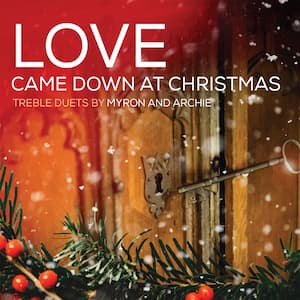 In 2020, two British teenagers, Myron and Archie, former boy choristers with the renowned Magdalen College Choir, Oxford, recorded a very special album of music arranged for the unusual ensemble of treble duet. Myron and Archie's debut album LOVE IS…. was released in July 2020 and was met with immediate acclaim, with Sir Simon Rattle describing it as "REALLY beautiful…. This CD is, unsurprisingly, wonderfully performed."
There's a poignant back story to LOVE IS… and its follow up album Love Came Down at Christmas, which will be released on 3 December. Myron's elder brother Kasper was born on Christmas Day but at Christmas 2020 he turned 16 in hospital after being diagnosed with a rare and aggressive childhood cancer. Witnessing first hand his brother's illness and gruelling treatment, Myron and his friend Archie (a BBC Young Chorister of the Year semi-finalist) decided to record an album to raise money for childhood cancer research.
Love Came Down at Christmas is a stunning new recording of Christmas music. Combining the charm of the familiar with the excitement of new discoveries, Love Came Down at Christmas brings together folk carols and premiere recordings across five languages, specially arranged for the rare and beautiful sound of the treble duet. In addition to its fundraising aim, the album pays tribute to the loss and suffering of the COVID pandemic during which it was created. The album centres on a new setting of the text of Christina Rosetti's poem 'Love Came Down at Christmas', composed by Olivier award-winning composer Michael Haslam especially for Myron and Archie. This lovely setting of a much-loved poem reverberates with the anticipation, exaltation, hope and peace of Christmas.
Praised for their impressive talent and beautiful voices, Myron and Archie have been supported by musical talents including award-winning composer and arranger Michael Haslam, the Gabriel Quartet and pianist Maki Sekiya.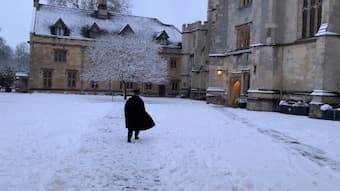 Proceeds from Love Came Down at Christmas will go to the Childhood Cancer Research Trust (www.childhoodcancerresearchtrust.org), a UK charity set up by Kasper to raise funds for childhood cancer research and to support other children living with cancer. Kasper says: "My own survival is not in my control but what is possible is making a positive difference to the outcomes of children who come after me." A new paradigm of personal medicine is on the cusp of emerging into mainstream practices, and Kasper and his family have set up this charity to help current science develop new medicine and treatments for children with cancer today.
"…what I find extraordinarily touching is the idea of the race against time, be it to finish before voices break, or the race against the pandemic. What shines out is the determination to achieve all this beauty against enormous odds: it gives the music making an unusual depth which no listener could miss" – Sir Simon Rattle
Love Came Down at Christmas is released on CD and streaming on 3 December 2021.
For more of the best in classical music, sign up to our E-Newsletter
Sound Bites from Love Came Down at Christmas by Myron and Archie