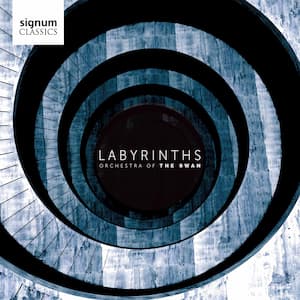 Labyrinths, the latest release from Orchestra of the Swan, explores themes of isolation, distance and a longing for human connection. Ideas of pilgrimage, contemplation and enlightenment are filtered through a sequence of beautifully atmospheric soundworlds.
Formed in 1995, Orchestra of the Swan (OOTS) is a chamber orchestra based in Stratford-upon-Avon, the home town of William Shakespeare. Under the artistic direction of violinist David Le Page, one of the most innovative and self-contained musicians, and one of the nicest people I've met in the industry, OOTS is passionate about audience inclusivity and this is reflected in its imaginative and adventurous programmes which blurs the lines between genres. Labyrinths is the perfect example of the orchestra and its director's vision. Devised as a "mixtape", it brings together a diverse selection of arrangements and reinterpretations of works by an eclectic mix of composers, from Buxtehude to Nico Muhly, Purcell to Brian Eno, and much else in between to delight and intrigue the listener. The range of musicians is equally diverse, including tenor Nicky Spence, saxophonist Trish Clowes, Guy Schalom on darbuka drum, folk singer Jim Moray, and David Gordon on harpsichord.
Labyrinths also celebrates a long tradition of arranging and transcription. This is seen most imaginatively in Jim Moray's Cold Genius, a modern twist on Purcell's 'What power art thou?' cold song from King Arthur, which in this rendering recalls the iciness of Vivaldi's Winter with its spikey, slicing string accompaniment to Moray's hypnotic, pulsing vocals. Or an arrangement of Piazzolla's 'Oblivion', with a haunting clarinet (played by Sally Harrop) and the lush, silky strings of a 1930s cocktail orchestra.
The adventurous spirit of OOTS and David Le Page is evident throughout the album – not only in the arrangements but also the mix of instrumentation, blends of timbres, textures and colours, and the diverse repertoire. There is truly "something for everyone" on this album, with tracks from the world of film, including Yann Tiersen's soundtrack to Amélie and Max Richter's 'On the Nature of Daylight', which has appeared in films by Martin Scorsese and Denis Villeneuve, and pop music from Pink Floyd's 'See Emily Play' from one of their earliest albums to Joy Division's 'New Dawn Fades'. Tenor Nicky Spence joins the orchestra in the 'Pastoral' from Benjamin Britten's Serenade for Tenor, Horn and Strings; this is preceded by 'Bounce', a new work composed by Trish Clowes during lockdown, a jazzy number with Bernstein-infused rhythms and an infectious sense of joy and freedom. Other highlights include 'La Rotta', in which Guy Schalom's darbuka (a kind of drum) brings a contemporary, raw street sound to this Medieval dance, overlaid with fiddle and saxophone masquerading initially as a shawm, then drone, before taking off into an improvisatory flight of fancy.
New Dawn Fades by Joy Division (Arr. for Violin & Orchestra by David Le Page)
At the other end of the spectrum, musically and aurally, is David Le Page's exquisitely ethereal and uplifting arrangement of Brian Eno's ambient 'An Ending (Ascent)', composed for the film For All Mankind, a documentary about the early years of NASA. The sounds float, weightless but for a simple sequence picked out on the harp, growing in intensity with a soaring violin line over lusher textures – a sound which perfectly exemplifies the ethos and approach of OOTS and Le Page. It's the perfect close to this brilliantly conceived, generous and rewarding recording.
"…the joy is to be found in discovering the surprising and delightful connections between culturally disparate and musically contrasting time periods. Themes of isolation, distance and a longing for human connection are filtered through beautifully atmospheric and exquisitely rendered sound worlds. This last year has been one in which we have all been confronted by the spectre of isolation and have certainly felt the need for face-to-face communication. Labyrinths invites the listener to immerse themselves completely in a sonically rewarding and wholly unexpected musical experience." – David Le Page, Artistic Director, Orchestra of the Swan
Labyrinths is available on the Signum label and on streaming platforms
For more of the best in classical music, sign up to our E-Newsletter
La Rotta (arr. D.L. Page for darbuka, saxophone and orchestra) (Guy Schalom, darbuka; Trish Clowes, saxophone; Orchestra of the Swan; Daniele Rosina, cond.)