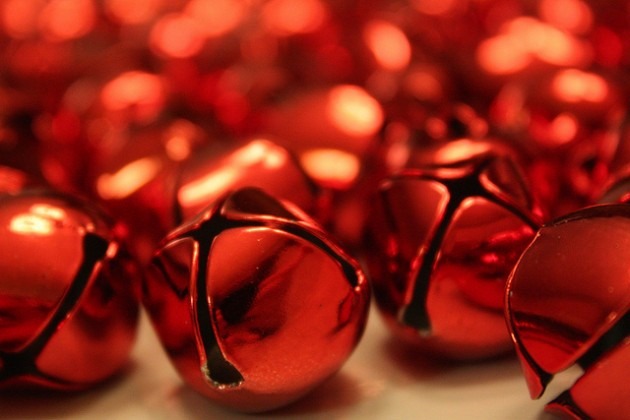 First published as "The One Horse Open Sleigh" in 1857, "Jingle Bells" has become one of the most recognized and best-loved Christmas songs. Originally, however, it was neither connected with Christmas nor was it commercially successful. Only after the composer James Lord Pierpont (1822-1893) — an American songwriter, arranger and organist working at the Unitarian Church in Savannah, Georgia — simplified the melody and slightly changed the text in 1859, did this song become a Christmas classic. The original lyrics are not connected with Christmas at all, but simply detail the adventures of a young lad in his brand-new sleigh. The first two stanzas of text — the ones we commonly sing around Christmas time — describe a rather idyllic and fun-filled winter scene.


Dashing through the snow
In a one-horse open sleigh
O'er the fields we go
Laughing all the way
Bells on bobtail ring'
Making spirits bright
What fun it is to ride and sing
A sleighing song tonight!
Jingle bells, jingle bells,
Jingle all the way.
Oh! what fun it is to ride
In a one-horse open sleigh.
Jingle bells, jingle bells,
Jingle all the way;
Oh! what fun it is to ride
In a one-horse open sleigh.


It get's rather more juicy in the third stanza as our sprightly lad takes Miss Fanny Bright for a ride in his new machine. Sufficiently distracted by Ms. Bright's charms, or possible enjoying some of them, the boy steers the sled into a snow bank, with both passengers ending up rolling in the ditch!


A day or two ago
I thought I'd take a ride
And soon, Miss Fanny Bright
Was seated by my side,
The horse was lean and lank
Misfortune seemed his lot
He got into a drifted bank
And then we got upsot.


Miss Fanny Bright must have made quite an impression on our young fella! Not only did she take away his breath, she also told the entire town of their misfortune. The very next stanza finds our boy once again sprawled out in the snow, with a passer-by, clearly aware of the previous accident, enjoying a good laugh.


A day or two ago,
The story I must tell
I went out on the snow,
And on my back I fell;
A gent was riding by
In a one-horse open sleigh,
He laughed as there I sprawling lie,
But quickly drove away.
In the final verse — set many years later — our youth has seasoned into a man and is now in a position to give advice to a friend. Advice on how to pick up girls, get a faster horse and enjoy life and wintertime. Remarkably little has changed over the last 150 years, don't you think?
Now the ground is white
Go it while you're young,
Take the girls tonight
and sing this sleighing song;
Just get a bobtailed bay
Two forty as his speed
Hitch him to an open sleigh
And crack! you'll take the lead.


Now you know why contemporary Christmas performances limit their presentation to the first two stanzas of the text! So when you gleefully sing "Jingle Bells" this Christmas, give a quiet thought to Ms. Fanny Bright and her young admirer! Merry X-mas!

Jingle Bells (Full Song)