Before Schubert, works for piano four-hands were associated with music for amateurs to be played at home. Music that was too much for one player was easier with more hands helping. The work's title, Fantasie, although given in French, has two different meanings in German: fantasieren or to improvise, a verb, and the noun Fantasie (imagination). In Schubert's Fantasies, he collapsed the traditional four movements of a symphony into a single movement, but one that permitted him to apply non-standard transitions.
This work, with internal tempos of Allegro–Largo–Scherzo–Finale for its four linked sections, gave Schubert the structure upon which he could fantasize. Despite the declared key of F minor, Schubert shifts between major and minor, contrasting shadow and light, sadness and happiness, and, in all ways, remaining ambiguous, all over an unstable rocking bass. Schubert takes us to unexpected places, such as the key of F sharp minor, giving us almost a monologue from an Italian opera in style in the second section. The third section, a scherzo-waltz, also suffers from a major/minor identity problem. When we return to the opening ideas in the final section, Schubert continues to tinker with the melody, adding a fugal development section. Just as the piece opened, it ends with the same notes.
The work was dedicated to Karoline Esterházy, one of his summer students when he was on the Esterházy estates in Zseliz (now Želiezovce in central Slovakia) in 1818 and 1824. The gypsy melodies he heard there influences not only this piece but also another work for piano four hands, the Divertissement à l'hongroise in G minor, D. 818.
With Schubert, the choice of key was not accidental: in contemporary work on the characteristics of musical keys, the key of F minor was one that stood for "deep melancholy, keening, loud mourning, and longing for the grave". That's a bit overstated for the effect that Schubert makes, but musicians over the years have read the dedication to Karoline Esterházy as indicative of a possible love affair between teacher and student, but the key seems to mean that love wasn't the driving force behind this work.
Franz Schubert: Fantasie in F minor, Op. 103, D. 940 for Piano Four-Hand

This recording was made in 1954 at the Salle Apollo, Paris, by Karl Ulrich Schnabel (1909-2001) and Helen Schnabel (1911-1974). Karl was the son of pianist Artur Schnabel and singer Therese Behr. Helen Schnabel, née Fogel, was born in New York and made her Carnegie Hall debut at age 9. She was awarded a degree from the Juilliard School and then studied with Artur Schnabel in Italy, where she met and married his son in 1939. The couple performed as the four-hand pianists Piano Duo Schnabel. During the war, they performed on the radio and on stage in Canada and the US and, after the war, in Europe.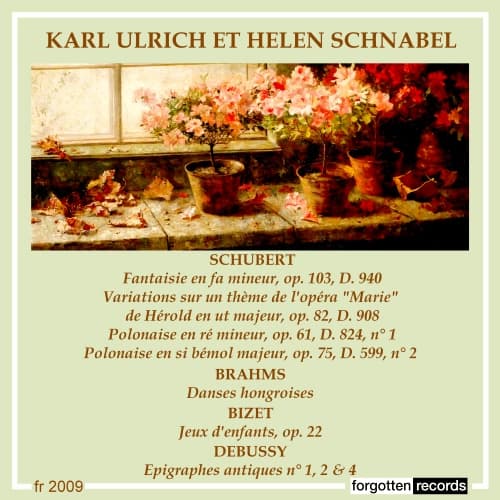 Performed by

Karl Ulrich Schnabel
Helen Schnabel

Recorded in 1954

Official Website
For more of the best in classical music, sign up to our E-Newsletter