Audience members may be surprised to hear that we classical musicians are not staid, dour, formal, and stiff. Yes, we are serious about our art, and achieving excellence takes diligence, hard work, sacrifice and years of practice. But we cannot always keep our composure onstage.
The Unfettered Comments
The late conductor James Bolle made unfettered comments when the New Hampshire Symphony was performing. Once the symphony played a piece that begins with an energetic forte. After the double bar the music is very soft. The last desk of second violins may have been exchanging recipes or gossip when Bolle announced to the orchestra that they should skip the repeat of this first section. Most of the orchestra did, continuing on to the second part of the piece with its lovely ethereal sound, but two violinists came crashing in with two loud quadruple stops in the wrong key that opens the piece. The other orchestra musicians tried to keep a straight face but when the conductor turned his head to the violins and shouted over the quiet orchestra, (which could be heard in the audience), "You jerks!" That's when everyone lost it. Afterwards Bolle felt badly about speaking sharply, so he bought roses and put them on their music stand. The note read, "Get better soon."
A violinist tells the story of once sitting in to help a youth orchestra. They were playing Albinoni Double Oboe Concerto in D major. Instead of a harpsichord, which was difficult to find, an electronic keyboard was used and placed behind her. The settings may have been reset between the rehearsal and the concert, because as soon as the keyboard player started to play in the Oboe Concerto she heard a "dat-dat-dat-DA-dat-dat-CRASH!" rock beat. No matter how hard she tried they couldn't stop laughing for the duration of the piece.
Tomaso Giovanni Albinoni: Concerto for two oboes in D Major, Op. 7, No. 8 – I. Allegro (Anthony Camden, oboe; Alison Alty, oboe; London Virtuosi; John Georgiadis, cond.)

Just Can't Stop Laughing!
Sometimes orchestras will participate in a joke on the audience. The Alster Overture Suite in F major is a case in point. The Monadock Music Festival Orchestra programmed the overture. One of the horn players couldn't contain his mirth at the cat-sounding oboes. He started to play and instead of pursing his lips he laughed into his horn. As you can imagine the sound was so god-awful sounding, something like a barking or bleating animal, that the entire group lost control and had to stop playing. The audience cheered. When the performers started over and the same thing happened again you can imagine the reaction of everyone at the concert.
Alster Overture Suite in F Major – Die concertierenden Frösche und Krähen
Pants: The Constant Source of Amusement
Pants may seem like an inoffensive and blameless item of clothing but they have been a constant source of amusement in orchestral life. When a colleague unpacked his cello backstage, he squatted to grab his shoes. Perhaps it was something he ate, but no sooner did he reach down his pants split. Tails can be quite a savior at times like these.
We are not infallible. When carrying a cello there are so many considerations—bow, check; music, check; rock-stop, check; cello in the case, check; tails, check. Invariably something is forgotten. Often pants. The last chair viola player had to lend his pants to the cello soloist as he had left his at the hotel. So, that's the first time a violist's pants performed Tchaikovsky Rococo Variations at the Sydney Opera House, and you really need to play by the seat of your pants in the last variation!
Pyotr Il'yich Tchaikovsky: Variations on a Rococo Theme in A Major, Op. 33 – Variation 7 – Coda (Antonio Meneses, cello; Royal Northern Sinfonia; Claudio Cruz, cond.)

Beethoven composed one of his most deeply spiritual works his Missa Solemnis or Solemn Mass for the enthronement of his friend and student Archduke Rudolph as Archbishop of Olmütz, a work with chorus, four soloists, and orchestra. In the final movement Agnus Dei "grant us peace" there are two militaristic interruptions—trumpets and timpani portray ferocious sounds depicting war. During one memorable performance of Missa Solemnis with the Boston Symphony the conductor lunged, his suspenders popped, and his pants fell down to his knees. Who could control themselves? It was a classic. Definitely Missa non Solemnis!
Ludwig van Beethoven: Missa solemnis in D Major, Op. 123 – Agnus Dei (Amanda Halgrimson, soprano; Cornelia Kallisch, alto; John Aler, tenor; Alastair Miles, bass; South West German Radio Vocal Ensemble; North German Radio Chorus; Stuttgart Radio Symphony Orchestra; Roger Norrington, cond.)

"Where Is My Instrument?!"
Forgetting instruments is more of an issue. I've done it…I even left a bow on an airplane once. This week the Minnesota Orchestra had performances in Winona, a town two-and-a-half-hours drive from here that produces a distinguished Beethoven Festival in July. Many of the musicians drive rather than take the orchestra bus. Principal Trumpet Manny Laureano arranged to pick up a colleague at Orchestra Hall a good 25 minutes from his home. To his dismay when he opened his trunk so she could stow her horn, he didn't see his instrument, in the trunk or in the back seat. OOPS. There was no time to drive home to get it.
Fortunately, she brought not only her Monette Bb trumpet with her, but also her Monette C trumpet. The C has less tubing and produces an overall pitch that is a whole step higher than the more mellow Bb trumpet and has a brighter penetrating sound. Most professional players carry both instruments but the C trumpet requires less transposing into other keys. The concert included Beethoven Symphony No. 5. She offered to let Manny use the C trumpet for the concert, which he used for most of the performance. Somehow it all worked but had she not brought her extra horn, you might imagine the interesting evening of horn juggling.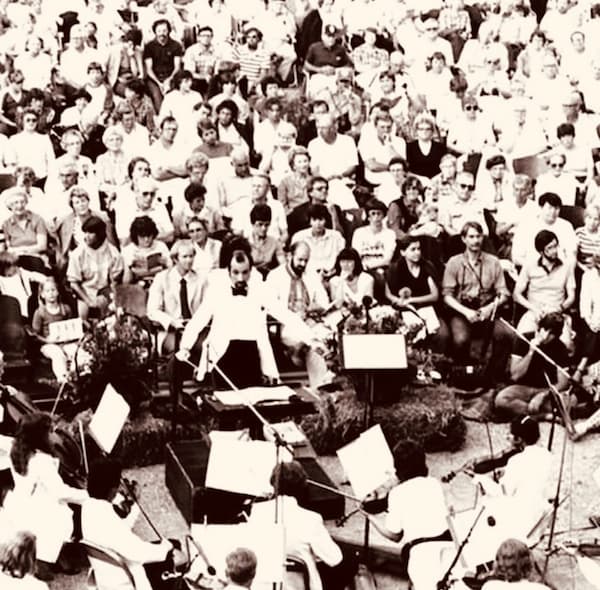 And don't get me started on the violists. They are particularly likely to have forgotten their instruments. A section member we know used to forget regularly. Ever resourceful he'd scurry down the street to the local music shop to borrow a loaner with seconds to spare before the concert. That's the advantage of playing a bass. You always know if the bass is in the car.
Chairs can be an issue too. I remember when we had to play sitting on hay bales. That got a bit itchy! (I'm the cellist with the long dark hair in the lower left corner of the photos.) I'll leave you with Luciano Pavarotti who tells his most embarrassing moment onstage. It concerns pants, underpants, and chairs.
For more of the best in classical music, sign up to our E-Newsletter
Luciano Pavarotti's Most Embarrassing Moment Onstage