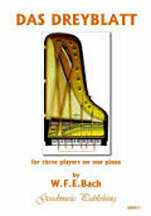 Wilhelm Friedrich Ernst Bach (1759-1845) was the eldest son of Johann Christoph Friedrich Bach and the singer Lucia Elizabeth Munchhausen. Wilhelm Friedrich Ernst, not to be confused with his uncle Wilhelm Friedeman Bach, was the only grandson of Johann Sebastian Bach to achieve a modest degree of musical fame. His father was director of music at the court of Bückeburg, and his mother the great-great granddaughter of the composer Johann Grabbe. When the count died in 1776, Johann Christoph took his son to Hamburg, and uncle CPE Bach continued with Friedrich Ernst's musical education. Next, Friedrich Ernst spent three years with his uncle Johann Christian Bach in London. Having been taught the ins and outs of music by his two famous uncles, it was time to find a proper job.

Ernst Friedrich returned to Germany, and eventually found a job as Kapellmeister at the little principality of Minden, in 1786. When King Friedrich Wilhelm II of Prussia heard one of Ernst's compositions, he offered him the job as Kapellmeister for his wife Queen Elisabeth Christine in Berlin. When the queen passed away, Ernst kept his position and musically served Luise, the next queen. In 1811, Ernst retired from service and received a generous pension from Prince Heinrich, the brother of Friedrich Wilhelm III. Ernst was married twice, and he had two daughters by his first, and a son by his second wife. Since his son died in infancy, however, a long line of musical Bach's came to an end.


In a historical sense, Wilhelm Friedrich Ernst was born when Mozart was three, and he died when Brahms was three. He met Robert Schumann in 1843, who described him as "a very agile old gentleman of 84 with snow-white hair and expressive features." The meeting took place in Leipzig on the occasion of the unveiling of a monument to Johann Sebastian Bach. Felix Mendelssohn had donated the monument to the city of Leipzig, and Ernst attended the festivities with his wife and two daughters.
Although he once said, "heredity can tend to run out of musical ideas," he still had plenty of witty thoughts up his sleeve. His cantata called
Die Musikanten
(The Musicians) is scored for baritone and toy instruments. His most famous composition — certainly his funniest one — is called
Das Dreyblatt
(The Threesome). Scored for one piano and six hands, the music features a male performer flanked by two female pianists. The male pianist sits in the middle and has to stretch his arms around the waists of his accomplices to play at the extreme ends of the keyboard. The ladies, meanwhile, play all parts in the middle register. You have to wonder what his famous grandfather might have thought of this composition?
W. F. E. Bach – Das Dreyblatt (Bachauer, Larrocha and Ohlsson act and play)