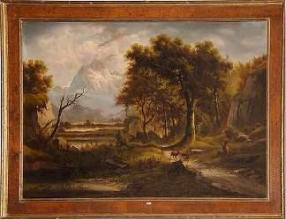 Violin Sonata in A major "La Montanari"
Bizzarrie per Camera no.2 in E major op. 2
Giuseppe Valentini (1681-1753) was an Italian violinist, composer of operas, oratorios, cantatas and inventive instrumental music.

Valentini studied under Giovanni Battista Bononcini in Rome between 1692 and 1697. Working often in a freelance capacity, he received patronage in Rome from various churches and important people. From 1710-1727, he served as 'Suonator di Violino, e Componitore di Musica' to Prince Michelangelo Caetani. He also succeeded Corelli as director of the concertino at S Luigi dei Francesi, from 1710–41.
Valentini achieved substantial success in Rome with his sonatas and concertos in early 1700s. By 1748, his works were published in Paris including four sinfonias and other instrumental works. These works indicate a penchant for distant keys like A-flat and B majors as well as high, sonorous positions on the violin. Many of the movements in these instrumental pieces were written in the form of pastorals, indicating some concern for popular audiences.
In addition to his musical talents, Valentini was also an able painter and poet. Scenes from nature were chosen as his main focus. Today, some of his original paintings were kept at different auction houses around Europe.
Though during his lifetime overshadowed by the likes of Corelli, Vivaldi, and Locatelli, Valentini was evidently one of the most prominent musicians active in Rome from around 1700. His contribution to Italian baroque music is noteworthy, and many of his works were published throughout Europe.
Photo credit : http://www.arcadja.com/auctions/en/