French music for Bassoon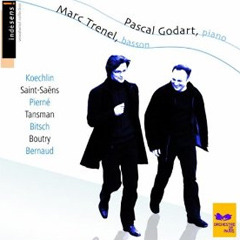 Charles Koechlin: Trois pièces op. 34 (Andante moderato)



Marc Trénel, First Prize at Munich ARD Competition, made this wonderful recording of French music for Bassoon with Indésens, to discover more, visit the official website.


The bassoon's first golden era in France was the XVIIth and XVIIIth centuries. At the end of the XIXth, the musical landscape changes completely thanks to virtuosos, wind instrument makers and composers. Woodwinds regain their letters patent. Debussy, Ravel, Roussel or Stravinsky, totally changed the orchestral pallet and accomplish raising winds to the top rank. The Conservatoire de Paris competitions seriously filled out the repertoire. Marc Trénel is one of the major ambassadors of the bassoon in France today; perpetuating with skill the French spirit, performing on German instrument.