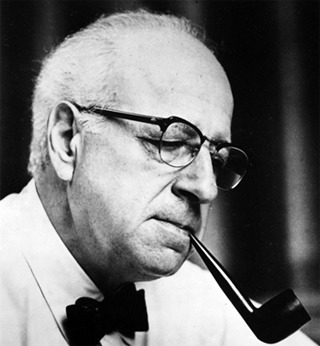 The Incredible Flutist (Ballet Suite)
Walter Piston (1894 – 1976) was a notable American composer, music theorist and an influential professor at Harvard University whose students included Leonard Bernstein, Irving Fine, Leroy Anderson, and Elliott Carter.
Born in Rockland, Maine, Piston and his family moved to Boston in 1904. He exhibited musical talent at a young age, and could play the violin and piano with self-taught proficiency.

While studying architecture at the Massachusetts Normal Art School, Piston performed in cafés and theatres to earn an income. During World War I, he joined the U.S. Navy band as a saxophonist, and learned to play most of the wind instruments himself.
In 1920, Piston was admitted to Harvard as a full-time music student, and was graduated summa cum laude four years later. As the winner of the John Knowles Paine Fellowship, Piston traveled to Paris and stayed at the Ecole Nationale de Musique, where he studied composition and counterpoint with Nadia Boulanger, Paul Dukas and had violin classes with George Enescu. In 1925, the Three Pieces for Flute, Clarinet and Bassoon became his first published score.
In 1926, Piston returned to the US and was appointed to the music faculty of Harvard, where he remained to teach, write and compose until 1960. Throughout the years, Piston enjoyed a fabulous relationship with several American orchestras, most notably the Boston Symphony under Serge Koussevitsky, Charles Munch, and Erich Leinsdorf.
Being an ultimate musical craftsman, the works of Piston were sophisticated and technically assured, with quintessential neo-classic qualities of clarity and proportion. As Gerard Schwarz says of him, "…it's clear that he is not dull or academic, but incredibly imaginative and innovative. He was a master, an inspired composer." During his lifetime, Piston received two Pulitzer Prizes for his Symphonies Nos. 3 and 7, as well as three New York Music Critic's Circle Awards for his Symphony No. 2, Viola Concerto, and String Quartet No. 5. The Incredible Flutist, his only ballet score, had been a long-time favourite to the audience. His four books on music techniques and theory, namely Principles of Harmonic Analysis, Counterpoint, Orchestration and Harmony, are still considered to be classics today.
Related videos:
Fantasy for English Horn, Harp & Strings

Prelude and Allegro for Organ and Strings (1943)

Photo credit: schirmer.com