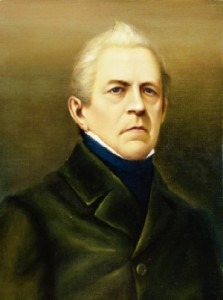 Sweden's best Romantic composer Franz Berwald (1796-1868) holds the dubious distinction of being one of the most neglected composers in music history. In fact, he was so obscure that in 1946 the Swedish postal service, given the choice between putting Franz Berwald or the Fourth Farmer's Congress on a postage stamp, went with the farmers! Berwald came from a large musical family and started violin lessons at age five. By age nine, Franz gave his debut recital in Uppsala, quickly followed by performances in Vasteria and Stockholm. His formal and musical education ended rather abruptly when he threw a substantial lump of wood at a teacher. Essentially self-taught, the first concert featuring his own music took place in January 1818 with the premiere of an orchestral fantasia, a concerto for two violins, and a septet for strings and winds. A set of string quartets followed in 1819, but since he had managed to alienate the entire musical establishment of Stockholm, he was unable to gain a foothold in the city.

By 1829, Berwald had finally secured the necessary funding to travel to Berlin. He made the acquaintance of Felix Mendelssohn, but his newest opera failed to make an impression. Unable to make a living with his music, he opened an orthopedic institute based on the school founded by Pehr Henrik Ling. Ling was not a doctor, but rather a fencing and gymnastics teacher whose principles involved the use of calisthenics and movement to treat orthopedic and other medical problems. Known as the "Swedish System of Localized Movements," it promised cures for paralysis, indigestion, constipation, consumption, angular curvature and other deformities of the spine, gynecological diseases, derangements of the nervous system and other chronic affections. Berwald's foray into bone setting turned out to be rather successful, and apparently, some of the orthopedic devices he invented were still in use decades after his death. Financially more stable, Berwald sold his business and moved to Vienna, where his musical works were reasonably well received.

Franz Berwald: Piano Quintet No. 2 in A Major
Empowered by his positive Vienna experience, Berwald returned to Stockholm in 1842 to find the same "dilettante-ridden, cliquish, and bigoted" environment he had left more than a decade earlier. He swiftly departed once more, and after travels to Vienna and Paris, he was inducted into the Mozarteum in Salzburg. However, the revolutionary grumblings of 1848 forced him to once again return to Sweden. Still unable to secure a musical appointment, Berwald took a position as head of a glassworks company in northern Sweden. He ran the business so successfully that he was subsequently employed as managing director of a brick manufacturing business. Financially secure, Berwald visited Franz Liszt in the spring of 1857 and he brought his newly composed Piano Quintet in C minor. Liszt immediately, to the delight and astonishment of the composer, played through the entire work from the score, "turning the piano into a whole orchestra." As a gesture of thanks, Berwald dedicated his Piano Quintet in A major to Liszt, who wrote "You express yourself with invention, skill and agility, your developments and recapitulations are masterfully executed, your style both elegant and harmonically original. If I must pronounce on your work I would say that its most outstanding qualities are its lively invention and an exquisite feeling for development. Thus you satisfy the demands of the art without once abandoning common sense."

Over the next years, Berwald completed several choral works, and composed four piano trios and three quintets for piano and strings. His opera Estrella de Soria premiered in 1862, and he finished his opera The Queen of Goconda in 1864. Finally getting some recognition, Berwald was elected a fellow at the Royal Academy of Music, and in 1867 he was appointed professor of composition at the Academy. Always outspoken and highly critical of his colleagues, Berwald once presented a Bach fugue as his own composition to a "Bach specialist" in Stockholm to see if he would recognize the hoax. The specialist failed to detect the deception, and was so incensed when he realized the hoax, that he had himself carried on his deathbed to the Academy so he could cast his vote against Berwald. Berwald was unable to enjoy his professorial status for long, as he contracted pneumonia and died on 3 April 1868.