Viral pandemics are pretty dire affairs, with millions of people falling sick and dying. COVID-19 hit us right in the face, mercilessly taking advantage of our human vanities and frailties, praying on our complacency, deceits, and political nonsense. In one way or another, we were all affected by long years of searching for suitable vaccines, having to listen to the most outlandish conspiracy theories, endless testing, and restrictions by governments trying to project competence and assurance. It's almost ironic, but COVID-19 became like a mirror directing our own incompetence back at us.
Just about everybody found strategies of how to deal with it all, but I absolutely love the way conductor Esa-Pekka Salonen and soprano Karita Mattila made sense of the situation. You see, in May 2020 they found themselves marooned in their native Finland. Covid had closed all international borders, and a planned production of Wagner's Die Walküre by the Finnish National Opera was cancelled. As such, they decided to create a comic opera titled COVID fan tutte.
COVID fan tutte: "Trailer"
The music would come from Mozart's Così fan tutte, and a new libretto would take a lighthearted look at life during the Covid-19 lockdown in the spring of 2020. The task of fashioning the libretto was given to journalist and novelist Minna Lindgren, who came up with a funny script that looks at social isolation, job losses, and travel restrictions, among other topics. The production did not aim to make fun of a human tragedy, but as Mattila explains, "Without humor, these extraordinary times would have been very hard to take." And Salonen added, "We're not laughing at the COVID-19 tragedy and crisis. The work simply tells about the reality we've been living in. Opera is often accused of not living in modern times and not reacting quickly to contemporary issues. This work now deals with our times and people." And he tellingly adds, "Mozart was a mischievous and imaginative fellow who wasn't chained to conventional thinking; he would probably be very excited about this project."
COVID fan tutte: "I've got a gig"
The Music
The creative team made the immediate decision to jettison all of Mozart's recitatives. Salonen explains that he "really can't stand secco recitatives, as he always found them boring. So we decided that the opera would not have a single recitative. That was so liberating." However, Salonen was called upon to compose some interludes and keyboard parts. In addition, the music does not exclusively come from Così, but also includes one aria each from Don Giovanni and The Magic Flute.
The Cast and Plot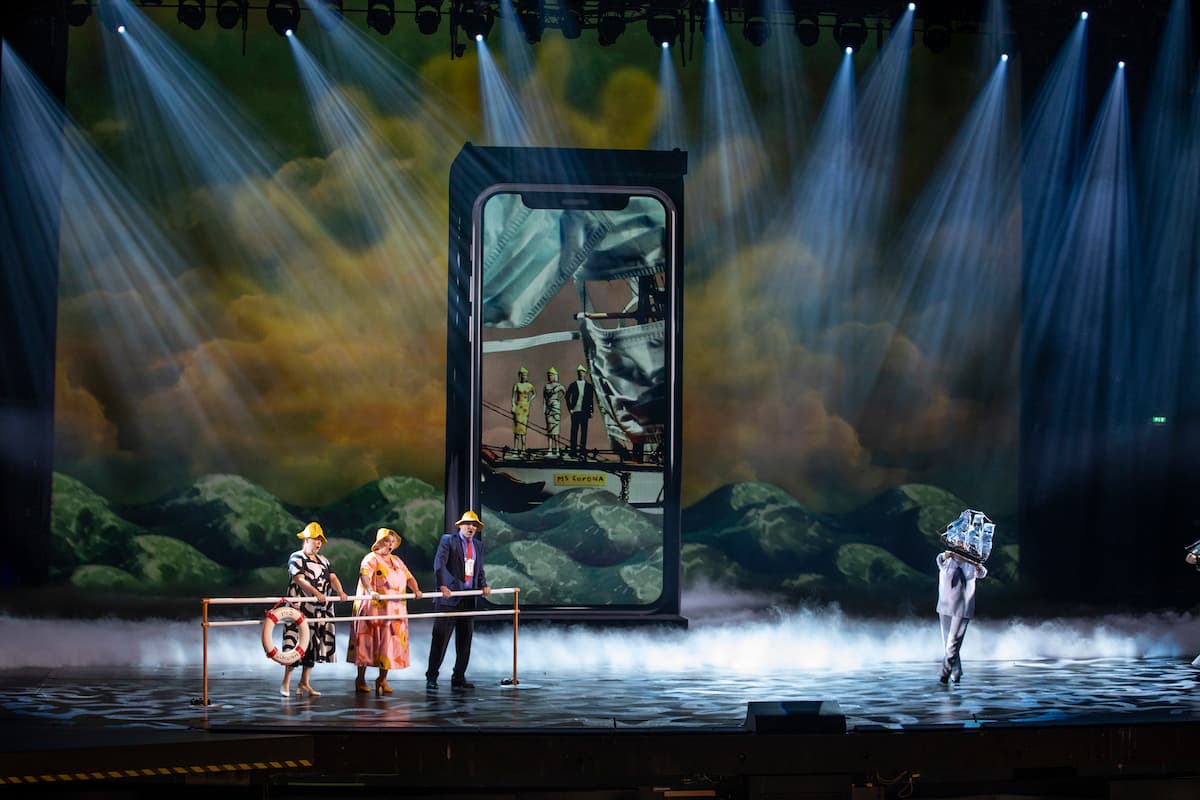 The cast features the known characters of Fiordiligi, Dorabella, Ferrando, Guglielmo, in modern guises, and that includes Despina as a doctor administering painful injections. Added characters include an "Interface Manager," Mozart himself in a non-singing role, and the Covid Virus personified as a dancer. It all gets started with the prelude to Act I of Die Walküre by Richard Wagner. However, the "Interface manager" interrupts the performance, declaring Wagner entirely too serious, and demands that Esa-Pekka Salonen plays Mozart instead. With everybody sitting at home, opera singers are gradually adjusting to the reality of COVID-19 restrictions, and the uncertainties that come with a pandemic. As usual, government officials are not particularly helpful.
COVID fan tutte: "Like a Person in Self Isolation"
An opera diva is on the phone with a friend and complains about being stuck in Finland. She complains about her cheap and dreadful rented flat and speaks of her entitlement to fly around the world and sing the leading roles at top venues in productions that have now all been cancelled, without pay. She then gets a call from the Finnish National Opera to take the lead role in a completely new production titled "COVID fan tutte." The rest of the opera is a comic farce that illuminates the lives of ordinary Finns during the pandemic times. There are announcements and news conferences by government officials and scientists, and various updates as more data emerge. Lives grow more constricted and confusing because of societal, business, educational, and work changes in an atmosphere lacking in a consistent clear direction from national and international authorities.
Public Reception
Reactions to the Finnish production were entirely positive. So much so, that the Artistic Director of the Pacific Opera Project came up with a new English libretto. The updated plot is set at a Southern California golf resort. It features two girls who are spending their quarantine at the golf resort, and the local caddies have won their hearts. Cute plot, but it is not really as funny as Doctor Despina rolling out her doses of a new corona vaccine with her patients complaining, "has the vaccine been tested yet."
For more of the best in classical music, sign up to our E-Newsletter
COVID fan tutte: "Has the vaccine been tested?"