First performed in Munich in 1811, the delightful one-act Singspiel Abu Hassan is based on a famous episode in "The Arabian Nights." Set to music by Carl Maria von Weber, the opera features Abu Hassan (tenor) and his devoted wife Fatime (soprano). The moneylender Omar (bass) is pressing them for payment of debts while unsuccessfully making amorous advances towards Fatime. Abu Hassan hatches a plan, pretending that his wife has died and claiming money from the Caliph (spoken role) for her funeral, while Fatime tells the same story to the Caliph's wife Zobeide (spoken role). At first, the plot succeeds, but when the Caliph and Zobeide try to discover which of them is actually dead, they both feign death. However, when the Caliph offers 10,000 gold dinars to anyone who can clear up the mystery, Abu Hassan leaps to his feet and reveals the subterfuge.
Carl Maria von Weber: Abu Hassan (Erich Witte, tenor; Elisabeth Schwarzkopf, soprano; Berlin Radio Symphony Orchestra; Leopold Ludwig, cond.)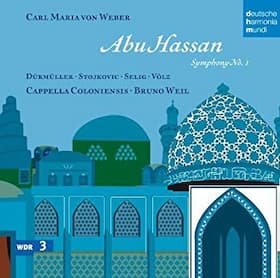 Omar meanwhile had been imprisoned in a cupboard, forced to hide when Abu Hassan unexpectedly returned home. He had attempted to force himself on Fatime, and she now explains to her husband what has happened. When the Caliph hears of Omar's activities at the end of the opera, he orders the cupboard to be taken to the city prison. Weber was seemingly inspired in his choice of topic by his recent personal experiences with moneylenders! However, he was also inspired by the music of Mozart's Abduction from the Seraglio. Weber's personal musical voice clearly emerges in his gift for lively characterization. In addition, Weber augmented the instrumentation by adding a pair of guitars to the standard orchestra, and he makes ample use of "Turkish" percussion in several numbers. For a performance in Gotha in 1812 he added a new duet for Abu Hassan and Fatime, and for the Dresden revival in 1823 he composed a lament for Fatime. Today, this particular Singspiel is primarily remembered for its charming Overture.
For more of the best in classical music, sign up to our E-Newsletter