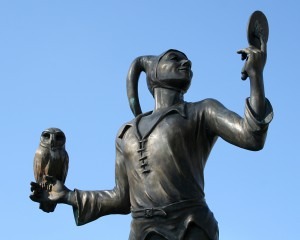 For Richard Strauss, music was always capable of telling a good story. In his tone poems, we find a composer "capable of making poetic or narrative content and formal design coalesce with great brilliance." Strauss's tone poems—although he preferred to call them symphonic poems—are modeled after the programmatic compositions of Berlioz and Liszt. Frequently based on literary sources, his musical depictions nevertheless reference autobiographical, representational or philosophical subjects. Don Quixote was completed in 1898 and dramatizes Cervantes's famous novel of 1605. It described the adventures of the anti-hero Don Quixote, musically represented by the cello, and his sidekick Sancho Panza who can be heard in the bass clarinet and tenor tuba. And let's not forget his horse Rosinante, suggested by motives sounded in the solo viola! Don Juan established Strauss's reputation as the foremost German composer of his time. It was his first completed mature work, and musically depicts events in the life of the famous philanderer. The listening public, however, was hardly ready for the blatantly erotic subject matter and the concreteness of the musical narrative. In his earlier, and highly descriptive symphonic poem Till Eulenspiegel's Merry Pranks meanwhile, Strauss had chronicled the misadventures and mischiefs of the German peasant folk hero "Till Eulenspiegel."

Richard Strauss: Till Eulenspiegel, Op. 28

As far as we know, Till was an entirely imaginary figure whose name spawned a cycle of tales popular in the Middle Ages. The literal translation of the High German name "Eulenspiegel" meaning "Owl mirror" identifies the two symbols associated with his character in popular woodcuts. His legendary pranks are based on literal interpretation of figurative language, and they are frequently scatological in nature. The first literary collection of Till's tales was published in 1511, and due to its extreme popularity, reprinted numerous times. By the 18th century, satirists adopted episodes for social commentary, and the 19th century identified children as the chief natural audience. Till appeared in various illustrated editions and picture books, and the infant Richard Strauss undoubtedly had a copy in his pre-school library. However, he musically engaged with the subject only in 1894. His first idea was to compose an
Eulenspiegel
opera, but he quickly changed his mind and crafted an extended tone poem depicting this figure of singular spirit and ability. His own programme notes suggest the following scenario: "Once upon a time there was a knavish fool named Till Eulenspiegel. He was a wicked goblin up to new tricks. Till rides on horseback through the market, mocks religion (disguised as a cleric), flirts with women, engages in academic double talk with his philistine audience, and by the end finds himself on the scaffold, soon to be hanged."
Although episodic in nature, the work suggests a rondo form as the return of Till's two principle themes articulate his various adventures. The work opens with a "once upon a time" theme, as the solo horns burst in with two repetitions of the first Till theme. Distributed throughout the orchestra, a clarinet theme next emerges, suggesting Till's laughter as he contemplates his next prank. Complex rhythms and colorful orchestration present Till's adventures, and includes the haughty theme of the clergy and amorous woodwind solos in the romantic interlude. As the composition reaches its climax, a sudden drum roll announces the gallows. A brief musical dialogue ensues, with the piercing shout of the clarinet signaling Till's final moments. Claude Debussy suggested in 1903 that the work resembled "an hour of music in an insane asylum. You do not know whether to roar with laughter or with pain." In spite of Debussy's damming assessment,
Till Eulenspiegel
has since become one of Richard Strauss's most popular and most beloved symphonic poem.
Till Eulenspiegel
will be performed on the last night of the BBC Proms on 12 September 2015 by Marin Alsop with the BBC Symphony Orchestra.
Official Website