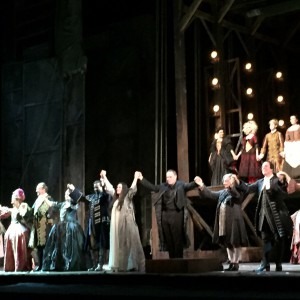 Since August 2014 the Opéra National de Paris has a new impresario, Stéphane Lissner. The Parisian returned to his hometown after a successful stint as the first non-Italian to run La Scala, Italy's premier opera house.

In Paris, he has his work cut out for him. He takes over 1700 staff and two major venues, including the much-loved and historic Palais Garnier and the equally disliked Opéra Bastille at the other end of town. He is also tasked with transforming what can only be described as an operatic backwater into a major centre for the operatic art. He has put together a strong program consisting of many audience favourites by Mozart, Wagner and Verdi as well as more challenging works by Arnold Schoenberg and contemporary composer Aribert Reimann.

Your correspondent attended Francesco Cilèa's Adriana Lecouvreur at the Opéra Bastille (July 6, 2015), a performance which was technically still planned by Lissner's predecessor Nicolas Joel but premiered in Lissner's first year. Directed by Sir David McVicar, this Adriana is a co-production between Covent Garden, Barcelona's Liceu, the Vienna Staatsoper and San Francisco Opera and was first seen in 2010 in London. The sumptuous production remains fresh, inventive and entertaining, injecting a sense of logic into the fictionalized account of the real-life 18th century French actress Adrienne Lecouvreur. The Scottish director turns the convoluted story of love and jealousy into an effective commentary on the lives of different social strata and the drama that ensues when they intersect.


The Opera chorus and ballet corps enthusiastically brought the story to life, clearly relishing the direction, glittering costumes and realistic stage sets. Daniel Oren extracted a luscious sound from the orchestra, doing full justice to Cilèa's passionate and slightly overwrought
verismo
score.
Marcelo Alvarez stood out as Maurizio, Adriana's lover and – initially unbeknownst to her – the Count of Saxony. He delivered a thrilling middle range with gorgeous legato and secure heights, coupled with deeply impassioned acting. The Argentinean is certainly one of the most exciting tenors of today.
His erstwhile political ally and frustrated admirer Princess of Bouillon was played by Luciana d'Intino, a gripping dark mezzo reminiscent of a Fiorenza Cossotto at her peak, as well as a commanding actress.
Both Alvarez and d'Intino overshadowed the real prima donna of the evening, Angela Gheorghiu, one of the reigning
divas du jour
. The Romanian soprano sounded strangely veiled and often quite inaudible, especially in the duets and ensemble scenes. It seemed she was saving herself for the last act aria
Poveri Fiori
which she delivered with ravishing
pianissimi
and menacingly long breath reserves. Possibly an off night for the prima donna, she remained a power house on the stage thanks to her forceful acting and undeniable charisma. She made the tragic heroine, whose premature death launched dozens of legends, both believable and vulnerable.
The supporting cast was outstanding, most notably Alessandro Corbelli who touchingly played the stage director Michonnet, one of the many men suffering unrequited love for the actress Adriana.
Lissner certainly seems to have helped audience attendance. On a stunning July evening, the house was packed with an enthusiastic audience. What he cannot change is the fact that the Opéra Bastille remains one of the most miserably ugly opera houses in the world. With less charm than a provincial high school auditorium, it boasts average acoustics, uncomfortable and dirty seats, as well as food and beverage outlets and sanitary facilities more befitting of a football stadium. Perhaps this July 14 the Parisians should storm the Bastille again and demand a new opera house worthy of this great city.
Opéra de Paris