Vladimir Spivakov, violin
Sergei Bezrodny, piano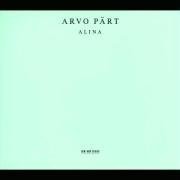 Arvo Pärt: Spiegel im Spiegel
From Alina (1999)

Released by ECM Records








Pärt: Spiegel im Spiegel


" I could compare my music to white light which contains all colours. Only a prism can divide the colours and make them appear; this prism could be the spirit of the listener. "
Arvo Pärt
Spiegel im Spiegel
In German, the title of this piece means "mirror in the mirror", referring to an infinity of images, which can be interpreted as infinite lives – or for me, the reincarnation of days.
This well-known piece of music, written in 1978 and dedicated to the violinist Vladimir Spivakov, conveys Arvo Pärt 's minimalist style, employing a self-made compositional technique called tintinnabuli.
A very dear friend introduced this piece of music to me, and to this day each chiming note brings me peace, reflection and tenderness. It soothes my spirit and calms my heart.