In his three-year stint (1892-1895) as artistic director of the National Conservatory of Music in America, Czech composer Antonín Dvořák caused a fundamental change in American classical music. As an outsider coming into the New World, he could better appreciate the music that America was already producing, but which American classical composers were overlooking. Dvořák saw value in the spirituals and plantation songs from the American South and he requested transcriptions of native American music. From these sources, he created a list of traditional elements, including 'pentatonism in the melodic line, a flattened leading note, plagal cadences, drone accompaniment, rhythmic ostinato, and strongly syncopated rhythms' as occurring more often in American music and should be the source of a national American style.
Eventually, financial pressures (his patrons lost money in a financial crisis) and homesickness drove him back to Bohemia but the legacy he left in America changed its classical music. Instead of looking to Europe for instruction and inspiration, composers started looking at home and we might guess that the new American genres that started to have an international influence, such as the blues and jazz, might be due to Dvořák's ideas.
In the summer of 1893, Dvořák summered in Spillville, Iowa. This little town was a center for Bohemians in America and Dvořák felt as though he had returned home. This is where he wrote his String Quartet in F major, which has been given the nickname of the 'American' Quartet. The first movement is as much Bohemian as American, the second movement is a typical slow melancholy statement, and the third movement includes bird songs that Dvořák heard around the little town.
The final movement Vivace ma non troppo presents many elements that are not only American and local, such as the rhythmic ostinato of the opening, the country style of the melody, and the echo of the Bohemian church music Dvořák would have heard in Spillville. The rondo structure means that we have returning motifs that hold the work together.
Antonín Dvořák: String Quartet No. 12 in F major, B. 179, Op. 96 "American" – IV. Vivace ma non troppo
This recording was made in 1954 by the Netherlands String Quartet, with members Jaap Schröder and Nap de Klijn, violins Paul Godwin, viola; and Carel van Leeuwen Boomkamp, cello. The group had been formed in 1952 by noted violinist Nap de Klijn. This recording is often cited as 'how Dvořák's wonderful quartets should be played.'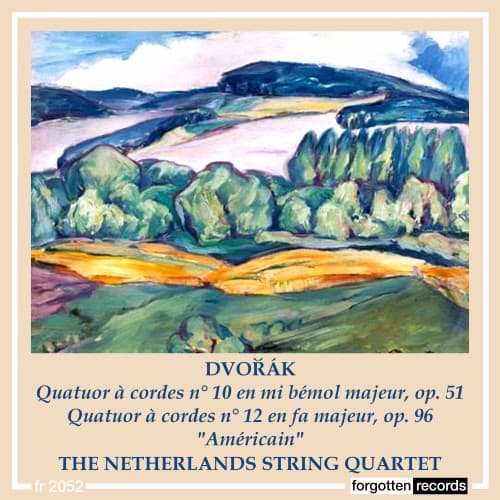 Performed by

The Netherlands String Quartet

Recorded in 1954

Official Website
For more of the best in classical music, sign up for our E-Newsletter