Andante Musica
looked at the music business and saw something that others had missed: young Asian musicians needed a niche. In addition, he was struck by the fact that for most of Asia, the foreign musician is the 'authentic' musician, yet for most of the West, the Asian musician fills their conservatories. There had to be a place for tomorrow's stars to get their start.
After many years as Director of Finance and Development and cellist in the
Hong Kong Festival Orchestra
and with his own background in banking (his day job), Mr Chan joined with Clarissa Wang, a Taiwanese pianist now living in Hong Kong, and took their joint expertise and made them available to up and coming soloists who needed information.
A young musician, fresh from conservatoire, know their instrument, know their music, but don't know the music business: how do you set up a concert? Who needs to be part of your support staff? How do you do promotion? That's where Mr. Chan comes in. He not only knows the places you should be playing, he knows the venues personally (dry hall, no good for violinists, etc.).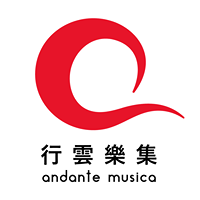 Graduation for many musicians means the start of their career, and, paradoxically, it also means the end to the best playing of their career – no more hours and hours in the practice room if you have to make money to pay the rent. Andante Musica, in their own words, 'provides a platform for performance and for the exchange of ideas through the sharing of music.' It's concerts, but it's also meet-the-artist and a chance for audiences hear the artists discuss their ideas and inspirations about the music that they play.

Andante Musica wants to present the artists as a human being, playing music by a human being. Although this seems an obvious point, Mr Chan points out how many concerts are promoted solely on the basis of [Insert Famous Name Here] playing music, and not as an unspoken partnership between the performers and the music they play. Accordingly, even his

Facebook

posts place emphasis on each part of a concert's content: the player and the composers.

Andante Musica's first season was built around Korean pianist Chi-Ho Han, performing a recital combining two powerhouse works: Beethoven's

Hammerklavier

Sonata, and Liszt's Sonata in B minor. Mr Ho was winner of the 10th Seoul International Music Competition in 2014 and a prize winner at a number of international competitions.

Chi-Ho Han in the Finals of the Queen Elisabeth competition, 2016

Andante Musica's first season has ended: the programme by Chi-Ho Han was presented not only in Andante Musica's home base of Hong Kong but also in Taiwan and Singapore. It was an astonishing international start for such a small company. Finding exposure and performances for the young Asian musician is Andante Musica's goal and they're off to a fine start.

Kilian Chan of