Miss Nancy Loo is one of the most extraordinary pianists in Hong Kong. A graduate of the Juilliard School, Miss Loo won many international competitions, including the First Prize winner at the Fourth Rina Sala Gallo International Competition in Monza and Marguerite Long International Competition in Paris. At 75, Miss Loo maintains a hectic lifestyle between her personal and professional life, including a host of two radio programs on the classical channel (channel 4) of Radio Television Hong Kong (RTHK 4). In this interview, we will learn about Miss Loo as a radio broadcaster.
When and how did you start working for RTHK?
The first time was in 1969. I was still studying at Juilliard at the time. I came back during its summer break for a performance. There was no classical music channel. So, I did a series of eight programs called "Let Me Talk about Music" on various subjects. I still remember the producer for my program was somebody who was an expert in Cantonese opera. They didn't have any classical music. So that was the first time.
The second time was in 1985 after I returned and settled in Hong Kong in 1984. At that time, we still didn't have Radio 4. There was only a semi-classical program on Radio 2. During that time, I was not happy or satisfied with just performing. Then I went to the RTHK and asked if I could host a program there. They said yes. My program was a live program. The first time I did it, I was so nervous; I was literally in tears. And the DJ who did the program before me was very nice. He said, "Oh, I'll stay behind. I'll keep you company to make sure you're all right."
Nancy Loo and Gabriel Kwok Perform Mozart Concerto for 2 pianos in E flat, K.365
Can you tell us what you enjoy the most as a broadcaster?
I enjoy making connections with people and knowing their relationship with music. It's something that I like to do with my music; I hope I do it with the music, but it's also nice to be able to do it verbally and talk.
Can you share a memorable moment with your program?
Well, I used to do a program called Belle Nuit. I really enjoyed that because I could invite my friends to come and play and we could share music. I remember that for two years, I hosted a birthday party for the program; I invited many of my friends to come, and they each either played or sang or did something in the program. It was really fun and very exciting.
It was a live program. It was a great challenge for the technicians because they could not know who would speak next and never knew where to fix the microphone.
Who are some interesting guests that came to your show?
I had a lot of interesting people but one of them that really impressed me was James Wong Jim. He was a very famous person in Hong Kong. He was very knowledgeable and was very well organized. He had a list of the music he wanted to play and gave me one of his CDs.
Another person was organist Cameron Carpenter. I went to his concert, and he happened to be a student of my contemporary at Julliard. We had many common things to discuss, and then I asked him what he was planning to do the next day. He did not have many plans, so I invited him to my program, and he did. We did a really exciting program together.
How long will it take to prepare for one program?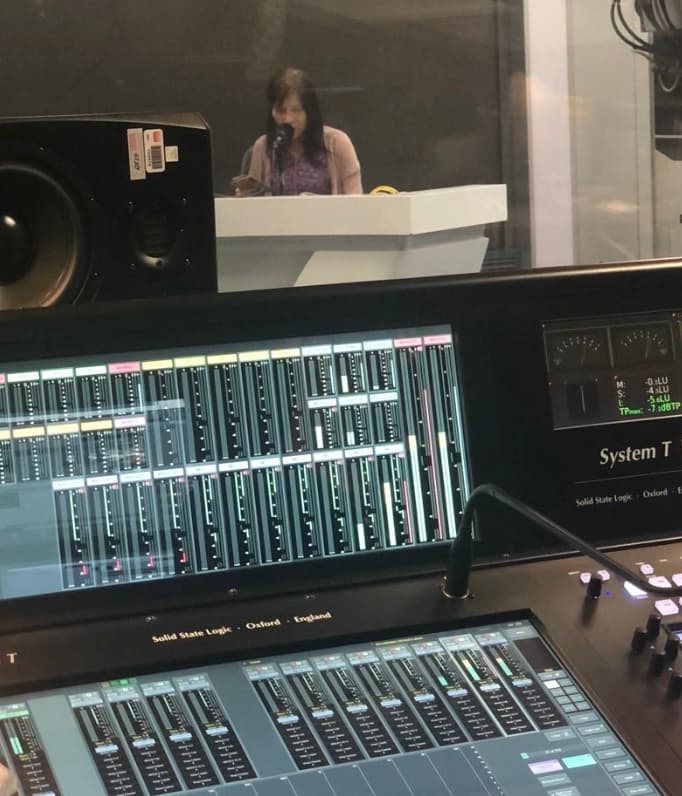 It depends. If I am doing the program by myself, it takes a long time because I have to do research and think about what to say. But if I have guests, I need to know something about my guests; I usually bring many CDs with me, especially for live programs, because you never know how the conversation goes. I want to be able to play the piece of music that the guests refer to. I get frustrated if I do not have the right CD with me.
You are the host of two radio programs, and one of them is Children's Corner 親親童樂日. Would you like to share what made you start this program?
I have two radio programs: Children's Corner is a long-running program I've been doing since 1996. I started that program because I have four children, and none of them studied any instruments. So, with my youngest son, I decided that if I started a radio program with him, I would make him listen to music with me for 60 minutes a week. He had to learn about music and talk to me during the show. We had many children coming to the show. I really enjoy doing that. My wish now is to be able to have a program with my son and his son or daughter so we have three generations. But I have to wait because he doesn't have any children yet. I hope one day, we can have three generations doing that program, and then maybe I'll quit.
You have a busy life. How have you been managing to do so many things? To name a few, you are an active performer, a teacher, a broadcaster, and not to mention your personal life. Would you like to share?
Yeah. I have five grandchildren, so I do spend some time with them. I teach at The University of Hong Kong, The Hong Kong Academy for Performing Arts, and The Chinese University of Hong Kong. In addition to all that, I have been doing prison ministry for 18 years. I go to prison every week. Most of my listeners are in prison because they are just into that program.
I also perform. I recently started a quartet with my friends last year, and so I have many concerts coming up. How do I manage my time? I just sleep very little. I usually sleep for four to six hours and sometimes even less.
Nancy Loo Performs Gershwin's Rhapsody in Blue
What are your other hobbies besides music?
Oh yeah, but I don't really have time for hobbies. I love what I'm doing and am very grateful for the opportunities. I'm satisfied with what I'm getting out of life. I enjoy going to prison, talking with them, and sharing God's love. I love playing the piano, hearing my music, and teaching…well, not all the time, only with students that really care and are full of responsibility. Then I enjoy being a mother to my four children and have lovely friends. I think my luxury is to have lunch and dinner with my friends.
Miss Loo's radio shows:
For more of the best in classical music, sign up for our E-Newsletter