Piano Day was founded in 2015 by composer and pianist Nils Frahm, and a group of like-minded others, and it celebrates all things piano – the instrument and those who play it, its extensive repertoire, and other piano-related projects. It takes places each year on 29th March, the 88th day of the year, chosen because the piano has 88 keys.
"Why does the world need a Piano Day? For many reasons. But mostly, because it doesn't hurt to celebrate the piano and everything around it: performers, composers, piano builders, tuners, movers and most important, the listener." – Nils Frahm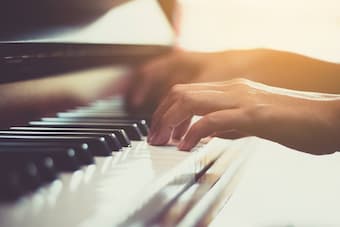 In a year when pianos in concert halls have largely fallen silent, Piano Day seems even more significant to me. I have to admit a certain estrangement from my own piano – I have not felt much motivation to play over the past year, despite having more time to devote to an instrument which I love, but in spite of this, I have made some new musical discoveries which I would like to share here:
William Grant Still: Woven Silver from Seven Traceries
William Grant Still: Seven Traceries – V. Woven Silver (Mark Boozer, piano)

A chance hearing of this piece on BBC Radio 3 one morning led me to listen to the entire suite and order the sheet music direct from William Grant Still's estate in the US.
Jean-Henri d'Anglebert: Chaconne
Jean-Henri d'Anglebert: Chaconne (Alexandre Tharaud, piano)

Another piece which I discovered via BBC Radio 3, listening late one evening.
Rachel Grimes: Every Morning, Birds from The Book of Leaves
A pretty, atmospheric miniature.
Madeleine Dring: Blue Air from Colour Suite
Madeleine Dring: Colour Suite – IV. Blue air (Leigh Kaplan, piano)

Last year I was asked to contribute teaching and performance notes for the new piano syllabus of one of the UK's leading music exam boards, and this was one of the pieces for which I wrote notes. I like its lazy swinging rhythms and piquant, jazz harmonies.
William Susman: Quiet Rhythms: Prologue & Action No. 9
William Susman: Quiet Rhythms: Prologue and Action No. 9 (Erika Tazawa, piano)

This piece appeared in one of those "if you liked that, you'll like this" playlists which the Spotify algorithm creates based on one's listening.
Bill Evans: Some Other Time
This is very similar to Evans' Peace Piece, which I play quite frequently, and it shares its tranquillity and ostinato bass.
Lowell Liebermann: Allegro Moderato from Gargoyles
Lowell Liebermann: Gargoyles, Op. 29 – III. Allegro moderato (Lowell Liebermann, piano)

Another chance discovery, the sheet music for this piece by American composer and pianist Lowell Liebermann was included in an issue of International Piano magazine. It's been on my piano for a while, but I haven't yet got round to learning it properly, beyond a brief sight-read.
Martinů: Film en miniature, H. 148: III. Berceuse
Bohuslav Martinů: Film en miniature, H. 148: III. Berceuse (Bertrand Chamayou, piano)

I don't know very much of Martinů's piano music and I discovered this piece through French pianist Bertrand Chamayou's wonderful Lullabies album (one of my favourite albums of 2020).
Moondog: Elf Dance
American composer Moondog (Louis Thomas Hardin, May 26, 1916 – September 8, 1999) was blind from the age of 16 and wrote most of his music in Braille. I like the Baroque/folksy flavours of this miniature, which appears on Vanessa Wagner's disc Inland.
Listening back through these selections, I notice that most have a rather meditative or ambient quality, perhaps reflecting my taste for quieter, more reflective music during the past year.
For more of the best in classical music, sign up to our E-Newsletter