Queen Elisabeth Musical Voyage

There's an old saying that declares cruises are either for newlyweds or the nearly dead – I am of neither category, but yet I have always loved cruises. It isn't a passion for the sea or the need to pursue any water sport that fuels this penchant; but I do love the idea of visiting numerous different places without the burden and stress of packing and unpacking.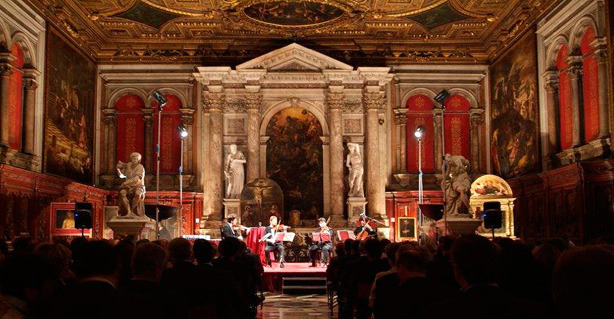 I chose to travel this time with the Queen Elisabeth College of Music, an encore voyage after a most memorable first in October of 2007. Back in 2007, I saw an advertisement in the now-defunct French classical-music magazine, Le Monde de la Musique, describing a music-themed journey on board the Silver Cloud, one of the Silversea fleet. Historically, music cruises seem to have been held on decent (if average) ships, so the fact that the College had chosen Silversea, one of the best cruise lines in the world, to host this experience, was a sign that the sophistication was going to be kicked up a notch.


The programme details certainly confirmed my hopes, with a lineup of wonderful artists, including one of my favourite pianists, Maria Joao Pires. To keep our tastebuds as happy as our ears, Pierre Marcolini, the celebrated Belgian chocolatier, had also been invited to join us for the duration of the cruise. Now this is what I call the ultimate in refinement!

This time round, with an itinerary that took us from Venice, along the Croatian coast, down to Corfu and back, we were on board the Silver Whisper, one of Silversea's newest and largest ships.

The opening night concert was held in Venice, at la Scuola di San Rocco, where Mozart's Requiem was performed under the magnificent paintings of Tintoretto. The subsequent seven days included a succession of delightful concerts staged in historical sites, as well as the opportunity to discover charming Croatian coastal cities: Dubrovnik, Rovinj, Split…  not to mention delicious meals, all of which culminated in divine chocolate decadance created by Mr Marcolini, who was with us again this time. But of course, it was the music that truly spoke to me.

La Chapelle's soloists are all of high artistic standard and professionalism, but one that stood out among them was Sebastien Parotte, a young, 1.98m-tall baritone with a beautiful and intense voice, a pleasant and joyful personality, and also a great sense of humour. His command of drama made all the pieces he sang both lively and penetrating, and I am sure I will be seeing him in major operas in the near future.

The Dali Trio, made up of Amandine Savary at the piano, Vineta Sareika on violin, and Christian-Pierre La Marca on cello, was exceptional in its musical complicity; the three have definitely captured the essence of chamber music.

And Ksenia Morozova, a lovely young pianist, who is highly talented with delicate sensibility, performed a memorable Concerto No. 2 by Rachmaninov.

Among the guest artists, Beatrice Uria-Monzon, the beautiful mezzo with one of the most amazing and powerful voices I've heard, was mesmerising in Pergolesi's Stabat Mater.

Jian Wang, one of my favourite cellists, played Haydn's Concerto No.1 at the temple of St. George in Corfu. I have at home perhaps a dozen of Haydn's concerto recordings, and I must say that Jian Wang's is the only one that I listened to over and over again. The concerto in itself is an easy piece in terms of melody, but Wang has succeeded in injecting so much intensity and sensuality that every time I listen to it, I discover new shades of colour that make the piece different and more interesting.

I had never been the biggest fan of Bach, until Glenn Gould's interpretations rendered him my favourite composer, and I have since been a fervent consumer of Bach concerts whenever there is one available. But Piotr Anderszewski has taken it to a whole new level. Many times, listening to Bach concerts, I have been disappointed; occasionally, I have been pleasantly surprised; but never have I been so intensely struck. I drank in each note of the English Suite No. 6 as if savouring each drop of a vintage Bordeaux. Anderszewski wasn't playing with his hands – those were merely tools he used to complete the task, a conduit through which he communicated. He was playing with his mind, his spirit, his guts – it was an emotionally searing experience, one that you will hunger for the moment it has ended, but are afraid to indulge in, lest the original memory be tainted. I have never been so intensely captivated by a pianist.

The Sinfonia Varsovia also played beautifully during the whole cruise, under the baton of the highly respected and renowned British maestro Christopher Warren-Green. The aural experience was only enhanced by the chance to have night-caps with the musicians at the end of the evening, listening to them playing jazz to unwind or allowing them to regale me with stories from their music tours. It was the perfect activity to relax, surrounding myself with the melody of their tales, long after the music had ended.

Maria João Pires

Béatrice Uria Monzon
Glenn Gould
Jian Wang
Piotr Anderszewski
More information about the event could be found
here
.
Venice
As Venice marked both the beginning and the end of my magnificent trip, I thought I would write a few words about this magical city as an introduction to the destination. The charm of the city has already been recounted by so many able writers, that it seems daunting to follow their narration with my own. As such, I will simply share my own personal moments in the city with you.
My journey began at the Hotel Monaco & Grand Canal, very conveniently located next to San Marco. I was very fortunate to have a room overlooking the Grand Canal, and watching the sunrise on La Salute is probably one of the most privileged moments I've ever had in life.
During my short transit in Venice, I visited the François Pinault's collection at the Punta della Dogana, which just opened in June after a renovation by the famous Japanese architect Tadao Ando.
The gallery occupies a prime location in Venice, and with the Ando touch, is definitely worth a visit. Although I appreciate modern art, I did find some of the exhibits quite disturbing. I find it difficult to understand the brutality and the vulgarity of some artists – is this perhaps a shortcut to fame, or a statement about our society? It seems to me that we already have our share of violence every day in the newspaper, and art, like music, should be our breathing space for peace, rest, soul searching, reflection and an appreciation of the beauty of life.
There are many restaurants in Venice, and one of my favourites is Trattoria Alla Madonna, a casual trattoria with simple, unpretentious and delicious dishes, including a must-try seafood risotto.
Since the day I found out that the famous Harry's Bar tailors its price list to the customer – the locals pay the least, then the regulars, while the tourists are expectedly gouged – I've frequented the sister branch instead, Harry's Dolci, located on the Giudecca, away from the tourist spot of San Marco, thus more difficult to access but more peaceful. Here, you will find the same signature dishes as in Harry's Bar, including homemade baked tagliolini with ham, to be shared, as the portion is quite substantial. Don't leave without trying their cakes – once you sink your teeth into the multiple layers of cream, you'll never want to leave. Yumm!
Photo credits:
thundafunda.com