We tend to think of Bach's Brandenburg Concertos as a unified collection, but, in fact, they're rather a strange grouping of works that only have the idea of 'concerto' as their unifying feature.
Bach prepared the six concertos during 1720, when he was in Cöthen. The Margrave of Brandenburg, for whom Bach had played while negotiating for a new harpsichord for Cöthen, requested some pieces from Bach. Bach sent him the six scores in 1721, dedicating them to the Margrave, but, as they were specifically written for the instrumental forces in Cöthen, the Margrave of Brandenburg 'did not thank Bach, send a fee or use the score.'
Despite their spurning by the Margrave, the concertos are an important development in the German history of the concerto. They follow the lead of Vivaldi in that they aren't a small group of instruments versus a larger group of instruments (as in a concerto grosso) but are all based on various solo combinations. Bach's combinations are entirely new: some concertos are based on a unified string sound (Nos. 3 and 6), and the rest are based on mixtures of wind, string, and keyboard instruments. The oddest one is No. 5, for harpsichord, which not only celebrated the new harpsichord he bought in 1719 but also marks the beginning of a new style of concerto: the keyboard concerto. Think of what the piano concerto became in the 19th century to see the real importance of this work.
Brandenburg Concerto No. 2, for trumpet, recorder, oboe, and violin as the soloists, remains one of the most familiar of the six concertos. The trumpet part is extremely difficult and was probably written specifically for the Cöthen court trumpeter, Johann Ludwig Schreiber. He played a clarino trumpet (an unkeyed trumpet in a high register) and this skill was lost in the 18th century. It's only in the 20th century with the development of new instruments such as the Bb piccolo trumpet that it became possible to play this part again as intended.
J.S. Bach: Brandenburg Concerto No. 2 – I. Allegro moderato
This 1958 recording was made with the Chamber Orchestra of Mainz, conducted by Günter Kehr. The soloists are unknown. Günter Kehr (1920-1989) was a music historian, focusing on 19th century violin technique, violinist, and conductor. He founded the Chamber Orchestra of Main (Mainzer Kammerorchester) in 1955 and staffed it with a mix of professional players and music students from the Peter Cornelius Conservatory in Mainz, which he directed from 1953. Under Kehr, the orchestra made over 100 recordings of music from Baroque to contemporary.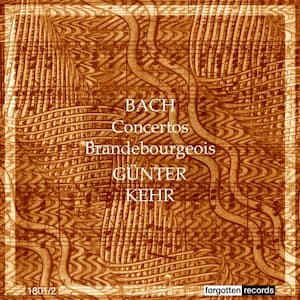 Performed by

Günter Kehr
Orchestre de Chambre de Mayence

Recorded in 1958

Official Website
For more of the best in classical music, sign up to our E-Newsletter