The French composer Louis Vierne (1870-1937) had a life of great potential that was thwarted by circumstances. He was born nearly blind and his musical abilities were developed at the Institut National des Jeunes Aveugles (National Institute for the Young Blind) followed by training under César Franck at the Paris Conservatoire. He took first prize in the 1893 organ class. Although he assisted both Franck and his successor Charles-Marie Widor for nearly 20 years in teaching the organ class at the Conservatoire, he was passed over twice when the director of the Conservatoire, Gabriel Fauré, was seeking for a professor to succeed Widor in the department. He had many operations on his eyes, which gradually improved his sight, and to repair a badly broken leg. WWI cost him both his brother and his eldest son.
He also played organ at the Paris church of Saint-Sulpice, assisting Widor, and then was appointed as organist at the Cathedral of Notre Dame. This position gave him international recognition and he gave international tours, including to the US, to raise funds to restore the organ, parts of which date back to the 14th century. He died at the organ in 1937, with Maurice Duruflé at his side, during what was supposed to be his final Notre Dame concert.
Vierne's organ pieces are his best-known works, but he also wrote chamber music, art songs, and piano music. His music is highly skilled, with a brilliancy in his organ music rarely matched. We don't have the characteristic light French humour in his piano music and much of his piano music was intended for private, rather than public performance.
His Op. 39 piano work, Poème des cloches funèbres ('Poem of the funeral bells') today only survives in one part, the first part, Cloches et le cauchemar (Bells and the Nightmare), having been lost. Part 2, Les Glas (The death-knells) is dated Christmas Day 1916, in the middle of WWI, and is dedicated to Alphonse Franc, a close friend. Vierne's work brings a solemnity to the impressionist style.
Louis Vierne: Poème des cloches funèbres, Op. 39 – No. 2. Le Glas (Sergio Monteiro, piano)

The pianist on this 2020 recording is Brazilian pianist Sergio Monteiro. He was awarded First Prize at the 2003 Martha Argerich International Piano Competition in Buenos Aires, and this was the start of his international career. He has appeared across Asia, Europe, and the Americas from Washington, DC to Buenos Aires. After study at the Eastman School of Music, he is currently Professor at Oklahoma City University in the US.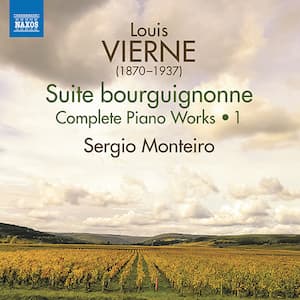 Louis Vierne: Poème des cloches funèbres, Op. 39 – No. 2. Le Glas

Performed by
Sergio Monteiro

Official Website
For more of the best in classical music, sign up to our E-Newsletter