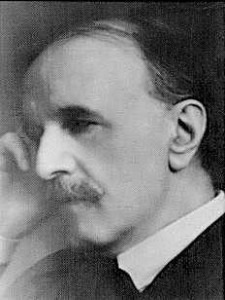 Louis Victor Jules Vierne was seemingly born under an unlucky star! He emerged into this word nearly blind on 8 October 1870. Two serious operations in 1877 finally enabled him to read large print, and he eventually learned Braille in a school for the blind. As if nature tried to compensate, however, Vierne exhibited exceptional musical talents at a super early age. In fact, he started taking piano lesson at age 2, and by 1889 he was invited to become a student of César Franck at the Paris Conservatory. The nearly blind organist continued his meteoric rise in the Parisian music scene, and Vierne became the assistant of Charles Widor at the Church of St. Sulpice in Paris. To crown his professional career, Vierne was appointed "organiste titulaire" at the Cathedral of Notre Dame, Paris, in 1900, soundly beating 50 other applicants in the process.

Overcoming his disability with hard work and determination, Vierne achieved celebrity status in Parisian society. And unsurprisingly, a number of fair maidens were attracted by Vierne's fame. Among them was Arlette Taskin, daughter of the celebrated baritone at the Opera Comique. Vierne, almost instantaneously fell head over heels in love with Arlette. A brief and intense courtship followed, and although Arlette was ten years younger, the couple was married, with Widor playing the organ, at St. Sulpice in 1899. The couple went on a romantic honeymoon in Cayeux, and during these happy times Vierne began to compose his masterful and elegant First Organ Symphony. Vierne later wrote, "My first symphony is my Marseillaise! It's a lack of taste, but a lack of taste that pleases the public, so I always play it." The newlyweds set up a cozy household, and their son Jacques was born in 1903. Another son, Andre, followed in 1903 and daughter Colette arrived three years later.

Louis Vierne: Organ Symphony No. 1, Op. 14
Significantly, Vierne's second symphony is dedicated to the organ builder and his close personal friend Charles Mutin, who was making extensive modifications to the cathedral organ. Debussy was in the audience at the premiere and wrote, "Monsieur Vierne's Symphony is truly remarkable; it combines abundant musicianship with the cleverest use of the instrument's special sonority." Unbeknownst to Vierne, however, Arlette had been having an affair with Mutin for a number of years. She finally confessed her infidelity in 1909, and it was quickly established that Colette wasn't Louis Vierne's daughter after all. News of that kind generally does not strengthen the bonds of a relationship, and the couple separated soon thereafter. The divorce was granted on the condition that Vierne would never remarry. Andre and Colette remained with Arlette, and Vierne took Jacques to live with him at his mother's home.

After the death of his mother in 1911, Vierne jumped headlong into an affair with soprano Jeanne Montjovet. They had been professionally acquainted for a number of years, and Jeanne premiered a significant number of Vierne's vocal compositions. However, after an intense five-year relationship, Jeanne packed her bags and moved on. Vierne had believed their love indestructible, and he became obsessed and deeply depressed with having been betrayed once more. Nevertheless, Vierne would try his hand once more in the game of love. Shortly after his return from Switzerland to Paris in 1920—following intensive but unsuccessful therapy to reverse his growing blindness—he met the singer Mademoiselle Madeleine Richepin, a distant cousin of Jean Richepin. She assisted him in finding an apartment, and used her professional contacts and influence to help him rebuild his class of students. In return, Vierne set some of Jean Richepin's poetry to music, and dedicated the songs to Madeleine. Madeleine became his guide, assistant and traveling companion, which included a tour of America. And, she also became his lover. However, she was 28 years younger than Vierne, and when she married Dr. Lucien Mallet, an eminent cancer specialist who was employed at the Paris Morgue, Vierne had finally come to the conclusion that as far as love was concerned, he was born under a severely unlucky star!