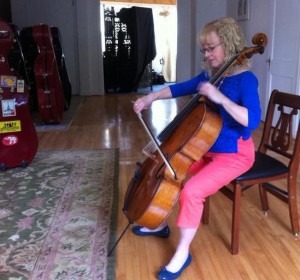 Once I entered an elevator with my red cello case. I swung it up so it stood upright. Although I tried not to make eye contact someone was still prompted to ask questions.

Man: That thing sure looks heavy for a little lady like you. How long did it take you to learn to play that thing?
Me: I've been playing for more than 50 years but I always have more to learn and more to practice.
Man: Wow! You still have to practice?
Another time a neighbor asked. "You play in the Minnesota Orchestra right? What do you do during the day? Go to movies? Really? You still have to practice?
I'd like to clear the air once and for all. Don't get me wrong; I don't always rush to the cello to practice. Some days are drudgery. Some music is not fun to try to figure out without the other instruments around guiding me. Some contemporary literature requires a PhD in calculus.
Practicing is never done. In addition to staying in shape, as athletes need to, we are always seeking better ways to express ourselves with a greater understanding of the composer's intentions. We explore more interesting interpretations, more fluid fingerings, increased ease, improved coordination, and heightened communication to the audience.
I spend time daily on "house-cleaning"—working on my intonation, sound quality, difficult bowings, shifting, (getting from one hemisphere to the other on the cello) and general facility. Things go downhill quickly if I don't. Yes, I practice S-L-O-W-L-Y, often with a metronome (a musician's conscience) and I isolate the short bits that give me headaches.
An orchestra will go through an enormous amount of repertory. Every week the music performed is different. We typically work on the pieces on Tuesday as a group and by Thursday we are performing it. That means we come to rehearsal on Tuesday knowing our own parts cold. In addition to the music that we are performing that week in the orchestra many of us are working on the music for our next recital, chamber music program, students' lessons, church presentations and fund-raising efforts for our favorite cause.
Whether or not I've performed a piece, like for example Beethoven's Fifth Symphony or Tchaikovsky's Fifth Symphony, which I've played too many times to count, musicians always have to brush up on the tricky or exposed passages to "get them into our fingers" again. When it comes to the pieces that I love to play, and which are challenging, like Ravel's Daphnis and Chloe Suite, Stravinsky's Petrouchka, (Stravinsky anything!) Strauss Der Rosenkavalier (Strauss anything!) or Mahler's Third Symphony, (Mahler anything!) (Listen to our live recording with Klaus Tennstedt) which has a devilishly difficult cello part, I typically go over the finger-knotting spots often, even when the works are not programmed in the immediate future. Our technical struggles can easily foul us up and then it is impossible to do justice to the interpretation of a piece.
Most important is to plumb the infinite secrets of the great masterworks. It is not enough to play the notes correctly, with good intonation, accurate rhythms and dynamics. Only when the above-mentioned are totally in place are we ready to ferret out the genius behind the notes. Each note has meaning within the whole, as cellist Stephen Isserlis recently wrote, we can compare the importance of each note to each word within a sentence. We need to have lived with a piece, and earnestly have studied it before can we begin to illuminate the complexities and intricacies it may hold.
This will entail taking time to study not only the other parts in the music with whom I may be playing with, but also related pieces of the composer as well as the particular genre written by other composers. An orchestral player worth their salt must know how their part fits in—when a cello melody is in unison with the horns, when a tricky rhythm needs to be more articulate so another section can feel the pulse better. This is like understanding how a sentence fits in the chapter or novel. When I am performing one of the wonderful piano trios of Brahms, I study other great trios—those of Haydn, Beethoven, Schubert, Mendelssohn, Ravel and Shostakovich all magical works tracing the history of the development of the trio form.
There are days when nothing seems to go right. I think I sound like a kindergartener and my frustration level rises to the boiling point. My muscles ache. The music goes round and round in my head all night. But I've learned that consistency is all; that tomorrow something will have "clicked"; that practicing does make it better even if in very small increments. And when things gel and everything feels right, the music expresses the inexpressible and I know it, the conductor knows it and the audience knows it.
Mahler III live with MN Orch and Tennstedt