We musicians love to laugh just like everyone. Perhaps our profession requires a quirky sense of humor considering all the years of discipline, motivation, and practice let alone the stress of competitions, auditions, and irascible conductors. I've illustrated some of the puns that seem to make the rounds, but musical tales and facetious impressions of the music we play are also very popular among musicians.
We often make jokes about why composers wrote certain works. Take Schubert's "Unfinished" Symphony, a piece we play frequently. Here are two musicians' interpretations of why Schubert might have left his piece unfinished.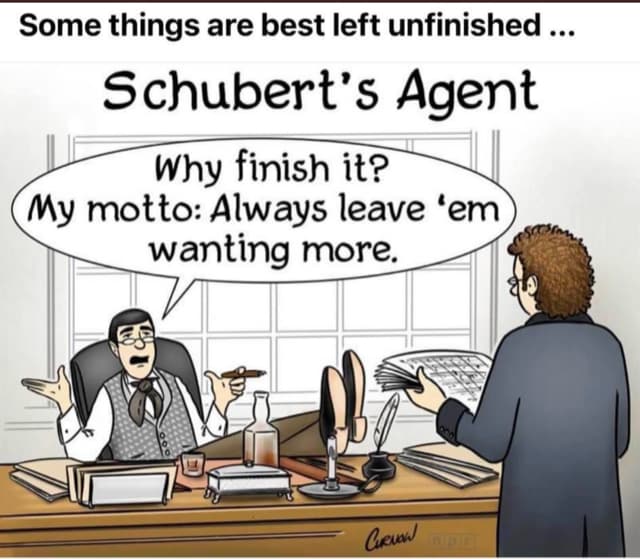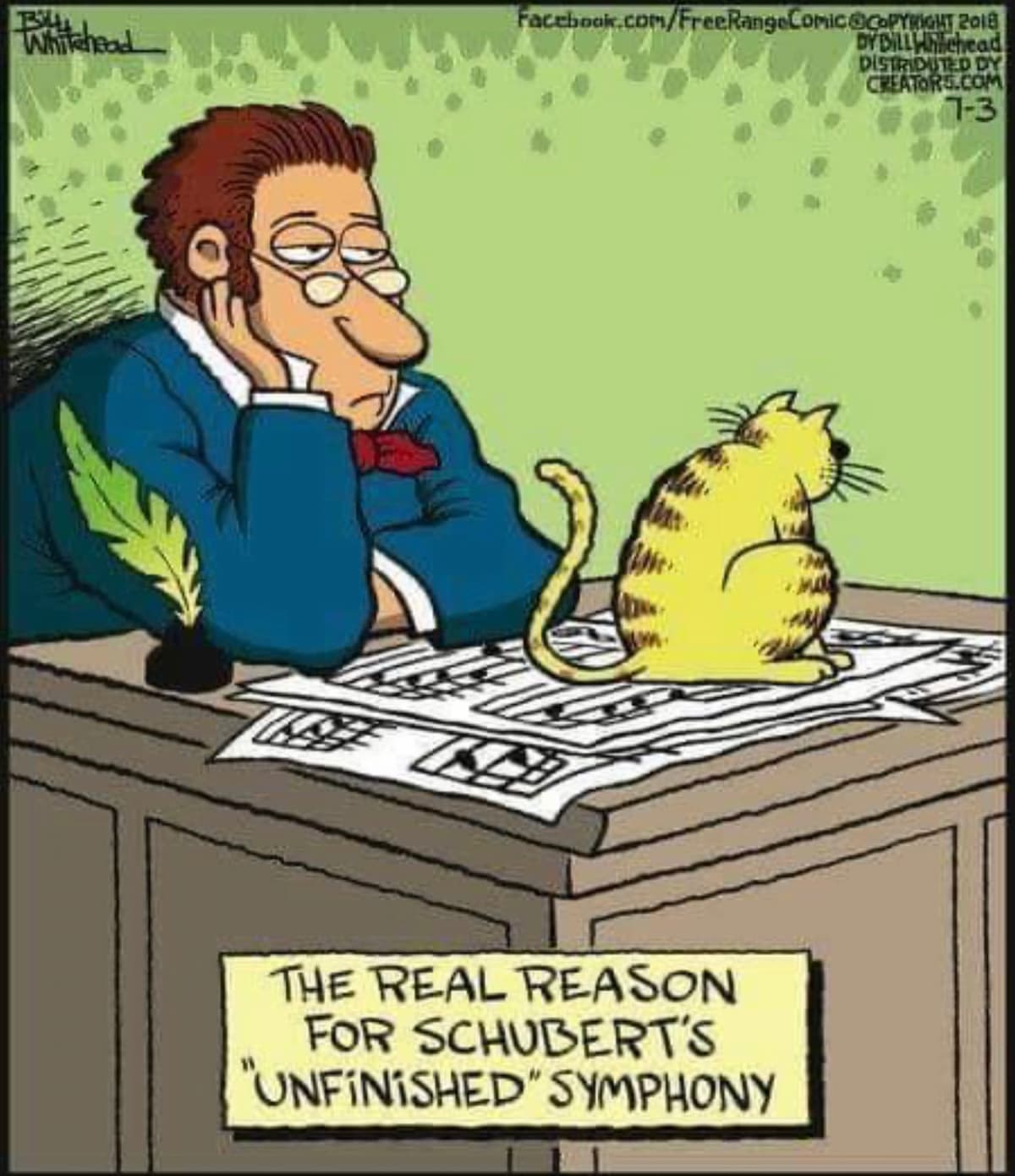 Franz Schubert: Symphony No. 8 in B Minor, D. 759, "Unfinished" – I. Allegro moderato (Cincinnati Symphony Orchestra; Thomas Schippers, cond.)

And do you know why Brahms took so long to write his lullaby?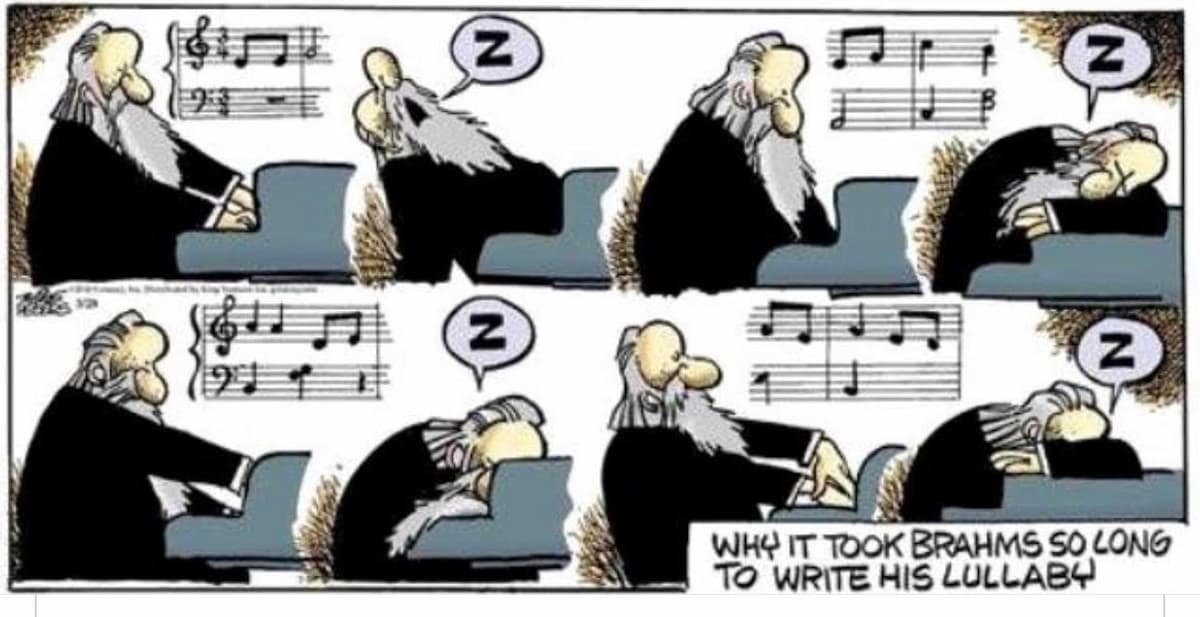 It's sometimes frustrating to illustrate what it takes to play our instruments. We might resort to a visual interpretation. Here is one to explain to a pianist what a cellist goes through!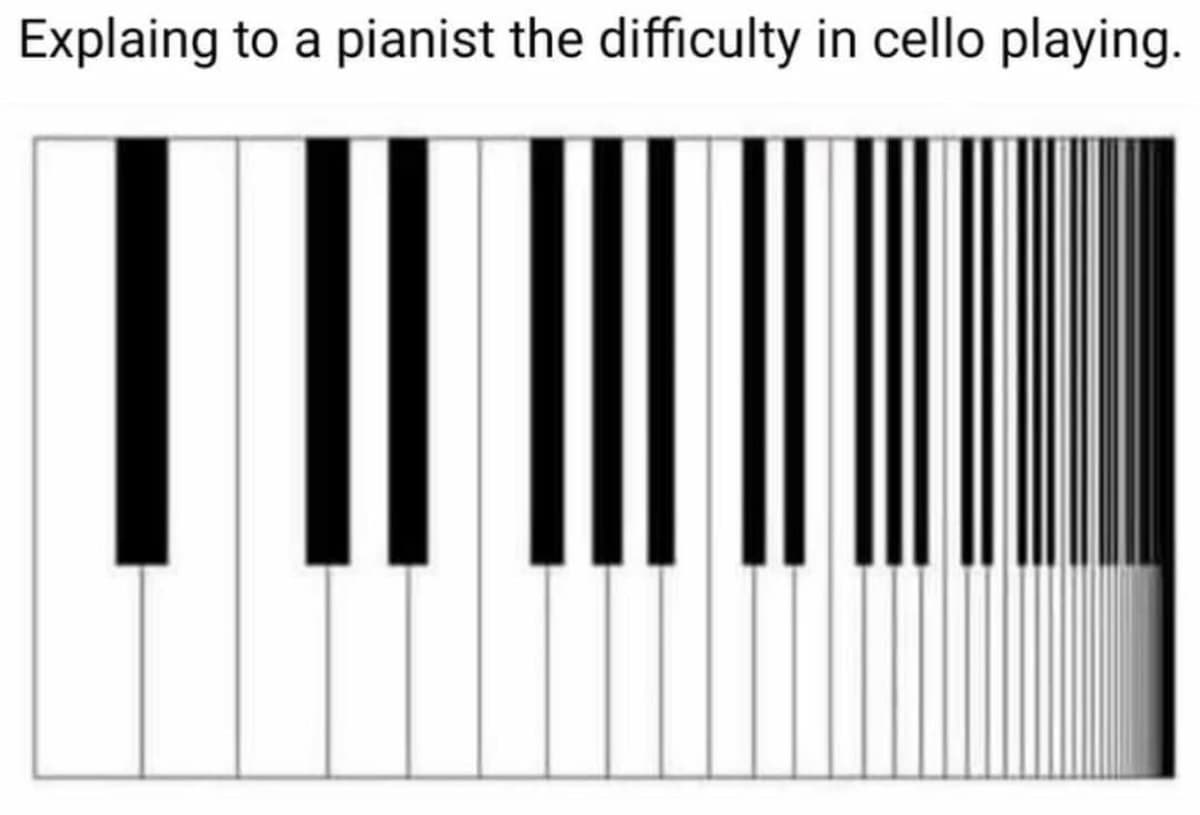 We occasionally have fun with notation and ascribe the symbols to musician personalities.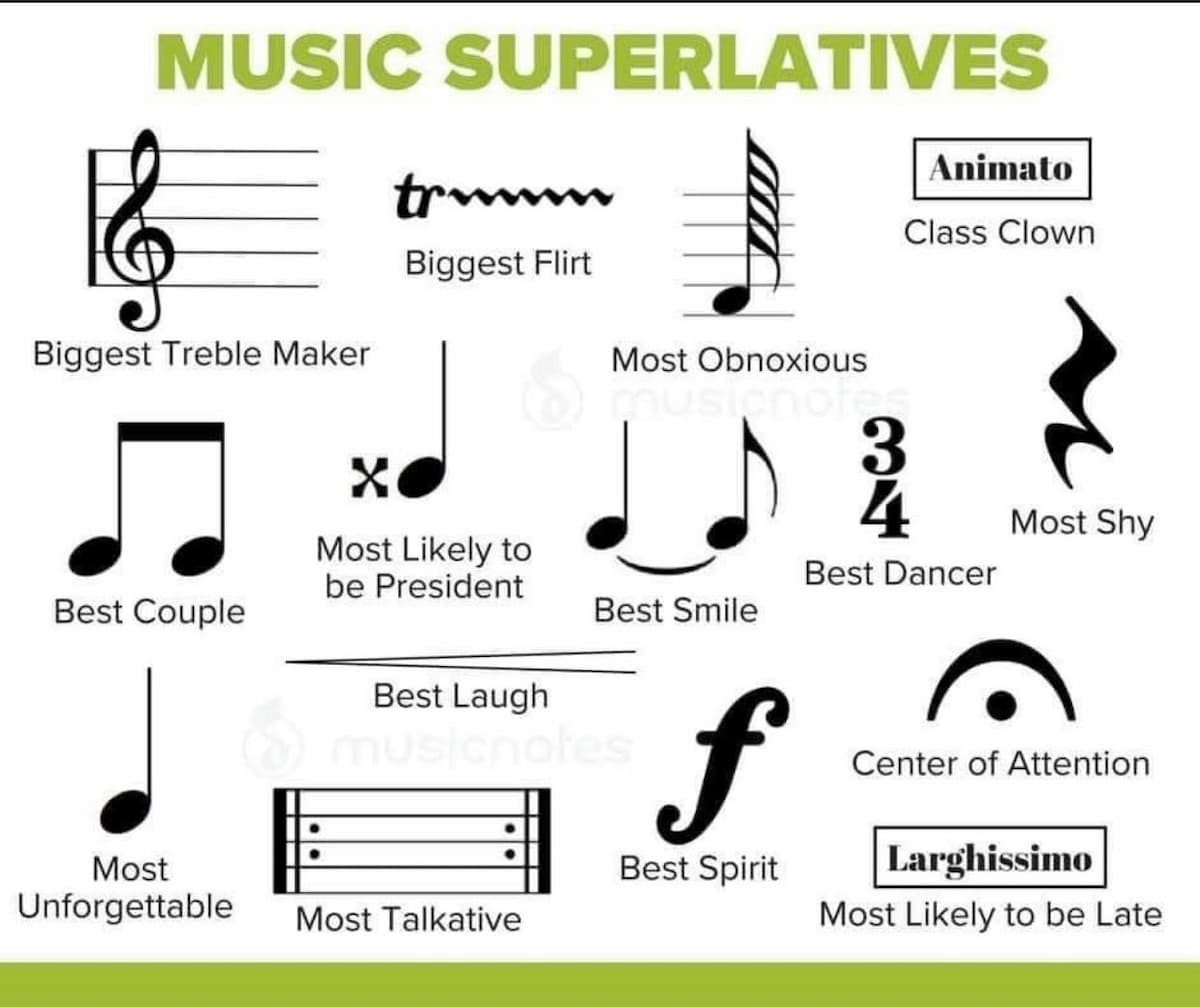 Virtually all beginning pianists must learn to play Beethoven's Für Elise for solo piano. There are so many jokes swirling around the piece. Here are two. The hours spent practicing Für Elise takes a toll on the pianist and even on the piano.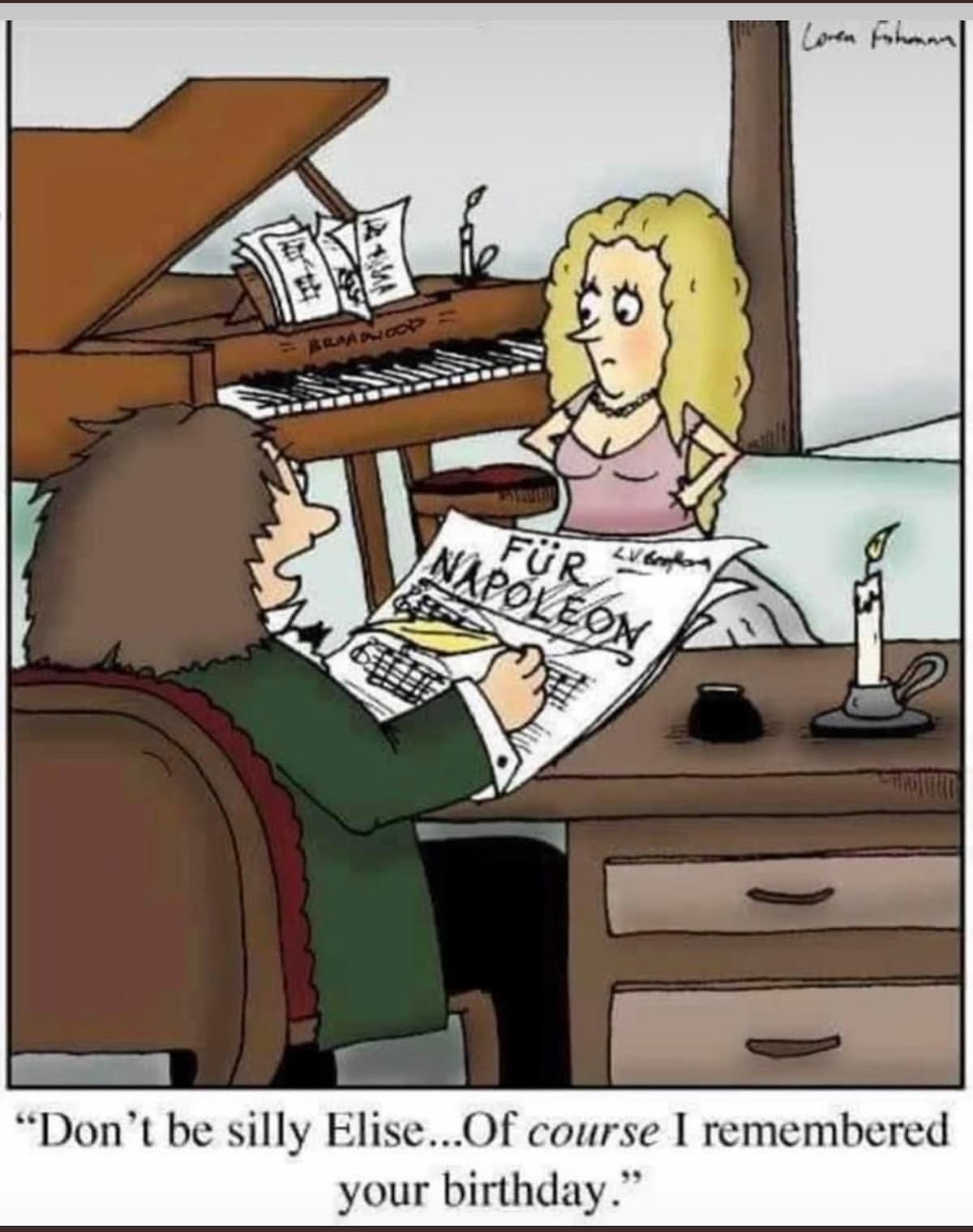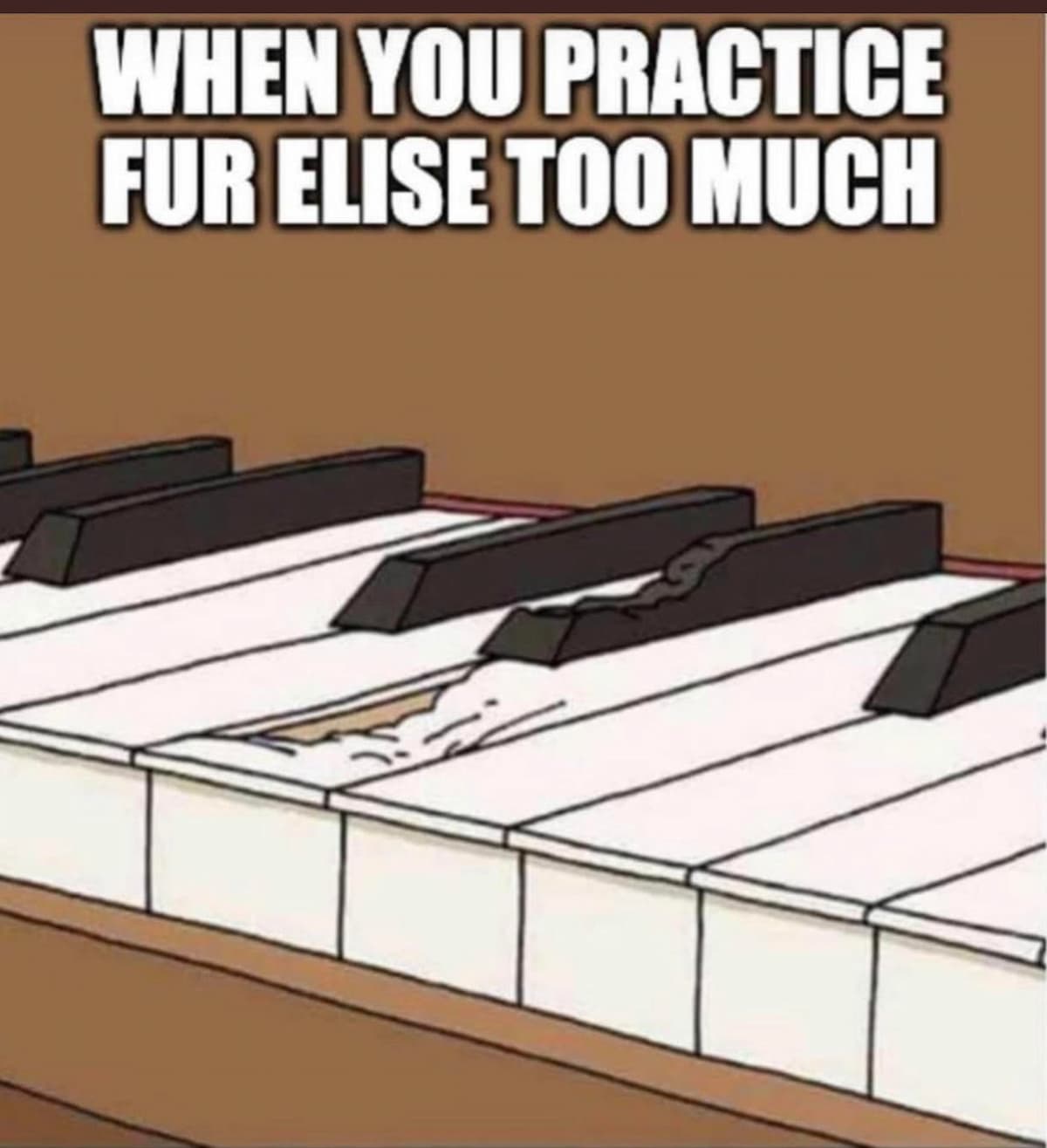 Ludwig van Beethoven: Bagatelle in A Minor, WoO 59, "Für Elise" (Endre Hegedus, piano)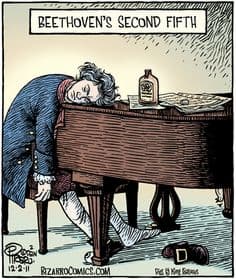 In my previous article I related a long joke related to drinking and a bar but here's another.
The following clever story was told by Jurgen Goth during a CBC radio broadcast a few years ago.
"A man walks into a bar with his dog and says to the bartender, "Ask my dog anything about music. I bet you a beer you won't be able to stump him." The bartender answered, "Sure," and posed the question, "Who's the greatest Baroque composer of contrapuntal music?" The dog countered, "Bach!"
The bartender somewhat dubious then asks, "Okay… This will confuse him he thinks. "Who's the greatest composer of German Lieder before 1900?" This time the dog reacts with, "Wolf!" "What a load of bull!" the bartender says, "Aw, get out of here."
The dog's owner says, "No. Wait!" Just one more, please? The bartender sighs and asks, "Who was the best German composer between the world wars?" The dog shook and let out a yelp, "Orff!" At this the bartender lost his patience. "Out with the both of you!" he grumbled. "No beer for you!" And with that the dog and the man exit the bar. Once outside, the dog looks up at his master and asks, "Hindemith?"
Speaking of our pets, may I show off two of our dog Oreo and my cello? I think in this first photo he's enjoying the music. Actually, he's really wondering when I'll be done so we can take a walk. When I continue to practice despite that sorrowful face, he gives up on me and takes a nap. Such patience as I repeat and repeat a difficult passage.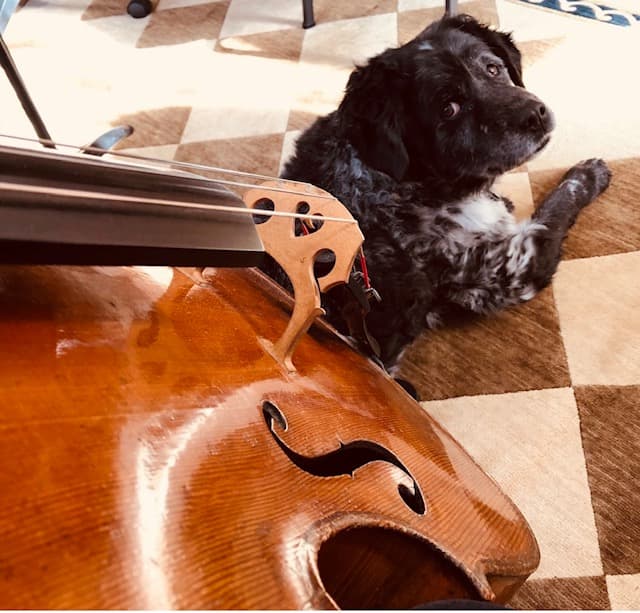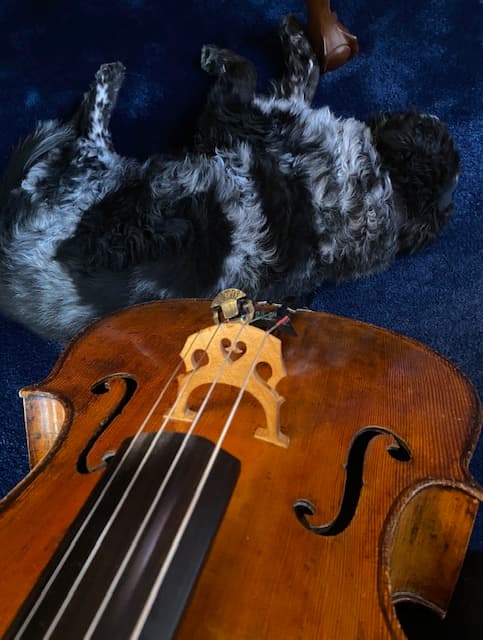 Many of us have found our pets enjoying a nap in, on, and around our instruments and in our instrument cases!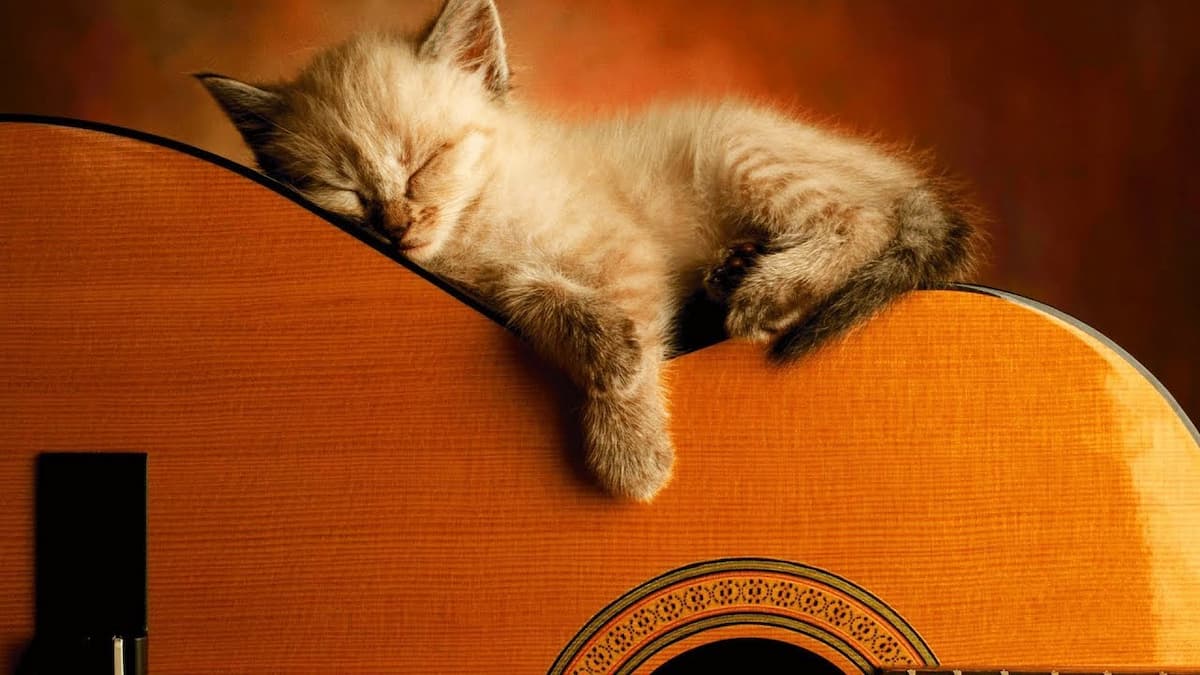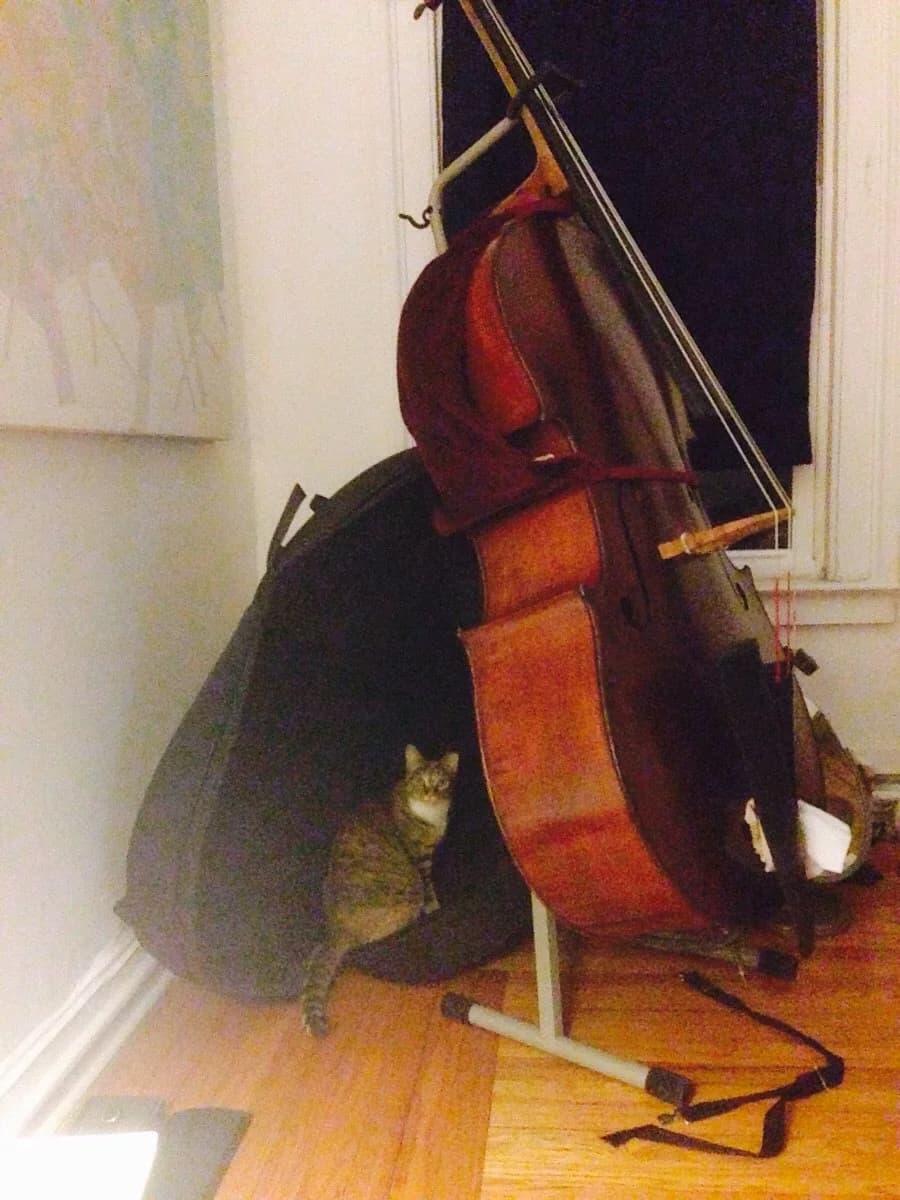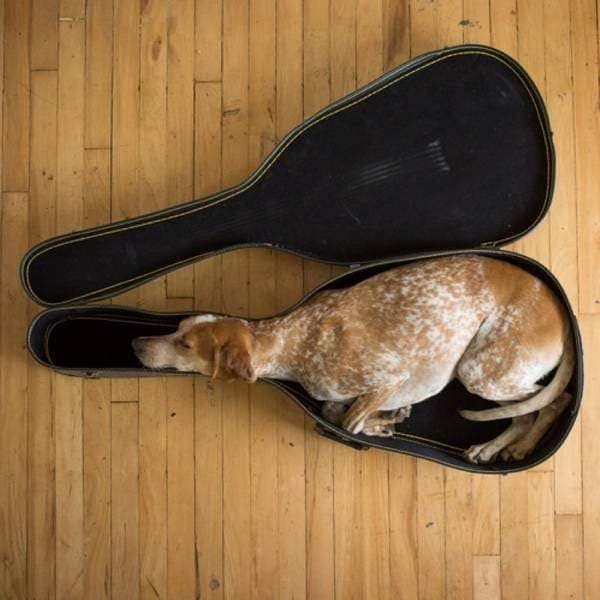 And just in case, (couldn't resist the pun) sometimes they try their hands (paws) at playing instruments.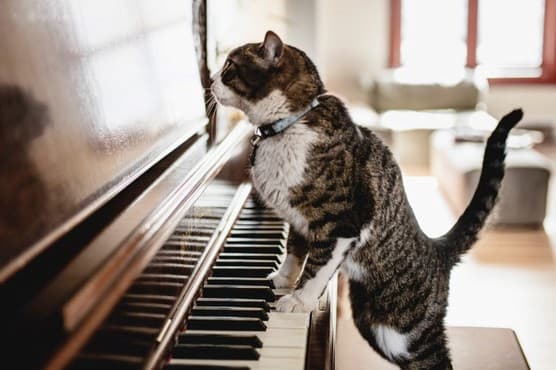 Don't get me started on Bach jokes—Johann Suggestion Bachs; Call Bach; Stay Bach.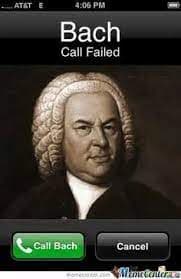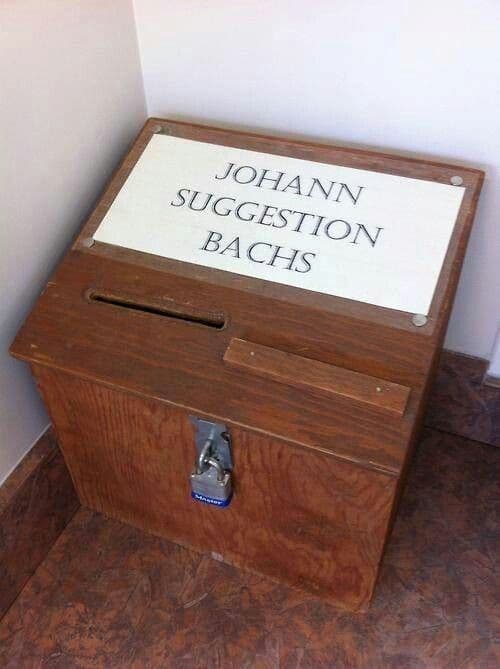 Even though Bach wrote the Well-Tempered Clavier—two sets of preludes and fugues in all 24 major and minor keys for keyboard, it is said Bach did have a temper (see what I did there?) During his early professional days in Arnstadt, Bach got into a fight with a student after Bach called him a "nanny-goat bassoonist" during rehearsal.
J.S. Bach: The Well-Tempered Clavier – Prelude No. 1 in C Major, BWV 870 (Daniel Barenboim, piano)

J.S. Bach: The Well-Tempered Clavier – Fugue No. 1 in C Major, BWV 870 (Daniel Barenboim, piano)

We revere the composer who wrote more than 1,000 compositions, and among audience members, many of his works are all-time favorites such as the Air on the G-string, the Brandenburg Concertos, the Six Suites for Solo Cello. One would hope he wouldn't have been offended at all the amusing uses of his name.
J.S. Bach: Overture (Suite) No. 3 in D Major, BWV 1068: II. Air, "Air on the G String" (Jovana Stosic, violin; Musica Sancta Ensemble; Liran Mendel, cond.)

I hope you're convinced musicians have a quirky sense of humor. But now I really should be practicing. Several people are breathing down my neck!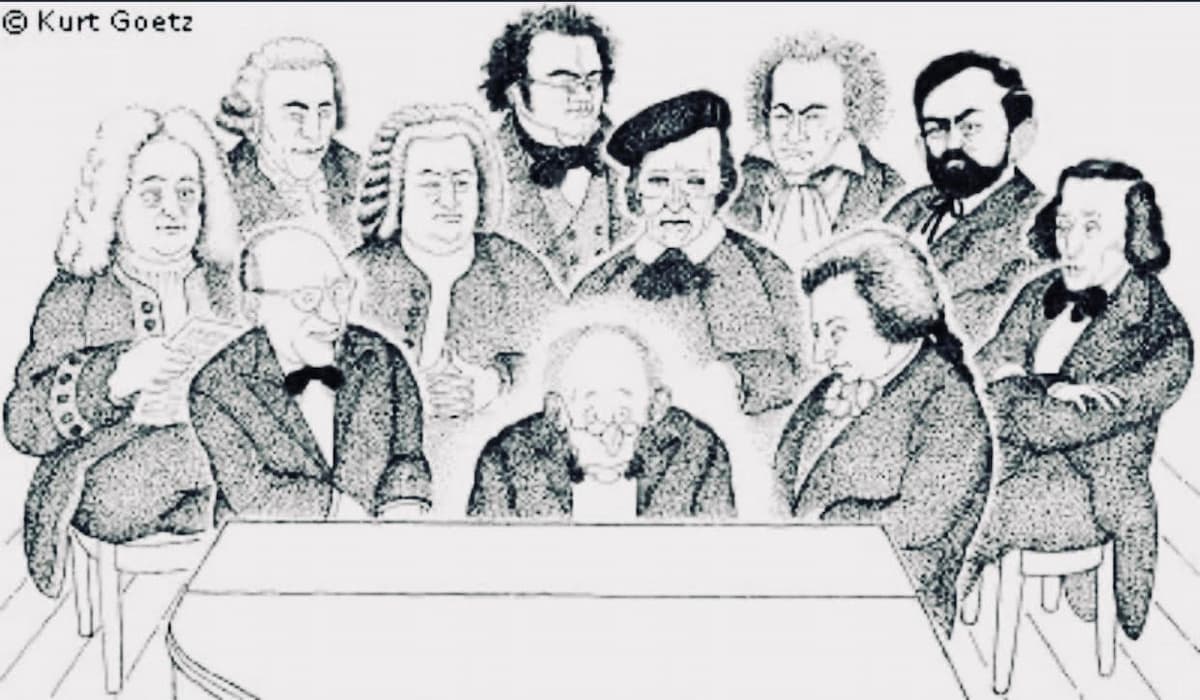 For more of the best in classical music, sign up to our E-Newsletter