Yuxin Dai developed a love and passion for music at 5 when she began taking piano lessons. Currently, she is not only a skilled pianist but also an accomplished conductor, serving as an Assistant Conductor for the Northwestern University Symphony Orchestra and Chamber Orchestras in the Bienen School of Music. In this interview, Yuxin shares her world of music with us.
Can you briefly introduce yourself?
I am a conductor and pianist currently based in the San Francisco Bay Area. My primary work is to conduct choirs and orchestras while promoting a culture of music and performing arts. Prior to graduating from Northwestern University with my Master's degree in Orchestral Conducting, I studied at the New England Conservatory and Shanghai Conservatory of Music. During my upbringing, I was introduced to many different things besides music, such as dancing, painting, and acting. Finally, I found myself having a deep love for music and a definite interest in pursuing a career in it.
You are a pianist and a conductor. I assume you picked up piano when you were young. What has inspired you to be a choral conductor? What are some classes you took for choral conducting?
George Gershwin's Cuban Overture (conducted by Yuxin Dai)
I started to study piano at age 5, and since then, I have never stopped playing. I began singing in a choir during my first year of college in an award-winning choir. During this time, I fell in love with choral music, and the idea of becoming a conductor crossed my mind. I was impressed by the choir's beautiful sound and how a conductor's gestures could affect the expression of singers and instrumentalists alike, bringing unity to us all. I learned numerous techniques through choral singing, including collaboration and exposure to different genres, styles, and languages. This experience taught me how a good conductor can serve as a medium between composer and audience to deliver music and knowledge to society through the intersection of art, music, history, and interpretation.
After I finished my bachelor's degree, I went to the New England Conservatory of Music to pursue my master's degree in choral conducting. At NEC, in addition to the conducting course, I also took courses in score reading, rehearsal techniques, choral literature, diction, and so on.
In the choral repertoire, are there any specific styles or genres that are more difficult than the others in terms of conducting?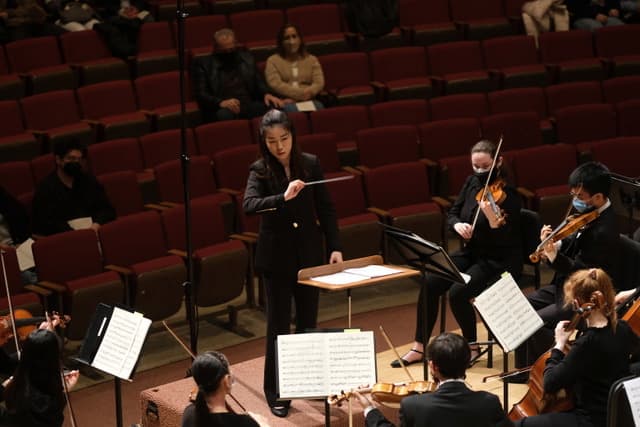 I think this can be discussed from two aspects of a conductor's role: rehearsing and the conducting itself. For rehearsals, I believe polyphonic music, particularly that from the Baroque era, poses significant challenges for conductors. Many considerations come into play when working with polyphonic music, such as that by J.S. Bach. These considerations include different phrasings, articulations, performance practices, linguistic accents, deciphering the relationships between each vocal part, all while maintaining clarity and momentum during intricate passages. While the conducting techniques themselves may not be the most crucial element in Baroque music due to the relatively stable tempo and meter, subtle changes in gestures reflect a conductor's knowledge, interpretation, and taste. In terms of conducting techniques themselves, I find contemporary music to be quite challenging. Many composers employ more experimental tools within their music that affect structure, rhythm, and harmony, which can often be unconventional and intricate.
Do you want to introduce any choral works to our readers to take a listen?
There are many I would like to share, but I'd like to introduce one I've listened to recently called Missa Pax: Gloria by Timothy Corlis. I first heard this piece in a choir concert in Chicago earlier this year and was impressed by its tension and rich sound. Corlis utilizes a variety of textures and harmonies to present different colors and sound effects using human voices, keeping a fresh hearing experience each time. The composer has a great imagination in choral sound and has a deep understanding of various vocal techniques. What I also really enjoy is the piano accompaniment in this piece, as many of its motifs and harmonies are quite intriguing, further enhancing the richness of the choir. Corlis is a Canadian composer with a background in physics and anthropology.
Missa Pax: Gloria by Timothy Corlis (performed by Da Camera Singers – Edmonton)
Can you share activities you do that are not related to music but can inspire you when it comes to music performance?
I enjoy reading and appreciating paintings to gain an abundance of knowledge and inspiration about music and comprehensively understand it. Through reading, we can learn a lot about the background of compositions and the stylistic influences of the composers' eras, which in turn helps us better understand the music.
I also enjoy appreciating paintings in my free time. I believe that improving one's understanding of music involves experiencing and recognizing the emotions and moods within music. Viewing paintings is an excellent way to immerse oneself in various emotions and moods. I often visit art museums and spend extended periods in front of paintings I admire. This helps me feel the emotions and moods captured in the artwork and connect with the artist's ideas, which, in turn, inspires me.
Do you have any upcoming performances?
My choir is going to have Christmas concerts in the Bay Area, and we are going to sing Christmas carols from early Baroque composers to late Romantic composers!
For more of the best in classical music, sign up for our E-Newsletter
To learn more about Yuxin Dai, please visit her website.