Alexander Borodin (1833-1887) followed Balakirev and became a member of The Five, that group of up- and-coming young composers who set out to create a true Russian music. Holding down a day job as professor of chemistry, he was a part-time composer whose works, after his death, were completed by his friend Rimsky-Korsakov, another of The Five.
Borodin occupied the edges of the nobility, being the illegitimate son of a Georgian prince. His mother brought him up in a cultural surroundings that included exposure to many European influences, and he had a profound interest in music, which often caused difficulties with his scientific career.
He completed his 'musical picture' In the Steppes of Central Asia in 1880. The symphonic poem was dedicated to that master of the genre, Franz Liszt. It depicts a crossing of the steppes of the Caucasus by a caravan of Central Asians, who are protected by a group of Russian soldiers. The opening theme, in the clarinet and horn, represents the Russian troop, while it's the English horn that brings us the sultry Asian theme. Behind it all, we have the pizzicato plodding of the horses and camels. Eventually, the two melodies combine, giving us the larger metaphor of the mix of cultures in Russia. The work closes on the Russian theme.
Borodin: In the Steppes of Central Asia
Borodin's work was intended to be part of a set of tableaux vivants (living pictures) to be given for Tsar Nicholas II's 25th anniversary, but that final part never came to fruition. Having the image before him, and us, however, gives a guide to the mix of Russian and oriental sounds. The mix of the clearly-identifiable Russian and Asia themes would be a fitting bow to Nicholas II's expansionist plans that included Russia's claiming the Caucasus region for themselves. In the early 19th century, Russia took the South Caucasus region from the Persian Empire and over the course of the 19th century, Russia claimed more of the region.
This recording, made in 1954, has Dimitri Mitropoulos conducting the New York Philharmonic. Greek conductor Dimitri Mitropoulos (1896-1960) started working with the New York Philharmonic in 1949 as co-conductor with Leopold Stokowski and was appointed music director in 1951. He led the Philharmonic into new areas by commissioning new music and bringing the symphonies of Gustav Mahler back into the American concert hall. Mitropoulos was succeeded in 1958 by his protégé, Leonard Bernstein. From 1954 until his death, Mitropoulos also led the Metropolitan Opera Orchestra.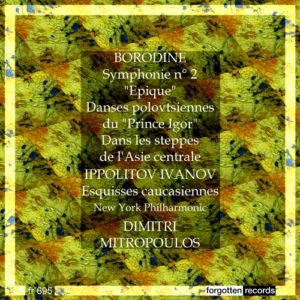 Performed by
Dimitri Mitropoulos
New York Philharmonic

Recorded in 1954

Official Website