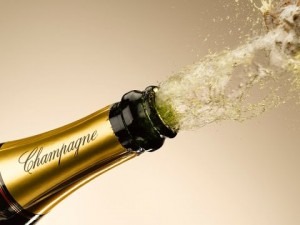 The popping of champagne corks on New Year's Eve is frequently accompanied by the music of Johann Strauss Junior. The undisputed master of the Viennese waltz, he became the most popular musician of his generation. And while many of his compositions originated in lavish orchestral scores, publishers printed countless copies of sheet music making them accessible for small social gatherings or for simple enjoyment at home. When Arnold Schoenberg founded the Society for Private Musical Performances in 1918, he was looking to provide quality concerts for a depressed post-war audience. Orchestral works were transcribed for piano or chamber ensemble, and Schoenberg asked his compatriots Anton Webern and Alban Berg to provide arrangements of Strauss waltzes.
Schoenberg himself contributed this colorful arrangement of the "Emperor Waltz" in 1925.

Johann Strauss II: Kaiserwalzer (Emporer Waltz) arr. A. Schoenberg
The Strauss waltzes also fell into the hands of the great virtuosi of the day, among them the incomparable Polish-born pianist Leopold Godowsky. His exceptional musical ability manifested itself by age 3, and four years later he penned his first composition. After briefly studying at the Berlin Academy of Music and playing a series of exceptional concerts in Germany and Poland, he made his first appearance in Boston in 1884. He would return six years later to join the staff of the New York College of Music and became an American citizen. His career also took him to the Chicago Conservatory and eventually to Berlin and Vienna. An exceptional pianist, he published a number of paraphrases on the Johann Strauss operetta Die Fledermaus (The Bat) in 1912. Here as elsewhere, his transcriptions and arrangements transform familiar originals into pianistic showpieces.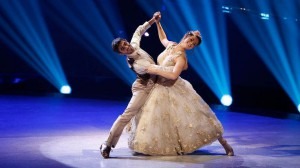 Leopold Godowsky: 3 Symphonische Metamorphosen, No.2 J. Strauss Fledermaus
Let us not forget that Johann Strauss Junior had a musically very talented father. The son of an innkeeper, Strauss Senior studied the violin and eventually founded his own dance orchestra. His musical tours took him throughout Europe, and he even played at the crowning of Queen Victoria in London. Winning immense popularity at home and abroad, Strauss wrote a substantial number of waltzes, polkas, marches, quadrilles and gallops for social and public occasions. His most famous composition is the Radetzky March, composed to commemorate Field Marshal Joseph Radetzky's victory at the Battle of Custoza. The work became highly popular among regimented marching soldiers. It still enjoys great popularity, in a somewhat different guise, in many parts of the world!

Johann Strauss Senior: Radetzky March (Chinese Version)
An der schönen, blauen Donau (The Blue Danube Waltz) established the international reputation of Johann Strauss Jr. The title originated from a poem by Karl Beck, and the waltz was originally scored for four-part choir and orchestra. Josef Weyl provided the text and the first performance, sung by the Wiener Männergesang-Verein, was not a resounding success. After undergoing several revisions, the piece in purely instrumental form first exploded onto the international stage at the Paris Exhibition of 1867. Featuring five distinct mini-waltzes prefaced by a slow introduction, it has become one of the most recognizable tunes of all times, even when played in an arrangement for piano 4 hands. No New Year's celebration would be complete without it! Happy 2016!!

Greg Anderson: Blue Danube Fantasy