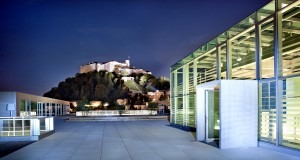 It was only a matter of time before the city of Salzburg exploited the name of their most famous son for commercial reasons. Wolfgang Amadeus Mozart, as we all know, deeply resented his hometown and he wasted no time in leaving the repressive and small-minded confines of his upbringing behind. "Mozartkugel," and "Mozartlikör" aside, 50 years after his death, a group of Salzburg citizens got together and founded a musical association with the name "Mozarteum."


Over the years it has become the "Universität Mozarteum Salzburg," and it continues to attract students from all corners of the globe. Among the subjects on offer is composition, and the composition faculty, in one way or another, has to come to terms with standing in the footsteps of the greatest musical genius of all times. Yoon Kuk Lee was born and raised in South Korea, and via the United States come to the Mozarteum to continue his studies in conduction and composition. His compositions have since received numerous prizes, and he has joined the composition faculty at his alma mater. His
Funeral Music for Amadeus
dates from 2006, and is supposed to set the mood for the performance of the Mozart
Requiem
.
Yoon Kuk Lee: Funeral Music for Amadeus
Josef Friedrich Doppelbauer taught organ and composition at the Mozarteum from 1960 until 1988. A recipient of numerous prizes, Doppelbauer deliberately wrote tonal music. "My harmonies," he explained, "even at their most spiky, are never a byproduct of my contrapuntal thinking." His compositional oeuvre includes orchestral works, solo concertos, chamber music, vocal compositions, church music and works for recorder and piano. However, he most prolifically composed for the organ. His
Partita in C
dates from 1955 and features clearly defined textures and forms. Cast in five independent movements, this neo-Baroque composition relies on specific registrations to enhance the effectiveness of the counterpoint while simultaneously providing tonal color.
Josef-Friedrich Doppelbauer: Partita in C Major
For Klaus Ager, who studied composition at the Mozarteum and later became Rector of his alma mater, the works of Austrian painter Peter Prandstätter profoundly influenced his musical imagination. Prandstätter's paintings create the impression that the center of the image is beyond what is actually painted on the canvas. All the events depicted in his paintings emanate from a hub located outside the frame. Ager's
Migration for 2 guitars
was written on commission by the Rassegna di Nuova Musica Festival in Macerata, Italy. Not surprisingly, the work is dedicated to Prandstätter. "The audible sound events are reactions to inaudible things, emanations of unheard events. All that can be captured and measured is the musical reaction to something that lays beyond."
Klaus Ager: Migration, Op. 58
Cesar Bresgen first taught at the Salzburg Mozarteum in 1939. Born in Florence, he studied conducting and composition at the Munich Academy of Music, and in 1936 won the much-coveted Felix Motti Prize for composition. After working for the music division of the Bavarian Radio in Munich, Bresgen settled in Salzburg and became active in composing pedagogical works for children. He served in the army during World War II, and then was a church organist and choir director in Mittersill where he met Anton Webern. Despite his pre-war involvement with the Hitler youth, he was appointed to the faculty of the Mozarteum in 1950. Bresgen was awarded the Austrian State Prize for music in 1974.
Cesar Bresgen: Deutsche Marienmesse, "Ros' ohne Dornen"