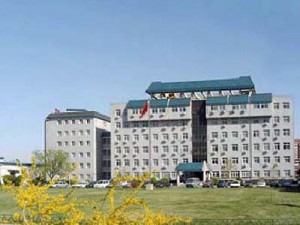 Although a relatively young institution, the Central Conservatory of Music in Beijing has seen its fair share of highly talented composers. Founded in 1950, the department of composition—for better or for worse—has been the cornerstone of its academic endeavours. Guo Wenjing, originally born in the ancient city of Chongquing in Sichuan province, was one of a limited number of students admitted out of 17000 applicants when the Central Conservatory reopened in 1978. Unlike many colleagues from this acclaimed class—including Tan Dun, Chen Yi and Zhou Long—Guo remained in China after graduation. In fact, he later served as the head of the composition department at the CCOM, where he still remains on faculty today. Honored among the Top 100 Living Artists of China, Guo has composed prolifically throughout his life, and his works are performed and recorded throughout the world.


Guo Wenjing: The Rite of Mountains, Op. 47
The political turmoil of the Cultural Revolution forced a large number of artists to flee China. Those unable to escape were habitually forced into performing compulsory labor in the countryside. Chen Yi was raised in Guangzhou and started her piano studies at age three. Yet, during her teenage years, she also fell victim to the insanity of the Cultural Revolution. Forced into farm labor, she was only allowed to return to Guangzhou at age 17. Subsequently, Chen Yi became the first Chinese woman to receive a Master of Arts degree in music composition from the Central Conservatory. Chen also lived for many years in New York City, and her unique experiences spawned an exciting intersection of Chinese cultural elements with Western art music. Her multi-faceted compositional voice fuses the traditions and sounds of the East with those of her adopted West.
Chen Yi: Suite for Cello and Chamber Winds
Tan Dun served as a rice-planter and performer with the Peking opera during the Cultural Revolution. He first encountered Western classical music during his study at the Beijing Central Conservatory, and soon became the leading composer of contemporary music in China. Once he settled in New York, he added the modernist experimentations of Philip Glass and Steve Reich to his repertory, and started to create a music repertoire that effortlessly bridges the boundaries between the classical, multimedia, Eastern and Western musical traditions. Frequently incorporating audiovisual elements, instruments constructed from organic materials and deeply inspired by traditional Chinese theatrical and ritual performances, Tan Dun is widely known for his Oscar-winning original score for Ang Lee's film,
Crouching Tiger, Hidden Dragon
. Of course, he also wrote the music to accompany the medal ceremonies at the 2008 Beijing Olympics.
Tan Dun: Crouching Tiger, Hidden Dragon
For the opening ceremony of the 12th Macao Arts Festival in 2001, writers, producers and performing artists collaborated to produce a spectacular dance drama entitled
Macao Bride
. Utilizing colorful sets, lavish costume designs and virtuoso dance choreography, the production told the story of a Portuguese girl and her Macanese suitor, all set in 17th century Macao. One of the leading contemporary Chinese composers, Ye Xiaogang was commissioned to provide the musical score. A student of the Central Conservatory of Music in Beijing and the Eastman School of Music, Ye's compositions are intimately connected with the flourishing cultural scene of China. He has not only provided us with a variety of imaginative film scores, but his piano concerto
Starry Sky
, with Lang Lang as the soloist, was premiered during the opening ceremony of the 2008 Beijing Olympics.
Ye Xiaogang: Macao Bride