"We were all of us whipped, sometimes really painfully," Rebecca Clarke once wrote. The sentence is a tragic summation of her childhood. Despite the abuse she and her siblings endured at the hands of her father, Rebecca Clarke emerged into adulthood a professional viola player (no mean feat for a British woman in the early twentieth century) and a respected composer (her viola sonata is a staple of the repertoire).
Rebecca Clarke: Viola Sonata (Philip Dukes, viola; Sophia Rahman, piano)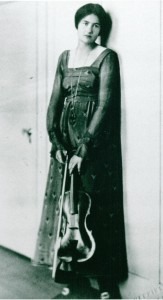 Rebecca Clarke's father Joseph was an American architect who worked for the Eastman Kodak Company. Her mother Agnes was German, as well as a "serviceable" amateur pianist. Together they had four children. Rebecca, born in August 1886, was the eldest. Agnes kept the peace in the household by never disagreeing with her husband. When Joseph resorted to extreme methods of discipline, she said nothing. Their father's abuse and their mother's silence would have a profound effect on all four Clarke children.
Joseph Clarke enjoyed hurting the weak. He loved shooting animals with his air gun, and when he couldn't shoot animals, he'd shoot at his children instead. He routinely summoned Rebecca into the library to tell her all of the horrible things she had ever done. If she bit her nails, he would fly into a rage, order her to lean across the red quilt on his bed, and whip her with the dreaded "steel slapper."
Rebecca Clarke: Lullaby and Grotesque (version for viola and cello) (Kenneth Martinson, viola; Moises Molina, cello)


Ironically, it was her detested father who introduced her to the great love of her life: music. Rebecca once dryly described Joseph as "an ardent amateur cellist – ardent but somewhat less than mediocre." He wanted his children to serve as his chamber music partners. So when Rebecca's younger brother Hans started taking violin lessons, Rebecca was allowed to watch. Eventually, she began taking lessons on her own. Soon the entire family began making music together regularly. Once while playing a piano trio with her parents, Rebecca became so overwhelmed that she started crying and had to stop playing. The power of music and the intimacy of performance affected her deeply.
Rebecca Clarke: Piano Trio (Storioni Trio)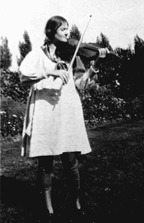 As a teen, Rebecca enrolled at the Royal Academy of Music. The experience was hugely formative. But when she was seventeen, her harmony professor proposed. Her father, horrified, demanded that she leave the school. So she returned home to study.
She and Joseph quarreled over her growing passion for composition. Finally he wrote to an acquaintance, Sir Charles Stanford, and asked for his appraisal of Rebecca's talents. Stanford's understated answer was "there seem to be a few traces of talent in your daughter." In January 1908, she went to study with Stanford at the Royal College. Stanford proved to be an important and inspirational mentor. It was he who encouraged Rebecca to play viola so that she could hear how music sounded from the middle of the orchestra. "And from that moment the viola became my instrument," she later wrote, matter-of-factly.
It was a time of great change and transition. She was evolving from a child into an adult. But despite the early success, her life in music was not yet guaranteed. In another ironic twist, it was her father who unwittingly cleared the path for her to become a professional musician. Joseph cheated on Agnes. He went abroad. Letters from his mistress piled up on his desk. Rebecca found them. She could not let the betrayal rest. On the day of his return, she took paperweights, ashtrays, and vases and stacked them tall on his desk, then placed the letters from his mistress on top, letting him know she knew. Joseph flew into a rage when he discovered what she'd done. He told her: "Leave this house and don't let me ever see you again." For the last time, she obeyed him. The two never reconciled.
Rebecca Clarke: Poem for String Quartet (Lafayette String Quartet)

After the split, Rebecca saw no other option but to become a professional musician. The road would be difficult, but ultimately she became a successful and well-respected violist. Joseph Clarke died in 1920, the year after she wrote her famous viola sonata. In the 1920s, her creativity and her faith in her own abilities wavered, and her large-scale compositional output diminished considerably. Part of it was the exhaustion of having to constantly prove herself as a "female composer." But she was also wrestling with messages that had been ingrained in her since girlhood: that she was always doing bad things, that she was not worthy of love, and that she would never be good enough.
For more of the best in classical music, sign up to our E-Newsletter