Not quite an opera, the intermezzo Il segreto di Susanna, The Secret of Susanna, presents what appears to be a classic case of the jealous husband and the invisible lover… or does it? In the hands of the Italian composer Ermanno Wolf-Ferrari (1876-1948) Count Gil, described as "age 30," comes home to his wife, Countess Susanna, "age 20," and immediately suspects her of infidelity. He thought he had seen her out walking on the street, which he had forbidden her to do after their marriage. Instead, he finds her at home playing the piano. He's reassured, but in fact, he was correct, she had been out and had gotten home just before him. Now, he notices the smell of tobacco in the room, but it's only the two of them and their servant, Sante, in the house. Where is the smell coming from? It's on Susanna's clothes but all she will admit is that she has a secret.
The Count starts to search the house and Susanna locks herself in her room. They make up when the Count goes off to his club. Once he leaves, Susanna and Sante start to practice their secret: they are smokers! Once they've finished their first cigarette, the Count returns hoping to catch Susanna but all he can smell is smoke again. He leaves and quickly returns and finally catches her in the act…of smoking. He burns himself trying to catch her hand and the accident causes them to forgive each other. In the end, they swear eternal love and smoking.
Smoking at the turn of the 20th century was regarded very differently than it is these days. Cigarette manufacturers promoted their product through a number of approaches. JOB cigarette papers called on the artist Alfons Mucha to show a woman not smoking but lighting a cigarette for someone else.
From the 1920s through the 1950s, opera singers were paid for appearing in smoking ads. Here's bass Ezio Pinza talking about how cigarette smoking agrees with his throat.
We now know differently but smoking for Susanna was something that the modern young woman did. In society, although cigarettes were smoked by men in public, most women, if they smoked, smoked at home. Eventually, cigarettes were viewed as more appropriate for women and cigars for men. And, to this day, few women smoke cigars, it still being viewed as a male item.
Wolf-Ferrari starts with a bubbling and effervescent overture that hints to us of the comic treat ahead of us in the one-act opera. One commentator pointed out that with Susanna smoking in the modern manner and her older husband suspecting her of infidelity in a traditional manner, once he discovers her 'secret' he decides to become modern himself and join her in smoking. This isn't the traditional marriage we normally see in operas, but a very modern idea of the companionable marriage.
Ermanno Wolf-Ferrari: Il segreto di Susanna: Overture (Oviedo Filarmonía; Friedrich Haider, cond.)


The Oviedo Filarmonía was founded in 1999 by the Oviedo City Council and has become the resident orchestra of the Oviedo Festival de Zarzuela and appears in the regular season giving concerts. They are led by Austrian conductor Friedrich Haider, who trained at the Vienna Academy of Music. At age 29, he was appointed Music Director of the Opéra national du Rhin, Strasbourg. From 2004 to 2010 he was principal conductor of the Oviedo Filarmonía, and in 2017 he was appointed chief conductor of the Musicae Antiquae Collegium Varsoviense in Poland. He is an ardent champion of the music of Ermanno Wolf-Ferrari, and has recorded the composer's complete orchestral works, his a cappella choral works, and the operas Il segreto di Susannam I gioielli della Madonna, L'amore medico, I quatro rusteghi, and Il Campiello.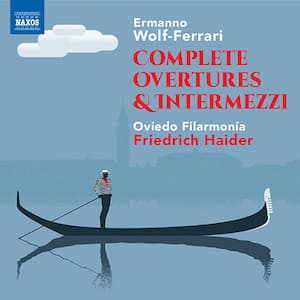 Ermanno Wolf-Ferrari: Il segreto di Susanna: Overture

Performed by
Oviedo Filarmonía
Friedrich Haider

Official Website
For more of the best in classical music, sign up to our E-Newsletter