On the other hand, there seems to be an ongoing paradigm shift in contemporary music as number many individuals and small ensembles, driving by innovation and a hunger to find new ways to make the music they love, are providing a new, frequently collaborative platform for young composers.
British harpist Olivia Jageurs has done just that, and her new 15 Second Harp Project, offering instant online collaboration with composers, is emblematic of this trend. I spoke to Olivia to find out more about the project.
'I often get sent bits of music from composers asking me 'does this work'? 'is this possible?'', she said. 'That's clearly a crucial question, and shows there's something missing for composers who are writing for the harp. I had a look online, there were only a few websites that were much use for the harp, and nothing for any instrument giving a quick response to that 'does it work' question with actual recordings. This is particularly important to me because in my work I often have to play quite awkward parts – so it's a relevant question for composers and harpists!'
So I've made an online pledge to video record any music sent to me and post it online via Instagram by 5pm the next day. The idea is to give composers near instant feedback on how they've written for the harp, and my goal is to encourage as many people as possible to write for the instrument. In particular I'm looking to engage with the next generation of composers who are still at school doing their exams. I want to offer a platform for exposure for composers – so if other harpists find something that they like, they might want to follow it up with the composer to see if they can get some more!.'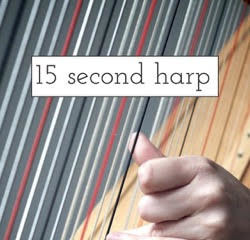 Though most people's idea of the harp is probably one of elegance, glamour and shining arpeggios, the instrument itself poses many challenges for composers, and I asked Olivia why writing harp music was so different to writing for anything else. 'It seems like a piano and the music looks like a piano', she said. 'but the harp pedals (each string can only be set to flat, natural or sharp at once, so you can't have B and B flat, for example) make it very difficult to play chromatically. This is a problem, as most modern composers like to be able to use all the notes at once! Sometimes composers seem to be scared because they are aware that harpists will have to put in some work to play their music. But we're used to it now – it's no problem.'

Given these difficulties, I asked Olivia where she'd suggest budding composers should look for good harp writing. 'I'd start with Benjamin Britten', she replied. 'Also I'd look at Ravel, his Introduction and Allegro and the orchestral parts, and Debussy's orchestral harp parts too. More recently, Sir Harrison Birtwistle has written a lot, and Elliott Carter wrote a very hard piece too, which contains every extended technique imaginable! Berio's Sequenza II is also well worth a listen. Birtwistle actually had a good quote about the harp:

The problem with the harp is that the more you change the pedals the more the strings are not vibrating. In a funny way chromatic music is genuinely against the instrument.

'I don't want to put people off changing the pedals, but to make the instrument sound at its best it's always better to leave the pedals in a certain setting for as long as you can.'

The 15 Second Harp project is clearly a valuable new resource for composers, and in an era where collaboration is becoming more and more important, the project also offers an opportunity to get your music directly into the hands of a professional musician – the holy grail for many young composers. Many have already taken up Olivia on her offer. 'I've already had an amazing response', she said, 'which I really hadn't expected. When I announced the project I was sent ten pieces within 12 hours – so I might have to put a cap on how many pieces I promise to play each day!'

It sounds like she's going to be kept pretty busy.

The 15 Second Harp Project, founded by Olivia Jageurs, was launched on Monday 1st February. Find out more at

www.15secondharp.com

or on

Facebook

and

Instagram

.

15 seconds by Johnny Martin

In some ways there has never been a more difficult time to be a composer. Funding cuts, an over-saturated market and classical music's waning cultural significance mean that finding a compositional voice and a place for that voice is perhaps harder than it's ever been.