Girolamo Frescobaldi: Toccata Nona
With the advent of useable keyboard instruments, lute music eventually fell out of favor. However, the "toccata" was here to stay! Girolamo Frescobaldi, one of the most important composers of keyboard music in the late Renaissance, published his famous first book of toccatas in 1615. "In the toccatas," he wrote, "I have taken care not only that they be abundantly provided with different passages and affections but also that each one of the said passages can be played separately. The performer is thus under no obligation to finish them all but can end wherever he thinks best." Clearly, the performer had the last say when it came to actual performance, but the toccata established itself as a piece of music that relied on contrast in texture, meter, tempo and tonality. As such, rather than relying on the continuous development of motives, the toccata derived its character from the contrast between short, and individually striking sections. And did I mention that the term "toccare," roughly translated as striking the keys, implies a substantial level of virtuosity?
Johann Sebastian Bach: Toccata in C minor, BWV 911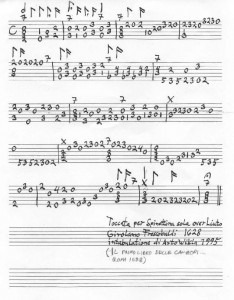 A number of toccatas featured long chains of loosely connected segments of contrasting figuration, however in protestant north Germany it became fashionable to pair the toccata with one or two extended fugal sections. Particularly in the organ toccatas of J. S. Bach, the toccata and fugal elements are closely linked. His harpsichord toccatas, on the other hand, are large-scale works of individual design, with one or two free fugal movements. Tellingly, these fugal sections are framed and interspersed with brilliant and virtuoso passagework. If you have played or listened to Bach's WTC, you will also have noticed that a number of so-called preludes and fugues are actually cast in the usual toccata and fugue structure! With Bach's death in 1750, the term toccata fell into disuse and it was hardly used during the Classical period. Although some Beethoven movement might well have used the toccata label, the rhapsodic and fugal elements inherited from Bach were almost entirely abandoned.

Robert Schumann: Toccata, Op. 7

When Robert Schumann set to work on his magnificent Toccata Op. 7, he already cast his work in sonata form with a short exposition and lengthy development; all within the framework of a highly virtuoso "perpetuum mobile." To be sure, the Bach revival in the 19th century also inspired a number of multi-movement toccatas among them the brilliant finales of the organ symphonies by Widor and Vierne. The 20th century also produced a number of single-movement toccatas by Debussy, Balakirev, Ravel, Krenek, Holst, Poulenc and the extraordinary effort by Sergei Prokofiev.

Sergei Prokofiev: Toccata, Op. 11

Believe it or not, the toccata is still alive and kicking! Going back to the improvisational roots of the toccata, the Russian composer and pianist Nikolai Kapustin fuses jazz improvisation with the toccata model inherited from J. S. Bach. Absolutely magnificent!

Nikolai Kapustin: "Toccatina," Concert Etudes, Op. 40, Nr. 3

During the Renaissance, lute music was all the rage! A versatile instrument used for accompanying vocal works or for playing short solo dance pieces, it was the most important instrument for secular entertainment. An important aspect of lute performance was improvisation, and much of the repertoire was probably never written down. However, with the advent of music printing, a system of notation—commonly known as tablature—developed, and numerous collections of lute music were published throughout Europe. With lute music driving musical innovation, something very interesting appeared in a 1536 Milanese lute anthology. The set not only contained the customary collection of dances, but also an appendix of pieces individually labeled "Toccata." Composed by Franscesco Canova da Milano and Pietro Paolo Borrono, "toccata" became the designation for a short improvisational prelude, entirely free in form.