In French legends, there are many connected with the sea. One of the most interesting, however, is Debussy's take on the long-ago city of Ys, which was engulfed by the sea and rises occasionally, to be seen on clear days.
Debussy sets us back in medieval France, using modal harmonies and techniques based on 15th-century organum, something he also did to create the opening of his medieval tale of Pelléas and Mélisande.
In the Breton legend, King Gradlon rules the city of Ys, built on land that had been reclaimed from the sea. The city was protected by a great dike, that had a locked opening. It was unlocked to permit boats to come to the city at low tide. Princess Dahut gets the key from her father and fatally opens the dike one evening and the city is inundated. The sleeping king is awoken by a saint and flees on horseback with Princess Dahut. However, the sacrifice must be made to the rising waves and the sea claims the princess for opening the dike.
The work, originally written for piano, shines in an orchestral arrangement. Slowly the city rises and comes to life – we can hear the daily sounds of bells ringing, priests chanting, the organ sounding, but it's all in the distance. In the orchestral arrangement, we hear this as both lighter and more solemn, as the sounds carry us across the water.
Claude Debussy: Preludes, Book 1 – No. 10. La cathedrale engloutie (arr. P. Breiner for orchestra) (Royal Scottish National Orchestra; Jun Märkl, cond.)


The Royal Scottish National Orchestra (Orcastra Nàiseanta Rìoghail na h-Alba in Scottish Gaelic), stems from an orchestra created in 1843 to accompany the Glasgow Choral Union. It was renamed the Scottish Orchestra in 1891 and received royal patronage to become the Royal Scottish National Orchestra in 1977. The 'national' part of the name had been added in 1950. German conductor Jun Märkl has served as music director for a number of European institutions, including the Saarländisches Staatstheater and the Mannheim National Theatre, the Orchestre National de Lyon, the MDR Symphony Orchestra in Leipzig and the Basque National Orchestra. Most recently he's been artistic advisor to the Taiwan Philharmonic and is currently the music director of the Malaysian Philharmonic Orchestra.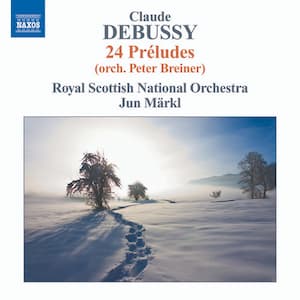 Claude Debussy: Preludes, Book 1 – No. 10. La cathedrale engloutie

Performed by
Jun Märkl
Royal Scottish National Orchestra

Official Website
For more of the best in classical music, sign up to our E-Newsletter