Take for example Heinrich Engelhard Steinweg, who started to build pianos in his small house in Seesen, Germany in 1835. Collaborating with the piano dealer Friedrich Grotrian, Steinweg built 482 instruments before immigrating to America in 1850. While his eldest son Theodor remained in Germany and continued to make the Steinweg brand of pianos, Engelhard founded Steinway & Sons in New York City.
Steinweg was highly successful from the get go, and after a couple of short years, was producing 1800 pianos a year. The reason for Engelhard's early success can be traced to various innovations and improvements of his instruments based on advances in the emerging science of musical acoustics. Ernst Chladni, Lord Rayleigh and Hermann von Helmholtz had begun to describe the physics of music and the physics of perception, and Steinway ingeniously incorporated their findings into the designs of the instrument. In fact, almost half of the company's 126 patented inventions were registered by the first generation of the Steinweg family, which anglicized their name to Steinway in 1864.
Theodor Steinway, who had been in charge of the German Steinweg factory in Braunschweig, took the reigns of the New York operation in 1865. He sold his shares in the German factory to his partner Wilhelm Grotrian, and by 1880 established a new Steinway factory in the city of Hamburg. Theodore became the head of the new Hamburg facility, while his brother William took charge in New York. The two facilities regularly exchanged their patents, techniques and marketing strategies in a collaborative effort that still exists today.
Horowitz plays the Stars and Stripes on a Steinway piano.
Both factories produce roughly 1500 pianos a year, with the New York factory supplying North and South America, and the Hamburg facility selling Steinway pianos to the rest of the world.
From the very beginning, the Steinway family was not merely interested in producing high-quality instruments; they were also aggressively establishing brand consciousness and loyalty amongst their customers and employees. Steinway Halls opened in both Hamburg and New York City to serve as company showrooms and sales offices, displaying more than100 pianos in elegant and lavish environments.
These showrooms were attached to major artistic and cultural centers, with concertgoers having to pass through a glittering parade of pianos in all sizes, shapes and colors.
In 1877, Oberlin Conservatory of Music became the first "All-Steinway School." That meant, that all students have to perform and are exclusively taught on Steinway pianos. Other important educational institutions have since followed and include, among others, the Curtis Institute, Royal Holloway, University of Melbourne and the Central Conservatory in Beijing.
In a brilliant marketing strategy, Steinway engaged Anton Rubinstein to play exclusively on Steinway pianos during his American tour in 1872, thus becoming the first "Steinway Artist." Other immortal performer followed, including Benjamin Britten, George Gershwin, Vladimir Horowitz and Sergei Rachmaninoff. The "Steinway Artist" program — currently counting 1600 performing concert artists and ensembles—and the affiliated "Young Steinway Artist" do assure access to the worldwide resources of Steinway and its dealerships. In return, however, they have to promise to exclusively play the Steinway brand.
Angela Hewitt found out how severely this rule is actually enforced. After buying a Fazioli piano for private use she was unceremoniously dismissed from the Steinway roster. When Louis Lortie was removed from the program in 2003, he charged that Steinway was "just another monopoly, the Microsoft of pianos."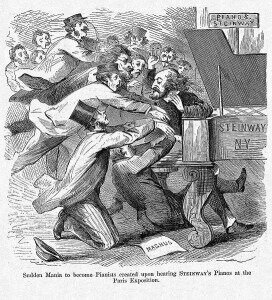 Steinway has also been successful in signing exclusive contracts with international piano competitions, like the Van Cliburn and Gina Bachauer competitions and a number of festivals, including the Montreal Jazz Festival, the BBC Proms and the Verbier Festival.

By the year 2000, Steinway had produced its 550,000th instrument, and long joined the Luxury Marketing Council. Of course, if you can't afford a Steinway you can always purchase one of their budget brands. The "Boston" is manufactured at the Kawai factory in Japan, and the Essex — an entry level and much cheaper model — is fashioned in a piano factory in Guangzhou, China.

It is hardly surprising that innovations in the field of instrument design frequently originated in small workshops run by dedicated artisans determined to realize a personal vision.