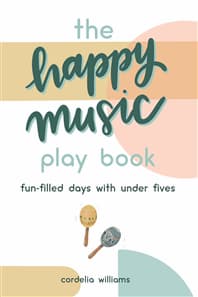 There's a lot more to making music with children than singing The Wheels on the Bus or dancing to Baby Shark.
Newborn babies can detect the pulse in music and infants respond to maternal speech and singing. Many children have a natural instinct for music making and enjoying singing, clapping, drumming and dancing regardless of the genre or era of the music.
Music can also help children unwind after a busy day and calm them ready for sleep (why else do we sing infants lullabies?).
Robert Schumann: 5 Gesänge der Frühe, Op. 133 – No. 1. Im ruhigen Tempo (Cordelia Williams, piano)


In her book The Happy Music Play Book, British pianist Cordelia Williams has created a range of activities, games and suggestions for parents of small children to introduce joyful and interactive music-making into everyday family life. The mother of two small, active boys under the age of 4, Cordelia Williams drew on her own experience of making music with her children to create this cornucopia of ideas and suggestions to help other parents incorporate music into their children's lives without pressuring them to take up an instrument or engage in music in a more formal way. The aim of the book is to encourage children to have a joyful relationship with music; to discover their own imagination and creativity, through music; to give them the potential to go on to learn a music instrument; to foster confidence and individual thought. The fundamental message of this book is that music is "for their souls, not just for the grades", that music making should be a pleasurable, creative activity which can be enjoyed by everyone. In short, music is FUN!
The book draws not only on Cordelia's own experience as a mother and a professional pianist (who was inspired by hearing her own mother teach the piano), but also draws on research into child development, psychology, neurology, mindfulness and different methods of music teaching. The resulting suggestions and games are presented in a relaxed, approachable and humorous way, with clear text and engaging illustrations.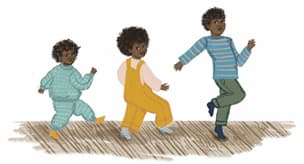 From simple "snuggle jiggles", "musical aeroplanes" and bells for babies to breathing and movement for older "mini musicians", the games, activities and ideas for creative and enjoyable musical play are divided into chapters according to how parents would actually use them during the busy, sometimes stressful days with young children. Every suggestion also nourishes natural musicality and confidence, preparing the way for more independent thinking and other creative pursuits later on.
In addition to the book, Cordelia has compiled a playlist of external recordings of songs and playlists featured in The Happy Music Play Book, and the book also contains an extensive glossary of musical terms, explained in terms which younger children, and indeed novice musicians, can understand. A detailed resources and further reading section directs readers to a wealth of research mentioned in the book together with some fundamentals of early years music teaching.
Overall, this book is original, accessible and full of joy – an ideal antidote to numerous books aimed at the "tiger parent".
For more of the best in classical music, sign up to our E-Newsletter
Cordelia Williams: On Being a Pianist in Kenya