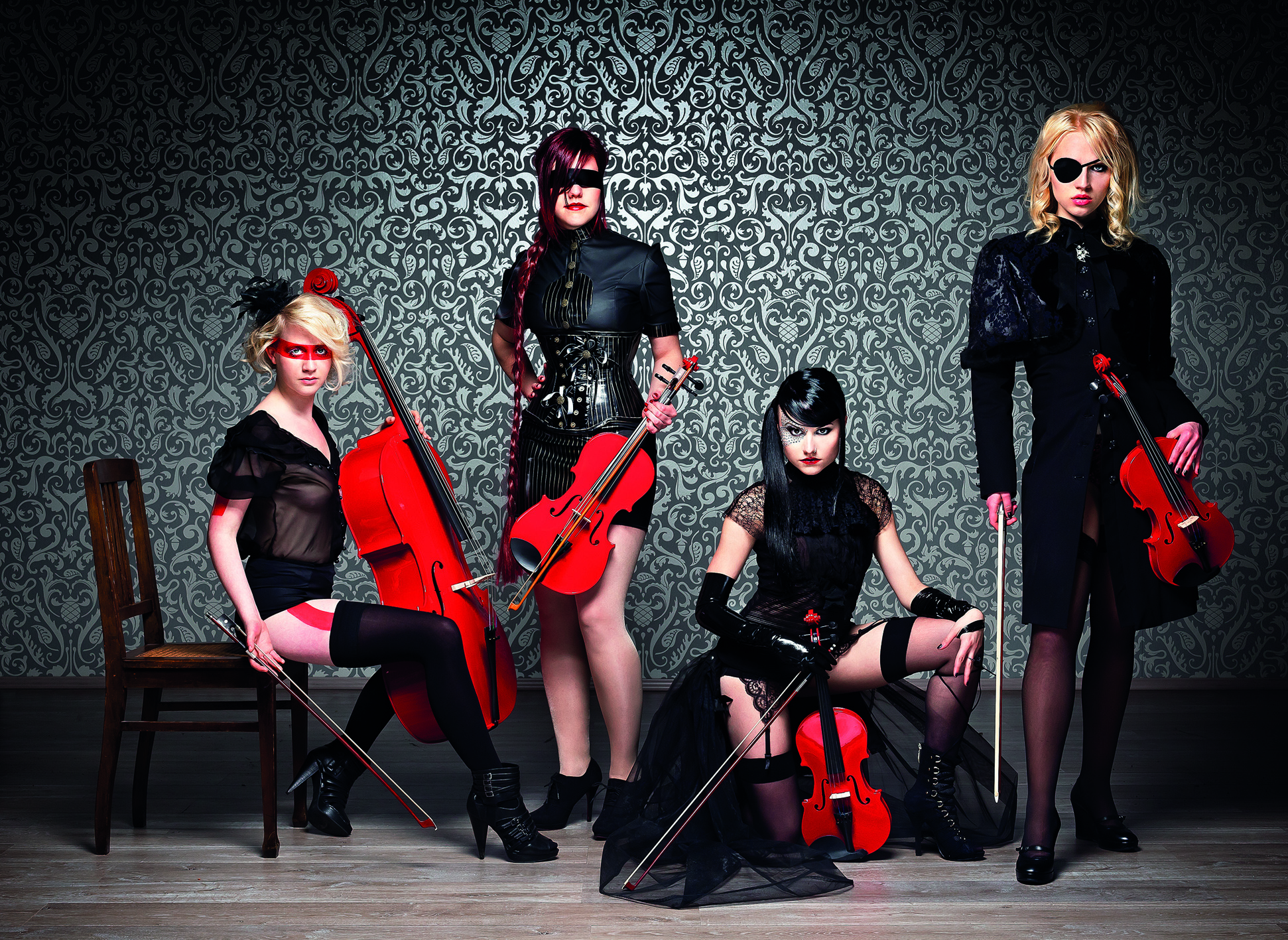 Eklipse, a German-based string quartet, is turning the traditional look of the string quartet upside down. No more conservative clothes and demure attitude, this group takes the string quartet into the realm of heavy metal styling: eye patches and leather dresses, neck chains and black velvet, strong makeup and tattoos, a red viola and bondage gear – this isn't your music teacher's string quartet.

Just as in metal bands, the four performers use pseudonyms: Miss E. (Violin), Scarlett (Violin), Viola (Viola), and Helen (cello). They take the string quartet into genres it rarely ventures, performing film themes, pop music, and video-game themes. They also supplement their playing with the addition of digital voices but this seems to be simply for color. When, in a recent interview, they discussed who they'd like to appear with on tour, they mentioned Lady Gaga and Aerosmith, with an emphasis on symphonic metal. Their first hit was with their version of Justin Timberlake's 'Cry Me a River.'
Justin Timberlake: Cry me a River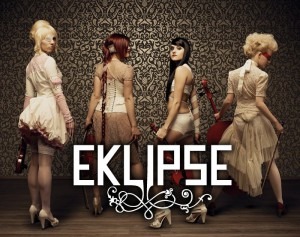 Their own record company is promoting them as the World's Sexiest String Quartet and, with their moody renderings of music familiar to the pre-university crowd, they are able to tap into the dark and passionate side of goth. Even the group's name supports this dark theme, says their record company: "The name Eklipse, describes music that needs no words, a melancholic music to accompany the listener through to the end of night: an eclipse, symbolizing opposites: night and day, moon and sun, power and tenderness." CDs include Night in Strings (2012) and Electric Air (2013).
But what do they contribute to the string quartet repertoire? They're able to take the ensemble into places that few classical groups venture into, touring with the Finnish metal group Nightwish (the third-best selling musical entity in Finland) and the American metal band Kamelot into larger venues than your normal concert hall.
Kamelot: My Confession, featuring Eklipse
The problem is that the music they play isn't really up to their talents. Pop music isn't known for its expansive melodic lines, and film music lacks long-term development of the melodic ideas. Eklipse's members are good players but their material relies on the fact that you're familiar with the originals (songs by Kate Bush, Justin Timberlake, Sting, and David Bowie) and not for what they can bring to it in terms of interpretation.
Lady Gaga: 'Paparazzi'
The good thing is that they are bringing the string quartet sound to a new audience. I can't see them leading their audience from Lady Gaga to La Gazza Ladra, but if their audiences find they like the string quartet sound, at least there will be one way into classical music that they're familiar with. We may deplore Eklipse's musical choices, but we certainly applaud their bravery in taking an old sound to a new audience.