For many listeners, Anton Bruckner (1824–1896) is a puzzle. What version should be listened to, when so many of his symphonies were revised and revised as he responded to critics? In this new recording of 10 of Bruckner's symphonies, from No. 0 to No. 9, conductor Rémy Ballot has chosen his scores from both new versions and original versions, seeking the original Bruckner.
• Symphony No. 1 in C minor, WAB 101, 1865–1866 / recorded: Vienna version from 1890
• Symphony No. 0 in D minor, WAB 100, The Nullified / 1869
• Symphony No. 2 in C minor, WAB 102 / recorded: first Version 1872, with Scherzo second and Adagio third (and not the 1873 or 1876 revisions, or the 1877 version, revised in 1892)
• Symphony No. 3 in D minor, WAB 103, 'Wagner Symphony' / recorded: first Version 1873 with the Wagner quotations (and not the 1874 revision; 1876 version, revised in 1877–1878 where most Wagner quotations were removed, coda added to the Scherzo (not retained later); 1889 version)
• Symphony No. 4 in E-flat major, WAB 104 / recorded Version III from 1888 with piccolo and cymbals (and not the first versions from 1874-1876 or 1878 with the new "Hunting" Scherzo and "Volksfest" Finale; or the1880 version with the new Finale)
• Symphony No. 5 in B-flat major, WAB 105 / 1876–78
• Symphony No. 6 in A major, WAB 106 / 1881
• Symphony No. 7 in E major, WAB 107/ 1883–85 (Ed. Novak)
• Symphony No. 8 in C minor, WAB 108 / recorded the 1890 version with the 3rd woodwind in first three movements, fewer cymbal clashes in Adagio, harps in Trio (and not the 1887 version; the 1888 added the Adagio)
• Symphony No. 9 in D minor, WAB 109 / 1887–96 (3 movements only; unfinished)
Bruckner was notoriously unsure of himself and sought to "improve" his works based on others' opinions. He took criticism so personally that he completely withdrew what would have been his second symphony in D minor (now numbered as Symphony No. 0) and it's only now that we're discovering its delights. As you can see above, he was constantly revising. At the end of Bruckner's life, it is thought that his continual revisions of his earlier works kept him from successfully completing the last movement of Symphony No. 9.
Maestro Ballot first met the music of Bruckner in 2011 and now, in 2023, when asked about his thoughts after recording all the symphonies, all he could say was 'I can't believe it'. To be a young French conductor with such success in Austria was beyond his dreams.
One key to that success was Ballot's commitment to St. Florian. The Augustinian monastery in St. Florian was where Bruckner started his musical career as a choirboy, where he was a renowned organist in the Priory, and where he's buried. It has a unique acoustic, with echoes that last from 6 to 11 seconds. Ballot has completely re-thought his interpretations and tempos to take advantage of this reverberation delay – and in one case the acoustics of the building worked with him perfectly. At the end of the slow movement of Symphony No. 5 in B flat, the sound catches the resonance of a bell elsewhere in the church (use headphones). It's perfectly in tune, of course.
Anton Bruckner: Symphony No. 5 In B Flat, WAB 104, "Tragic" – II. Adagio, Sehr Langsam
As Bruckner scholars will note from the list above, one symphony is missing. WAB 99, Bruckner's Studiensymphonie in F minor from 1863, was written at the end of his two years study on form and orchestration with German cellist and conductor Otto Kitzler in Linz. This first symphony, sometimes called Symphony No. 00, was never performed in Bruckner's lifetime and Ballot has found the particular acoustic of St. Florian's is not right for this work.
Ballot, a student of the Romanian conductor Sergiu Celibidache, learned from his teacher the importance of both sound and silence. Celibidache, known for his deliberate tempos, is thought to have conducted some of the longest performances of Bruckner's works, including a Symphony No. 8 at over 100 minutes. Celibidache was also known for his avoidance of commercial recordings and this performance would have been captured on a recording made in a concert hall and released posthumously. Ballot's Eighth Symphony clocks in at 104 minutes, by way of comparison.
Where Symphonies 3 through 9 are considered the models for Bruckner's style, it's Ballot's explorations of Symphonies 0 through 2 that bring them into their own definition. Often dismissed as "small symphonies', the three early symphonies have their own personalities. The Scherzo from Symphony No. 0 is well worth study.
Anton Bruckner: Symphony No. 0 in D minor, WAB 100, The Nullified – III. Scherzo. Presto – Trio. Langsamer und ruhiger
This is the revolutionary Bruckner and Bruckner the modernist. Reaction against this work was so strong that Bruckner completely removed it from his repertoire. Now that we understand him better, we understand the work better.
Although Bruckner is a model of the late-Romantic as formed in Austria and Germany, in these recordings, Ballot makes him an immortal classic. This isn't the Bruckner you might be familiar with from earlier recordings, but Bruckner with length, where sound and silence each have their place, and where the acoustics of place are used to bring out the inherent beauty of Bruckner's lines.
After this tremendous accomplishment, Maestro Ballot is looking forward to the next August's Brucknertage at St. Florian's, where he will continue his exploration of Bruckner's unfinished 9th symphony, including performing some fragments from the sketches of the incomplete 4th movement, with explanations by musicologist Professor Dr Felix Diergarten of Freiburg.
Also coming up for him are two concerts in Garmisch, where in June 2024 he will be conducting Heinrich Gottlieb Noren's Kaleidoskop, op. 30, and Richard Strauss' Ein Heldenleben. In his second concert, it's Wagner's Overture to Tannhäuser, Strauss' Don Juan, and with Austrian bass Günther Groissböck, 2 Lieder, Op. 51. The concert will also include excerpts from Strauss' Intermezzo and Die schweigsame Frau.
2024 marks the 200th anniversary of Bruckner's birth. If you've never found your way into Bruckner, this is the recording where you can connect with the innovative (if indecisive) master of the late 19th century symphony and discover him for a new century. Every movement opens up new possibilities for the discovery of a composer who needs this kind of new exposition.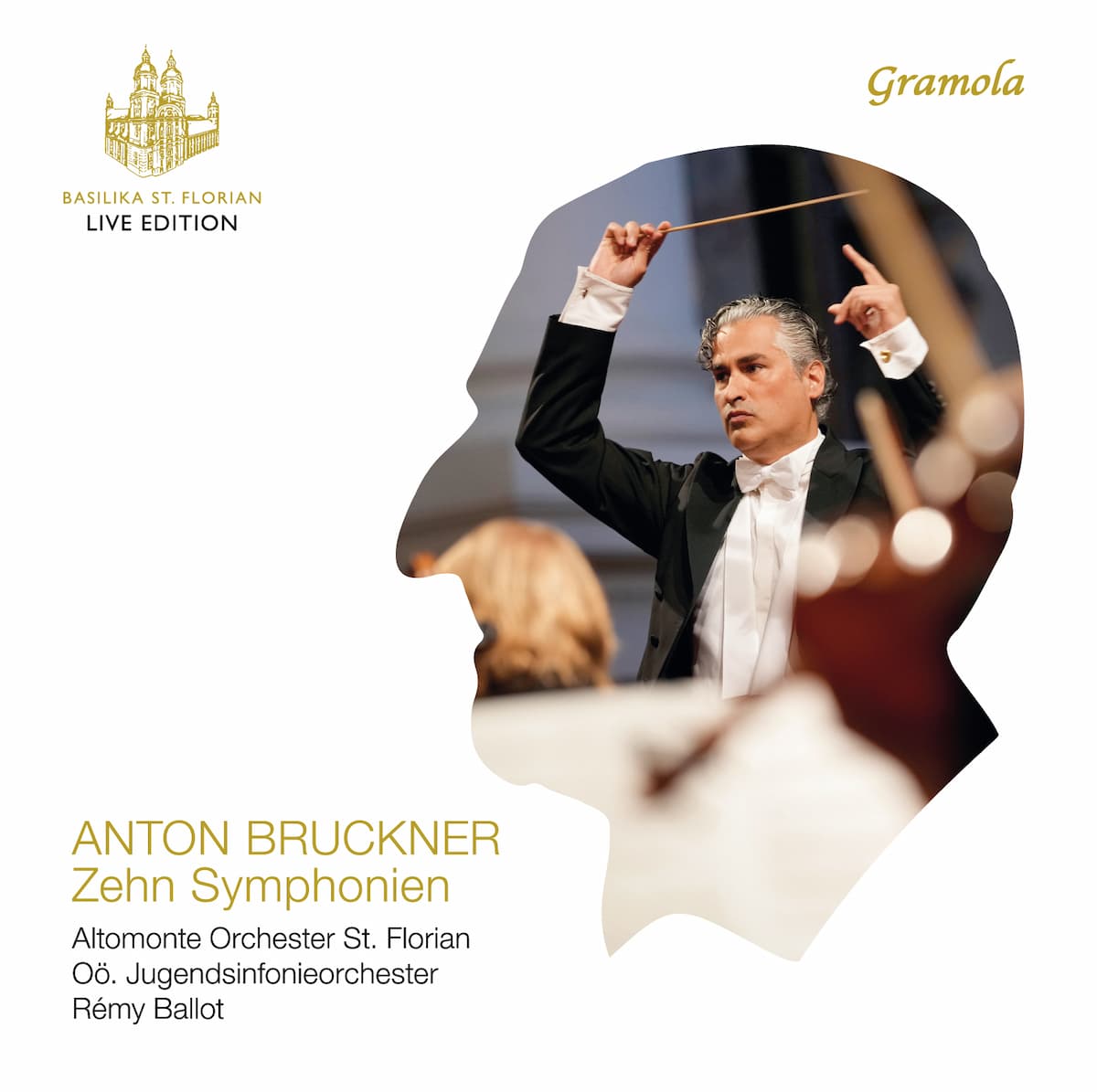 Anton Bruckner: Zehn Symphonien
Altomonte Orchester St. Florian, Oberösterreichische Jugendsinfonieorchester, with Rémy Ballot, conductor
Gramola 993011
For more of the best in classical music, sign up for our E-Newsletter