In his debut album, winner of the 2018 Paloma O'Shea Santander International Piano Competition, Ukrainian pianist Dmytro Choni, has chosen a recital of Debussy, Ginastera, Ligeti and Prokofiev. This wide-ranging repertoire is seen by him as all having different characters but with a commonality in their movements. This reflection of the 20th century begins in 1901 with Debussy's Images, Book 1.
The first work on the album, Reflets dans l'eau put the reflection of water into sound. The piano stands there but invokes moving water, sometimes as swirls of light and other times as solitary droplets.
Debussy: Images, Book 1: No. 1. Reflets dans l'eau (Dmytro Choni, piano)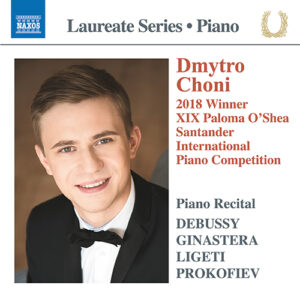 The Ginastera Piano Sonata No. 1, from 1952, moves us immediately to mid-century. Argentinian composer Ginastera (1916-1983) had a national reputation by the time of his graduation from the National Conservatory in 1938 and made his international name thereafter. The first movement has an urgency that is reverse-matched by the third movement Adagio. It is the Adagio in this case, not the usual outer movements, that is the key. This is the core of the work and, at first invoking a slow tuning of guitar, it gradually assumes a greater passion.
Ginastera: Piano Sonata No. 1, Op. 22: III. Adagio molto appassionato (Dmytro Choni, piano)

A movement from Ligeti's Études, Book 1 (1985), Arc-en-ciel, takes on a grand tour of a rainbow. It's not all frill and light and upward arcs but a dark introspection. It's placed here by Choni as the lyrical interjection between two great piano sonatas.
Ligeti: Études, Book 1: No. 5. Arc-en-ciel (Dmytro Choni, piano)

The last work on the recording, Prokofiev's Piano Sonata No. 6, Op. 82 (1940) was the first of Prokofiev's War Sonatas and was given its premiere in Moscow in 1940. The rondo fourth movement uses material from the first movement.
Prokoviev: Piano Soanta No. 6 in A major, Op. 82: IV. Vivace (Dmytro Choni, piano)


Upon his winning the Santander competition in 2018, Choni started to perform in concerts around the world and create this recording. His childhood in the Ukraine, where he lived until he was 22, meant music school from age 5 and then attending a school for the musically gifted. He then attended the National Music Academy of Kiev before moving to Graz, Austria, to study with Milana Chernyavska. He had met her in 2011 and in 2015 he started his work with her.
We asked about his move from the Ukraine to Graz and the change in languages. It wasn't learning German that was hard, he said, but learning the particular local dialect of it in Graz. He'd learned Hochdeutsch (High German) but that wasn't exactly what was spoken in Graz.
With the global restrictions on travel, this has meant a corresponding restriction on his work. He says he misses traveling and we asked if the hiatus would mean that he would have to establish his name again as a performer. He reflected on the role of competitions: they don't make your name for you but give you the opportunity to make your own name.
In the meanwhile, he's using the hiatus to broaden his repertoire in preparation for another recording in the future. This may not be 20th century as the first one was but look into the Romantic and Classical repertoire. He wants to be more than one-sided.
We asked about music in the Online world and he says that he can't speak as a teacher since he doesn't currently teach. As a student, he misses the immediate reaction from a teacher. To get the best recordings to his teacher, he's been recording them himself and then mailing them for her reaction. It's just not the same.
The upside of the no-travel period has been that he's been able to see his girlfriend much more. Normally they're both travelling and so time together is rare. He's been catching up on his reading and his sports, so he's been using the time as best he can.
Catch this first recording by Dmytro Choni – it's an outstanding performance of a challenging repertoire.