Carlos Gardel (1890-1935)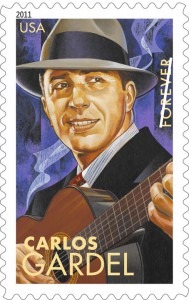 The tango developed as a distinctive dance around 1880 in the poorer districts of the city of Buenos Aires. Because it emerged from an economically marginal and semi-criminal social milieu, the dance was long rejected by Argentine's high society. Only it's social acceptance in Europe and North America in the years before the First World War led to unbridled popularity in Argentina as well. Although the year and the place of birth of Carlos Gardel are passionately debated in both Uruguay and Argentina—we are fairly certain that he was actually born in France—he is nevertheless considered the most prominent figure in the history of the tango. His remarkable talent and flair vaulted the tango into a craze of popularity that dominated Argentine musical tastes for several decades.

Carlos Gardel: Mi Noche Triste (My sad night)
In its infancy, the tango was a purely instrumental musical form. It was common practice for a singer to add a couple text phrases towards the end of the piece, but complete songs that told a story or described a situation, were largely unknown. Gardel is credited with the creation of a new subgenre, called the "tango canción." Together with the lyricist Pascual Contursi, Gardel established a textual layout that realistically reflected the life of the lowest classes of society. Favorite characters included felons, prostitutes and those without hope, while subject matters range from lost love and nostalgia, to betrayal. And it was Gardel's rendition of Mi noche triste (My sad night) accompanied by a single guitar, that caused an immediate sensation. Gardel's recording of Mi noche triste sold thousands of copies, and he quickly realized that his musical career would focus on singing of tangos. During his career, tragically cut short by an airplane accident, he recorded over 900 songs.

Carlos Gardel: El día que me quieras (The day that you love me)
El Día que me quieras (The day that you love me) dates from 1935 and combines the lyrics of Alfredo Le Pera with the music of Gardel. This hymn of love opens with a declamatory stanza that features a widely spaced melody. The verses proper, offering alternate descriptions of day- and nocturnal dreams, passionately unfold over a striding tango accompaniment. Gardel had a wonderfully resonant and expressive baritone voice and an American film director once remarked "that man has a tear in his throat." Most remarkable was his natural sense of rhythm and timing, which proved essential for tango singing.

Carlos Gardel: Melodia de Arrabal (Melody of the Suburb)
In the 1930's, Gardel introduced tango to the rest of the world. With an ensemble of Argentina's best guitarists, he went on tour in South America, France and the US. He also developed a carefully crafted public image. His hair was smoothly plastered, and he wore elegant three-piece suits with carefully chosen ties. To keep in shape, he combined rigorous daily workouts with massages and Turkish baths. Taking advantage of his celebrity status, he also featured in Spanish-language movies. He even formed his own production company and distributed 10 films through Paramount Pictures. In 1931, he featured in his first talkie movie entitled Las Luces de Buenos Aires (The Lights of Buenos Aires). He portrayed a gaucho, and embodied the archetypal Latin lover with panache.

Carlos Gardel: Volver (Come Back)
Today, eighty years after his death, images of Carlos Gardel are ever-present in Buenos Aires. His films run continuously on cable networks, and every Sunday morning a local radio station broadcasts an hour-long show devoted to him. There is a popular saying in Buenos Aires, which roughly translates into "Every day, Gardel sings better." His music clearly ages like a fine wine.