It seems as if almost our entire world has moved online in response to the coronavirus. "Online" is our means to work and to play, and musicians have embraced it fully, from livestreamed concerts from their living rooms to ensemble performances via platforms like Zoom. Teachers too have taken their work online in order to continue regular lessons to support their pupils, from the most junior player to conservatoire-level students.
I recently assisted, in a publicity role, in an ambitious online course for musicians called The Exhale, created by violinist Gwendolyn Masin. Originally planned as a mastercourse for musicians in a picturesque location in Switzerland, Gwendolyn had been considering abandoning the whole project in response to the coronavirus, but realised that moving it online would offer additional benefits including a wider curriculum and bigger faculty. The two-week event consisted of masterclasses with leading professional musicians, Q&A sessions with guest artists, including cellists Natalie Clein and Gary Hoffman, and sessions on professional development, performance anxiety, Alexander Technique, Yoga, and even food and nutrition. The sessions were run via Zoom and many were recorded and subsequently uploaded to YouTube, allowing people who had attended a session a "refresher" lesson and those who had not a chance to sample The Exhale.
Debussy: 12 Etudes: No. 1. Pour les cinq doigts (For the five fingers) (Jakob Gimpel, piano)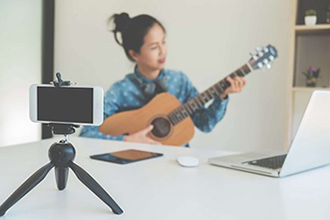 At a time when musicians are not able to meet and interact in classroom, rehearsal room and concert settings, events like The Exhale create a much-needed support network and sense of community among musicians, both professional and amateur. Other courses, such as Chethams Summer School for Pianists, the biggest such event in Europe, is moving online for this year's edition.
Needs must in difficult times such as these, and it's encouraging to see both teachers and students embracing a different way of learning.
Of course it's important to ensure you are well set up to teach online. It goes without saying that a decent broadband connection is crucial. Additionally, you may need to purchase some extra equipment including a good-quality microphone and webcam. A laptop tends to be better than a phone or tablet because you can angle the webcam better. A stable adjustable music stand can be used to support laptop/tablet and ensure the webcam is at the right height for teaching/playing; other solutions include securing your smartphone to a stand using rubber bands to angle the camera appropriately. The set up is a little more tricky for pianists because the instrument is fixed in one position, but with some experimentation and perhaps the use of two cameras, it is possible to get a good view of the keyboard (the student doesn't need two cameras; a good profile view of the student and their hands is sufficient).
Couperin: Pieces de clavecin, Book 2, 6th Ordre: Les baricades misterieuses (arr. T. Ades for chamber ensemble) (Composers Ensemble; Thomas Adès, cond.)

You cannot replicate face-to-face lessons, yet a number of my teaching friends and colleagues report that students are more engaged, responsive and relaxed when playing in their own homes, on their own instrument. And while some teachers complain that the online method is unsatisfactory in terms of quality of sound and personal connection with student, others are very positive, citing a notable increase in motivation, enthusiasm and, above all, enjoyment in their students.