Founded in 1911 in Athens, the Lyceum Club of Greek Women is still active today. This historic educational, ethnological, and charitable organisation was the first organized women's association in Greece. It had a role in the preservation and dissemination of Greek traditional music, in the preservation of Greek folk dancing, and had an important role in the conservation of traditional Greek costume. In 1988, they founded their Museum of the History of the Greek Costume.
After WWII, the Lyceum Club commissioned composer Nikos Skalkottas (1904-1949) to arrange traditional music for the Club's female chorus, to orchestrate Greek folk dances for their chamber orchestra, and to compose original music for their performances. One of these original works was the Ancient Greek March, to be played for a procession in 1947 of the Clubs' costumes from three different 'ancient eras.' Originally written for piano, the work was later orchestrated for both chamber orchestra and wind orchestra.
In the chamber orchestra version, Skalkottas used modern instruments with connections to antiquity: flute and oboe for the ancient aulos, the trumpet for the salpinx, the harp for the lyre, and cymbals for the cymbala and so on.
Hidden within the music are Skalkottas' homage to the music of ancient days, in his use of modal scales, supporting drones, and movements by parallel perfect fourth and fifths that are forbidden in modern western music.
Nikos Skalkottas: Ancient Greek March, AK 11d
This performance by the Athens State Orchestra is under the direction of Stefano Tsialis. He has been chief conductor of the Orchestra since 2014.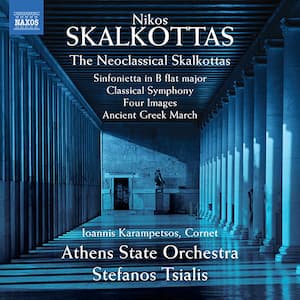 Nikos Skalkottas: Ancient Greek March, AK 11d

Performed by
Stefano Tsialis
Athens State Orchestra

Official Website
For more of the best in classical music, sign up to our E-Newsletter