'The Quality of the Moment'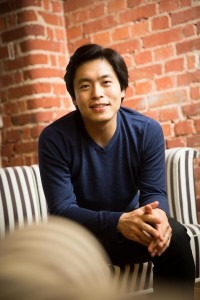 Sat in a Piccadilly coffee shop, I catch Sunwook Kim just before he heads off to Switzerland to play Beethoven's first piano concerto with the Orchestra della Svizzera Italiana.

He fell in love with the piano aged 5, after hearing Schubert's second Impromptu, and instantly urged his mother to buy the score, which he still has to this day. 13 years later saw him storming to success in the 2006 Leeds International Piano Competition, which led to many high-profile public engagements.

However, his advice to young pianists is that there's more to life than competitions. Sunwook's win in Leeds was prestigious – but it took more than that to succeed on the international circuit.

'Competitions don't guarantee you're going to be successful – they're a very good stepping stone,' he remarks. Every three years, a new winner passes through, 'with the same amount of opportunities as their forebears.'

Once you have a win under your belt, the pressure's on to deliver; Sunwook remembers that 'every concert was crucial in those three years.'

'It was about the quality, rather than the quantity, of the concerts. We were very careful in selecting what to play, who to play with.'

Sunwook Kim – Bach : Partita No.1 in B flat major, BWV 825
The Leeds competition has seen the likes of András Schiff, Mitsuko Uchida, and Radu Lupu all claiming the winning prize – but it was their continuing successes afterwards that defined their reputations.

'Winning a competition isn't enough – they've all had to prove they're thoughtful musicians. It's not just about showing off. When you win a competition you might be very excited and think you've made it, but it's not true.


'Music has to be about the quality of the moment, rather than the career behind it.'
Sunwook works closely with Unsuk Chin, whose piano concerto he plays often. His approach to presentation – be it Beethoven or Berio – always remains the same. It can sometimes be hard to programme contemporary works in a concert, but for Sunwook it all comes down – of course – to the quality of the music.
'What is special about Unsuk is that she never composes things that are hard to understand. Her piano concerto, for example, is in four movements, and each movement has its own clear structure. It's not hard to understand, but of course it's technically demanding!'
Unsuk Chin: Piano Concerto
Sunwook Kim, Seoul Philharmonic, Myung-Whun Chung
Sunwook is on the Beethovenhaus Bonn Mentoring Programme, giving him exclusive access to the archives and historical instruments at the institution, and enabling him to learn much more about the historical context of certain pieces.
In the famous first movement of the Moonlight Sonata, there is a marking to hold the sustaining pedal throughout entire movement, which on a 21st-century Steinway – where the pedal holds notes for much longer – leads to an unpleasant blurred sound. 'When I played it on a historical piano, it made much more sense, and gave me much more of an idea of how to play it on a modern instrument.'
Sunwook' schedule is often gruelling – and he often imposes his own structure as much as possible in a life spent travelling from place to place.
'I think that if I am reborn, I wouldn't be a musician! I'd just be a normal person working Monday to Friday. I'm very envious of people who have weekends. I never take holidays for more than three days – even my honeymoon was only one day long – and if I want to stay anywhere longer than that I have to find a practice room.
'Practising is such a big part of my life. It's almost automatic – I don't complain, I don't feel it's difficult to start practising – it's just like eating or sleeping.'
Sunwook Kim – Beethoven: Piano Concerto No.4