Song For Hope is an award-winning documentary that captures the awe-inspiring story of Ryan Anthony. In 2012, Ryan was diagnosed with terminal cancer. During the years following his grim prognosis, the documentary crew followed Ryan everywhere, from hospital to anywhere he performed, including a performance of "Amazing Grace" at Japan's Mt. Fuji. Ryan and his wife Niki founded the charity CancerBlows, gathering luminary trumpeters from around the world for benefit concerts supporting cancer research. In the interview, director Chris Haigh shares with us how Ryan's story inspires and moves him.
How did you and Ryan Anthony meet?
Having been a three-time British and European brass band champion musician with the UK's Grimethorpe Colliery Band (made famous by the film "Brassed Off"), I was invited to be part of a worldwide ensemble called the "All Star Brass" in Banff, Calgary by Trumpet Superstar Jens Lindemann in 2015. As part of that small group, we rehearsed, performed, and recorded together for two weeks solid and as a result, Ryan Anthony (who was the principal trumpet player world-renowned for his incredible Penny Lane on piccolo trumpet) and I became friends. Seeing him backstage before our first concert together, on the phone with his oncologist getting critical test results, a thermometer in his mouth measuring 101, and taking chemotherapy tablets, three minutes before we were due to play to a capacity crowd! On stage, he was smiling from ear to ear for the whole concert, savoring every second of his time there. When acknowledged by the conductor at the end of the concert, the entire audience was on their feet.
How did you feel following Ryan's journey of battling cancer?
I had to tell this story. Cancer is a horrible scourge that affects every human being around the world in some way or another. We have all experienced it either personally or through someone close to us. And we can feel incredibly alone when that happens. For me, to see someone fighting that terminal illness, being given months, not years, spending whole days in hospital and then refusing to allow it to stop him from doing what he loves, playing music was the most inspiring thing I've ever seen. That feeling, that love of your art, of music, is something I'm sure a lot of your readers and Classical Music fans will empathize with. Every time he got on that stage and stood to play, people flocked to see him, to accompany him, to play alongside him. CancerBlows, his immense charity which has raised millions for cancer research, is a testament to that. The greatest musicians give up their time for nothing to come together and show that as a community we can do ANYTHING. For me, that is what filmmaking is about! Taking an amazing person and their story, shining a light on them and impacting people's lives everywhere for the better.
Why did Ryan's story inspire you?
Ryan and his family, his wife Niki, son Rowan and daughter Lili are shining examples of those who have a different concept of time than the rest of us. They have literally been told every 2-3 months for years that their father might not make the next 2-3 months! And that makes you live in an incredibly concentrated way.
Every note of every performance that Ryan Anthony gave oozed emotion because every time he played them could have been his last.
On stage with him, it made live music thrilling and meaningful and tuned every musician into what really matters, synchronized us, and gave us an immense collective experience.
For the film, then, our award-winning score mixed in 5.1 Dolby surround sound to immerse our audience into the world of the symphony orchestra from the very first note. Floating into the concert hall, we hush to the sounds of violins warming up all around us, and witness woodwind instruments "rushing past" on the left channel to get to the stage in front. When we land on the downbeat, the violinist's bow bouncing on the string, we are on stage, sitting among the whole orchestra, part of the performance, experiencing the raw, instinctual power of music.
This film breathes music, not only with the message, but the score itself, the layout, pacing, and structure.
Ryan's story then flows like the very music that he is playing, the score incorporates him and musical themes, instrumentation, rhythms, and acoustics develop, modulate and change to accompany and interact with Ryan and his family's story.
Is "Song for Hope" named by Ryan?
Song For Hope is a trumpet/cornet solo that was part of a concerto written by Peter Meechan, a British Composer who, when he befriended Ryan, was asked to send him a few solos to play at future concerts. Upon hearing the solo, he played it on repeat, over and over, and called the composer to ask for it to be included in a fundraising concert called "CancerBlows".
Peter agreed and the solo was named "Song For Hope" and became his anthem that was requested by audiences worldwide. While filming him, he would receive hundreds of emails from people who heard or saw him play it and just wanted to reach out and thank him. Other trumpeters would record it and dedicate Song For Hope to him and all of the proceeds to CancerBlows.
SONG FOR HOPE by Peter Meechan – Ryan Anthony and friends (CancerBlows 2015)
During the pandemic, with people everywhere isolated and polarized by the state of the world, we showed that we can come together, heal and build hope through music.
Facing indefinitely closed theaters and concert halls and with groups and ensembles unable to play together during the pandemic, many musicians were out of work with no sign of when or if their organizations would start up again. Reaching out to musicians, schools, music societies, communities, and companies all around the world, we brought musicians together to form the world's largest instrumental ensemble!
We proudly feature over 1400 musicians aged 6-93 years, from all around the world, from professionals to people who have just picked up an instrument! Alongside the principal trumpet players of almost every orchestra in North America, Europe, and Asia, are founding members of Rock 'n' Roll Hall Of Famers "Chicago", Doc Severinsen from Johnny Carson's Tonight Show, members of Dave Matthews Band, Multiple Grammy Winners, Congressional Medal of Freedom winner Arturo Sandoval, and even the trumpet soloist from Ricky Martin's "Livin' La Vida Loca"!
Ultimately, we are using music to help and inspire people, especially to promote awareness and understanding of Ryan's rare cancer, Multiple Myeloma. Our song can reach bigger and more diverse audiences than ever before and add fuel to the fire of the CancerBlows movement, driving awareness and research into MM and developing the drugs to cure it.
Together, we can make a difference with music and use this film as the beginning of the end for that disease.
Pictures shared and captioned by Chris Haigh: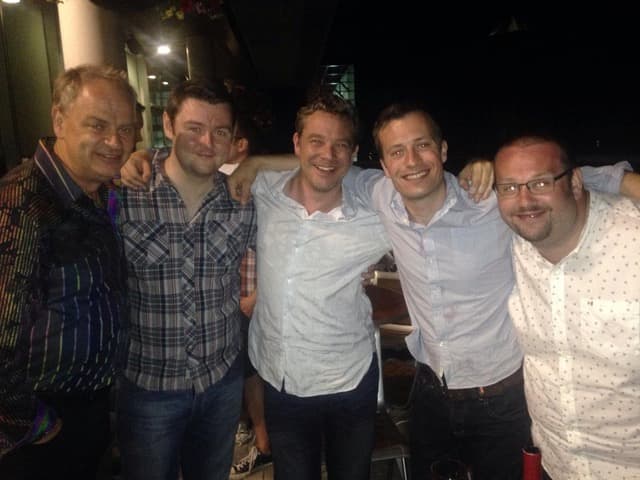 "Where this whole journey with Ryan Anthony (Centre) and I (hugging him) began. This photograph was taken having just performed with All Star Brass in Banff, Calgary, August 2015. Having shared the stage every night, I was awe-struck by his playing and when I learned his story, became part of it and knew I had to tell it. Now, years later and with the help of talented friends and a wonderful community, here's that story on screen."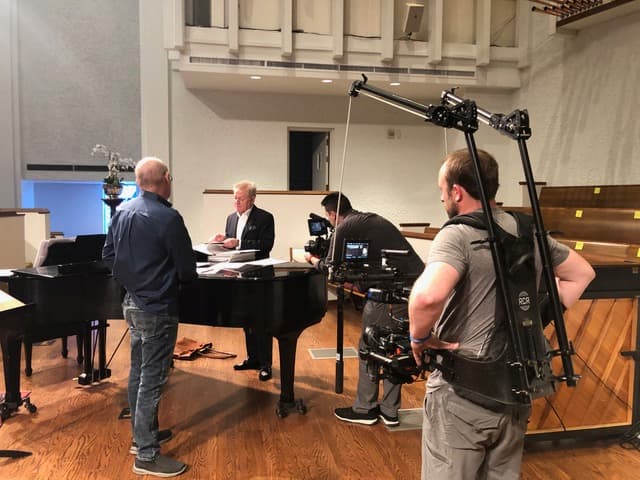 Our first day's filming was at Lindenwood Church in the Heart of Memphis where Ryan and Gary were rehearsing together (as they had done for decades). Their enjoyable stories of decades performing together really showed the camaraderie musicians have. It wasn't difficult to be swept up in their love of music too. Director of Photography Luke can be seen here in the easy rig.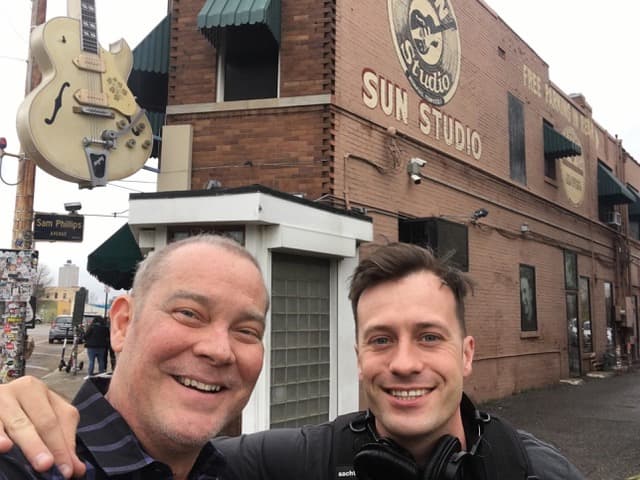 Touring around Memphis with Ryan meant indulging in a collective love of Elvis Presley (and the brass section at the end of his "American Trilogy"), so we stopped by Sun Studios to take a photo or two.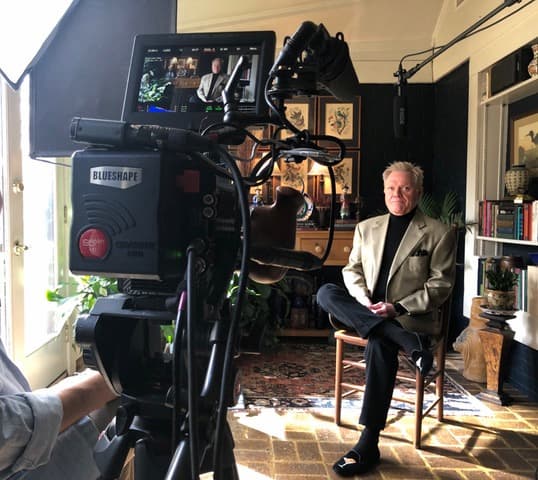 Gary Beard, Ryan's duet partner, supremely talented organist and retired choirmaster was interviewed in his fabulous home and his exceptional Stubbs and Wootton slippers were a hit with the whole crew.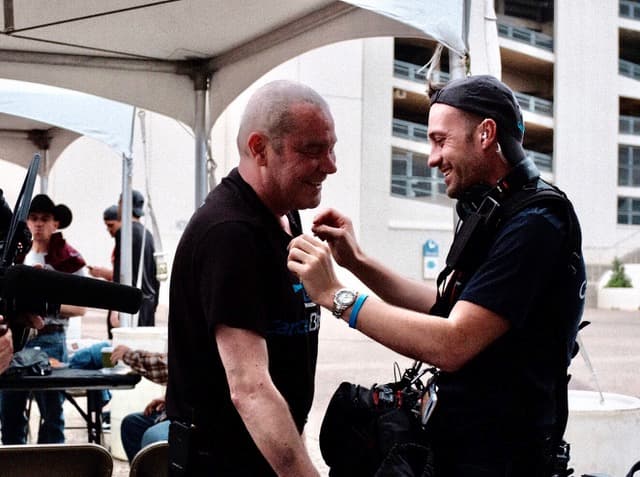 Before playing the National Anthem to masses of 5K fundraising funrunners at Dallas's Cotton Bowl, Ryan and I engage in the daily ritual of sorting his microphone out. Every time I had to adjust his pack, we'd joke about everything from charging him for the massages to him being a wired FBI mole.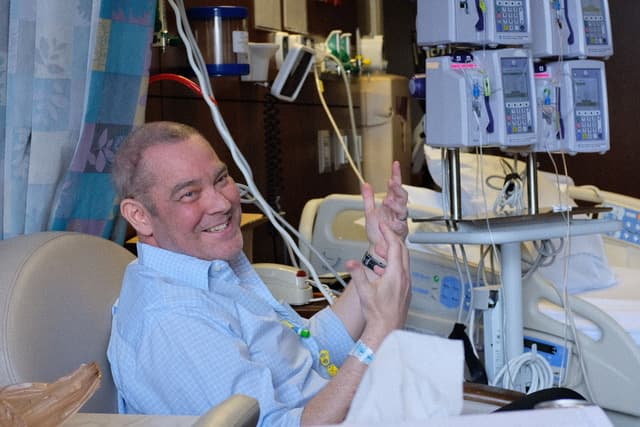 Hospitals are certainly not the most exciting of places, but when Ryan was in there and hooked up, even with wires all over him, he would play and entertain everyone from the nurses to his fellow patients. We spent hours on end in there just chatting, watching movies and sneaking in pizza!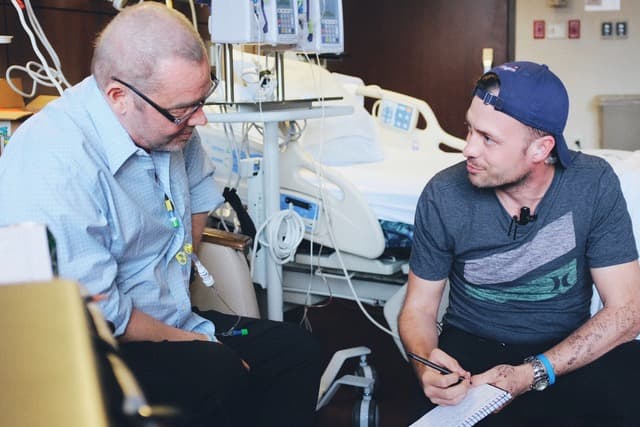 During filming, I was constantly taking notes in shorthand – a series of lines and squiggles I learned as a print journalist in the UK to help me to write faster. It fascinated Ryan and here, hooked up, I'm telling him what I've been writing about him as he's been sitting talking to us! "Well you read lines and squiggles too, just musical ones."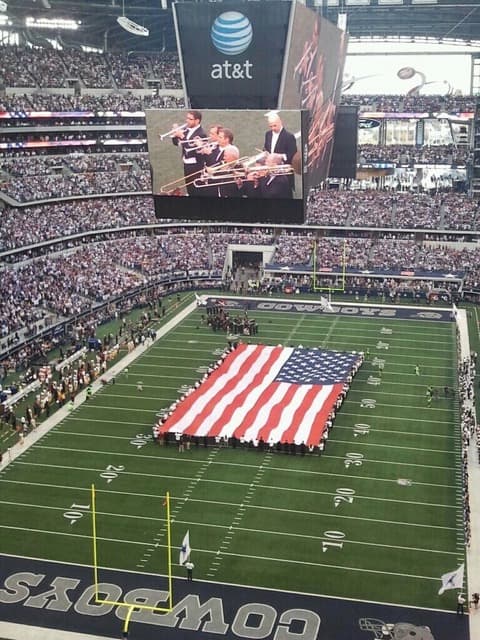 Ryan and the Dallas Symphony Brass Section perform the National Anthem prior to the Dallas Cowboys game on Thanksgiving day 2012. This was made even more poignant by the fact that it was the day after his diagnosis, but playing through pain and heartbreak became synonymous with (and symbolic of) Ryan Anthony and that's why his story impacts so many.
Song For Hope releases worldwide on September 5th 2023 and will be available on Apple and iTunes, Amazon Prime, Google Play, Vimeo, Youtube etc. (and on Cable across USA)
Watch the "Song For Hope" documentary here.
For more of the best in classical music, sign up for our E-Newsletter