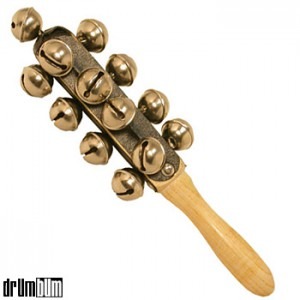 Lush forests and forbidding mountains covered in deep snow, together with sweet smells of roasting chestnuts and mulled wines inescapably conjure up images of Christmas time. The only thing missing in this idyllic Victorian winter scene is the rhythmic ringing of sleigh bells. In fact, sleigh bells are almost universally used as Christmas decorations, ornaments or toys. Rather predictably, they come in endless varieties of designs and shapes but fundamentally, the simplest sleigh bells consist of a single piece of sheet metal bent into a roughly spherical shape. To produce the characteristic jingle, a small ball bearing, glass marble or tiny piece of metal rod is enclosed within the metal shell. And once you bundle and symmetrically arrange a number of tiny bells together, you have created a classic percussion instrument!

Originally, however, sleigh bells served a rather more practical purpose. The earliest archaeological record on sleigh bells goes back well over a thousand years. Apparently, when the Romans inhabited parts of northern Europe, they fastened little bells to harnesses used with horses or horse-drawn vehicles, such as carriages and sleighs. It became somewhat of an early collision warning system. In deep and packed snow, a horse-drawn sleigh makes practically no sounds. The sleigh bells are designed to produce sound whenever the horse or vehicle was in motion, and it helped to avoid collisions with pedestrians or other vehicles. This system was particularly helpful in moonless, snowy or foggy nights. Sleigh bells were also considered a sign of wealth and status. Extravagant designs used gold and silver, and by the nineteenth century sleigh bells were mass- produced.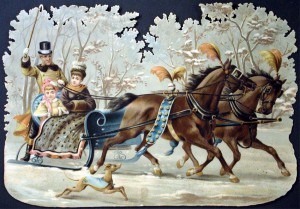 Gustav Mahler: Symphony No. 4
In the hands of Gustav Mahler sleigh bells made it into the concert hall. Relying on the idealized Romantic folk style made popular in a collection of German folk poetry published under the title Des Knaben Wunderhorn (The Youth's Magic Horn), Mahler crafted his 4th symphony between 1899 and 1902. Originally, Mahler composed the song "Das himmlische Leben" (The heavenly life), which included the use of sleigh bells. Eventually, Mahler decided to use the song as the Finale of his Fourth Symphony. Mahler described the character of the work as representing the sky, "whose uniform blue occasionally darkens yet always reemerges fresh and renewed." This invocation of Nature delightfully surfaces in the opening movement as sleigh bells and birdcalls initiate seductive and joyous melodies. Providing a conscious glimpse at the simplicity of music of the past, turbulent musical moments gradually begin to encroach on this stylistic simplicity. The second movement is, according to Mahler, a dance of death that is contrasted by two rustic and bucolic dances. After a set of Variations on two themes, the concluding movement presents a child's vision of heaven. In successive stanzas, the Wunderhorn texts are set to folk-like melodies, with corresponding interludes featuring the sleigh bell sections from the opening movement. And if you are looking for an additional example of the use of sleigh bells in classical music, take a listen to Sergei Prokofiev's score for the 1934 Soviet film Lieutenant Kijé. Happy and Save Travels!