Stephane, a friend of ours with an extensive knowledge of classical music, has been a contributor to Interlude since day one, providing invaluable recommendations on composers and artists to cover. A few months ago, he sent me two Youtube clips of his idol, the incomparable soprano Simone Kermes. Her performances were powerful and compelling, drawing an instant wow from my lips. I was completely stunned when I watched the clips, thinking, "What a character! She blows the mind."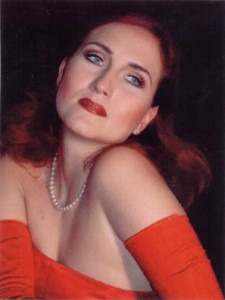 It just so happened that in October, while I was staying in Paris prior to boarding the ECO music cruise, Simone was giving a concert at Salle Gaveau. Being the devoted fan that he is, Stephane organised tickets for a small group of music lovers, myself included. It was also at his recommendation that I interviewed Simone while she was in Paris, and for that, I cannot thank him more!

I managed to schedule a meeting with her on the afternoon of her concert at 3.30pm, at her hotel. I felt rather nervous about my interviewing skills, even though I did my homework by surfing extensively on the internet. My knowledge of Simone was very limited; my only exposure to her performances was through Youtube, where she looked flamboyant and extravagant, with her fiery red hair and rocker moves. I wondered whether we would find the chemistry to chat through the 30 minutes I had been allotted. I feared to find myself either scrabbling for topics, or scrabbling for more time.

I was in the hotel lobby by 3.30, and just then, Simone texted me saying she was leaving the metro and would arrive in two minutes. I was extremely pleased by her punctuality and the respect she had for other people's time – a quality that is unfortunately quite rare nowadays.

When we met, Simone exuded a natural warmth and openness that made conversation flow easily and comfortably. Her beautiful blue eyes had a mesmerising and almost intimidating quality, but when she spoke, her manner was friendly and casual. She told us about the love for music that came to her as a child, although her passion for classical music came later. A born songstress, she has always been open to all genres, although her preference lies squarely in Baroque.

We also chatted about her previous engagement in Beijing, from which she had just returned. She performed as Donna Anna in Mozart's Don Giovanni with the Cologne Opera House. The local authorities had imposed numerous restrictions on the performance, but the warm and positive reception from the public opened up the possibility of returning to China for future concerts. And of course, we discussed her concert later that evening: a repertoire of Telemann and Mozart. She described the collaboration that would take place between different orchestras for the concert, and the compromises required to make that work.

Simone spoke of more than just music and her professional life; we also chatted about her daughter, her love of food (she enjoys cooking), the books she reads (thrillers!) and her weakness for shoe shopping. The interview lasted well over an hour, and by the end of it, I had become utterly enthralled by her personality. Brimming with sincerity, she is genuine and generous. I could not wait to experience her music live at the concert that evening.

Salle Gaveau is a wonderful venue for intimate concerts, a cosy place that invites the audience to feel close to the artists. The evening opened with Telemann's 'Ino', which I found quite interesting, this being the first time I had ever heard this cantata performed live. Simone sang marvellously and with great technique, but for some reason, I got the impression that she wasn't entirely herself.

The second part of the evening featured Mozart, and it was then that the rocker queen of the Youtube clips emerged. Her rendition of Giunia's 'Ah, se in crudel periglio' from Lucio Silla was an unimaginable delight. She delivered the famous aria almost effortlessly, despite its renowned level of difficulty. The connection between Simone and the audience was palpable; one's arms felt almost a temptation to embrace her as she sang. The music burst from her heart, her mind, her whole being. She was one with it, enrapturing us throughout with the compelling power of her voice, her passion and her unique charisma. By the end of the song, everyone in Salle Gaveau was on their feet, ecstatic with her performance and craving more, and Simone did not disappoint. She was in fact extremely generous and delivered three encores – the last, 'Lili Marleen', without accompaniment. This is a famous love song based on a poem by Hans Leip (who famously combined the names of his two mistresses in its title). In Simone's languid singing, we were moved by the sadness, loneliness and nostalgia of love. It was by far the best performance of 'Lili Marleen' I have ever heard. A real gem – just like Simone herself.

This encounter with Simone was definitely the musical highlight of the year for me. I found myself falling in love with Simone the artist, as well as Simone the person.
Related videos:
Simone Kermes – Hasse: 'Come nave in mezzo all'onde'

Simone Kermes sings Kurt Weill
I wish she had been in Madrid! My Alabama experience would have been a completely different one!

Photo credit: omm.de