Returning to Norway after a musical education at the Leipzig Conservatory starting at age 15, Edvard Grieg (1843-1907) took the piano education he had under Ignaz Moscheles and turned it into a successful career. He disliked the discipline of his study at Leipzig, but he was given a good musical education that made his next steps possible. Combining his training with a new interest in Norwegian nationalism, Grieg became a Romantic composer who not only advanced the classics but also brought Norway into the European world through the use of its folk music as a basis for inspiration.
His primary instrument was the piano, both as a composer and a performer. Many of his orchestral works started out as piano works that were then grown for the concert stage. One such work is his Wedding Day at Troldhaugen, which started out as part of the Lyric Pieces, Book I, Op. 65, written in 1896. He wrote 10 books of lyric pieces, of which nearly a dozen have become well known, including Arietta, To the Spring, Little Bird, Butterfly, Notturno, Wedding Day at Troldhaugen, At Your Feet, Longing For Home, March of the Dwarfs, Poème érotique and Gone.
Wedding Day at Troldhaugen was originally written by Grieg to commemorate his 25th wedding anniversary. Originally it was entitled "The Well-Wishers Are Coming" and this element is still reflected in the opening section, which is quite march-like. After the congratulations and best wishes are conveyed to the couple, the second section is more subdued in contrast.
A number of wedding pieces appear through the Lyric Pieces, but it is this work, for his Silver Anniversary, that Grieg made his name. The place named, Troldhaugen, is where Grieg built his house in 1885 and he lived there until his death. At his death, he was cremated and in 1908, an urn containing his ashes was placed in a recess overlooking the fjord at Troldhaugen.
Edvard Grieg: Wedding Day at Troldhaugen (Bamberg Symphony Orchestra; Edouard van Remoortel, cond.)

This orchestral version is played by the Bamberg Symphony Orchestra under the direction of Edouard van Remoortel and was recorded in December 1955. Belgian conductor Edouard van Remoortel studied cello and conducting at the Brussels Conservatory and from 1958 to 1962, was music director of the Saint Louis Symphony Orchestra. His youth and inexperience soon caused problems and at one point in his first season, he attempted to dismiss 42 of the players. In return, the orchestra voted not to play for him. Things were smoothed over but he never again took on a music director position and spent his career recording with a number of different European orchestra.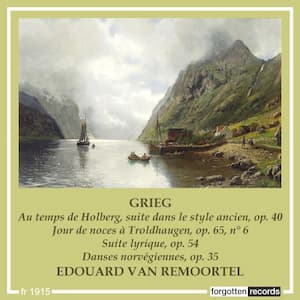 Performed by

Edouard van Remoortel
Bamberg Symphony Orchestra

Recorded in 1955

Official Website
For more of the best in classical music, sign up to our E-Newsletter