Siegfried had always wanted to be an architect, but family pressure forced him into composition lessons with Engelbert Humperdinck. While studying in Frankfurt he met the English composer and pianist Clement Hugh Gilbert Harris. Born in Wimbledon and educated at Harrow, Harris was taking piano lessons with Clara Schumann. Wealthy, handsome, sensitive and charismatic, "Siegfried was soon besotted." Clement was the son of a wealthy London shipbuilder, and he suggested that they take a six-month trip to Asia on the "Wakefield," one of his father's vessels. They started their journey in London, and before they boarded the cargo ship, Siegfried was introduced to Oscar Wilde. Once aboard, Siegfried and Clement were the only passengers, excepting various pets picked up along the way, including a monkey, canaries and a Chinese dog.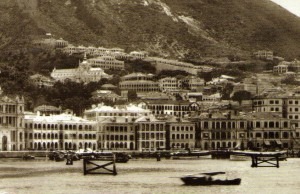 For Siegfried, the trip was the high point of his life. He joyfully recalled his travels with "Clementchen"—a tender term of endearment best translated as "dear little Clement," and he mentioned "their sharing a bed like the mythological gay couple Orestes and Pylades." And in Singapore, according to Siegfried "they found an idyllic spot for nude bathing like two Adams." But it was in Hong Kong, after hearing a performance of the Bach Chorale "O Haupt Haupt voll Blut und Wunden," (Oh sacred head now wounded) that he decided to pursue a career as a musician and follow in the footsteps of his famous father. During this voyage Harris sketched his symphonic poem

Paradise Lost

, and Siegfried composed his symphonic poem

Sehnsuch

(Yearning). Inspired by a poem of the same name by Friedrich Schiller the work was not completed until 1895 and premiered in the same year at Queen's Hall in London. After one additional performance the score was lost until 1979 when his daughter Friedeling discovered the manuscript in a storeroom at the Bayreuth Festspielhaus.

Siegfried returned to Bayreuth after his voyage, and friends close to the Wagner family referred to the journey as "Siegfried's honeymoon." But there was to be no happy ending. In 1897, Harris was traveling through Greece when war broke out between Greece and Turkey. Harris volunteered and was soon fighting alongside a battalion of mercenaries on behalf of Greece. On 23 April 1897 he was killed at the Battle of the Five Wells at Pente Pigadia, Epirus, and buried in the Anglican graveyard of St. Paul's in Athens. As a memorial to his lover, Siegfried composed the symphonic poem

Glück

(Happiness) in 1923, and supposedly he kept a photograph of Harris on his desk for the rest of his life. Of course, by then, Siegfried had been forced into a marriage to the 17-year old Englishwoman Winifred Klindworth. The couple was married on 22 September 1915 and the union produced four children. However, Siegfried continued to engage in sexual activity with men. He also composed 18 operas; none have remained in the repertory.

Siegfried Wagner: Sehnsucht (Yearning)

For countless decades, visitors have come to Hong Kong to experience the sights and sounds of a bustling metropolis where Chinese roots and colonial connections converge to shape a dynamic commercial and cultural landscape. Travelers during the later parts of the 19th century described Hong Kong "as a colony filled with comforts and entertainment only a Victorian society would be able to enjoy." Hotels, libraries, racecourses and cricket fields mingled with local shops, crowded markets, teahouses and opium dens. In 1892, Helferich Siegfried Richard Wagner, nicknamed "Fidi," son of Richard Wagner and his future wife Cosima (née Liszt), visited Hong Kong. There he discovered his musical calling and his true sexual identity.