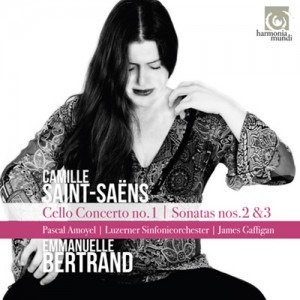 Sonata for Cello and Piano No. 2 in F Major, Op. 123
III. Romanza. Poco adagio – Agitato
From Saint Saens: Cello Concerto no. 1. Sonatas nos. 2 & 3 (2017)
Released by Harmonia Mundi
Saint-Saëns: Sonata for Cello and Piano No. 2 in F Major, Op. 123 – III. Romanza. Poco adagio – Agitato

A love affair with the cello
'That's it done at last, this blasted sonata! Will it please or not? That is the question.' So wrote Saint-Saëns, not without humour, of his second 'quadruped' for cello and piano. He adored the cello, as is shown by much more than the famous Swan. He wrote three sonatas for it, but unfortunately the last two movements of the Third Sonata have been lost and what is left survives only in manuscript. Emmanuelle
Bertrand and Pascal Amoyel play it here with emotion and total respect.